I know it's not quite December…yet. But it's time to start thinking about your holiday game plan.
Why?
Because starting now on a few simple things will really help you craft a more meaningful and peaceful holiday season.
3 Things to Do Now to Simplify Your Holidays
Make Lists of Gifts & a December Meal Plan
Declutter & Tidy Toys & Clothes
Plan for Homemade Gifts & Treats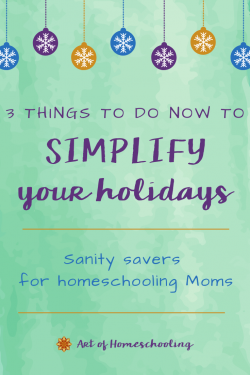 This post contains some affiliate links for your convenience (which means if you make a purchase after clicking a link, I will earn a small commission but it won't cost you a penny more). You can read my full disclosure policy here.
Make Lists & a Meal Plan
First, decide where you'll keep the lists! Some options include:
Then just make a list of all those you'll be buying for. So you'll have a place to jot down ideas as they come to you.
Need some gift ideas to add to your lists?
Next, create a Meal Plan for December. Keep it super simple.
I use Plan to Eat. It's an online meal planning tool. They have a free trial. And every year around Thanksgiving, they have a 50% off SALE!
Read about how I use this meal planning tool here: Meal Planning for Your Family Made Easy.
Declutter
In preparation for the upcoming holiday season, you can involve the whole family in decluttering and tidying. Need some ideas?
Plan for Homemade
Making homemade gifts takes time! Plan for it.
I like to weave in the gift-making with great stories about giving. This is our main lesson block plan for December!
Here are some ideas for examples…
That's it. Just three simple things you can do now to simplify your holidays.