Here in my family, we love The Little House on the Prairie books. I think I read The Long Winter aloud to my children at least four times! A great book to read, all snuggled up as a family, when the snow is flying outside. Here is a learning with Little House gift guide full of well-loved favorites from my family to yours.
One year, while reading The Long Winter, my kids were making little models of the cabin in the woods. And they discovered that our living room is almost the exact same size as the Ingall's cabin that all 5 of them lived in. So we moved all the furniture out and tried living in that one room for 24-hours. Eye opening!
We read the Little House series over many years' time. And even re-read quite a few of them. This series ranks as one of our all-time favorite family read-alouds. In this gift guide, I offer you some wonderful books and games that can keep the learning going for a long, long time.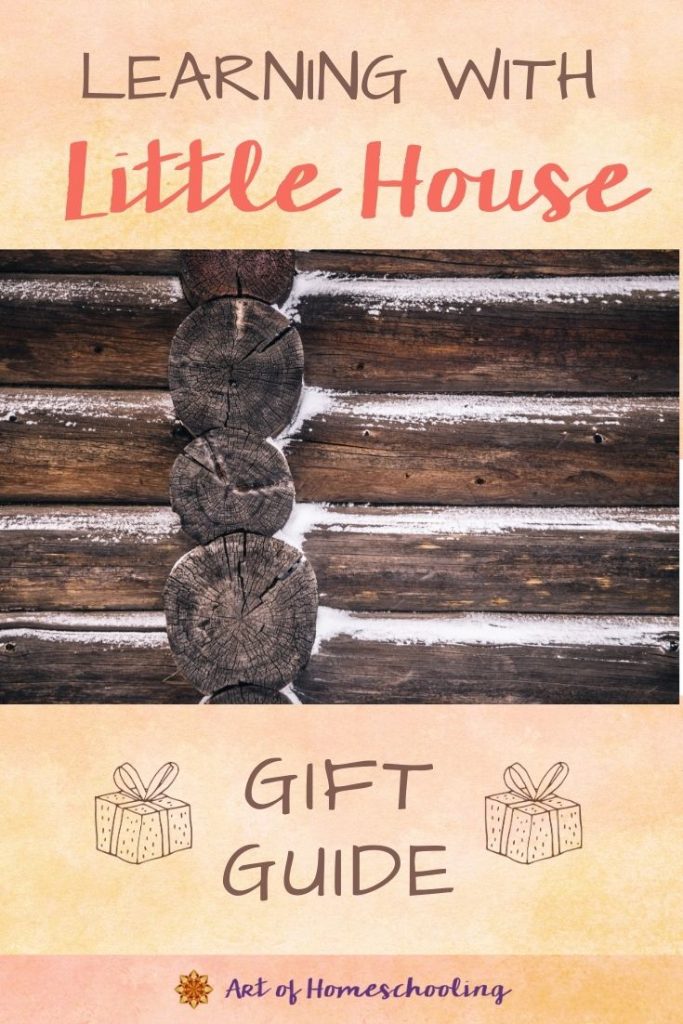 This post contains some affiliate links for your convenience (which means if you make a purchase after clicking a link, I will earn a small commission but it won't cost you a penny more). You can read my full disclosure policy here. 
Learning with Little House Books
The Complete Little House  – These are the books that started it all. They capture the imaginations of children and adults alike. This nine-book boxed set tells the story of pioneer life in America.
Little House Picture Books  – My youngest loved to read through these shorter stories with lots of pictures while we were reading the series aloud with my older children. Great titles like Sugar Snow, County Fair and Christmas in the Big Woods.
The World of Little House – We had so much fun with this book! Full of maps and timelines, crafts and activities, plus the floor plans of each of Laura's houses.
The World of Laura Ingalls Wilder – This book follows the wagon trail of the Little House series, with maps and excerpts from the books and Laura's letters and diaries. Also shows Laura's deep connection with the natural world,
Pioneer Girl: The Annotated Autobiography – Hidden away since the 1930s, this autobiography tells the true stories of Laura's pioneer life.
Laura Ingalls Wilder: A Biography – Stories of Laura's pioneer days from her childhood to her marriage with Almanzo and life with daughter, Rose.
Little Author in the Big Woods – A sweet biography for younger children with wonderful pictures and descriptions of life on the homestead.
Learning with Little House Games & Activities
The Little House Cookbook – Features over 100 recipes of dishes mentioned in the Little House books. A classic glimpse into meals of the pioneer days. My kids loved making the maple snow candy every winter.
My Little House Crafts Book – With instructions for 18 different projects, this book shares many of the crafts Laura made in the books most of which can be made from materials you'll have around your house.
Quilting with Laura: Patterns Inspired by the "Little House on the Prairie" Series – Explore the stories through quilting block patterns that can then be stitched together into a sampler quilt.
Lincoln Logs – All-wood building blocks in a tin bucket. These were my favorite as a little girl!
Checkers – Classic game with wooden playing board and wooden pieces.
Jump Rope – Braided cotton jump rope with wooden handles for hours of fun.
Potholder Weaving Loom – This kit includes a metal loom and cotton loops to make 6 potholders. We still use some of these potholders in our house that my children made over 15 years ago!
Old fashioned Ice Cream Maker – Have fun making homemade ice cream just like Almanzo did in Farmer Boy.
Enjoy these books and games with your children and family!
This gift guide might even come in handy to pass along to grandparents looking for Christmas or birthday gift ideas for the children. I hope you love learning with Little House as much as my family has.
Want more gift guides from Art of Homeschooling? Check out my Gift Guides & Book Lists for Simple Natural Families.