There's an art to this homeschool life.
… and as I'm sure you know, art can get messy!
I'm here to offer you the homeschooling guidance you need.
HOMESCHOOLING GUIDANCE
Homeschooling involves a little technique, a generous stroke of creativity, a dab of patience, and a big swirl of love to pull it all together. 🎨 💖 🐌

But are you struggling to find your way?

Do you love alternative educational approaches – Waldorf, Montessori, Unschooling, Charlotte Mason, etc. – but find it feels so complicated sometimes?

Is your curriculum feeling disjointed? Maybe even uninspiring? Or just too much?
If you love holistic, hands-on homeschooling, but you're not sure how to create a simple, happy homeschool…
…while you're up late at night, searching for yet another resource that you hope will be "the answer" this time…
Oh, and you're also juggling the laundry, dishes, and meals…
Grab a cup of tea, my friend, and let's chat. You're in the right place to get the homeschooling guidance you deserve. 🍵 ☕
Hey there, I'm Jean
I never expected to homeschool three children for over 25 years of my life…

But I did, and it ended up being the most beautiful endeavor I could have imagined.
I started my career as a high school English teacher. With a Master of Arts in Teaching, I wanted to make an impact in the field of education.
When our kids came along, I had the dream of teaching at the local public school and then spending the summers with my family!
But after checking out preschools for our oldest son, I came home and told my husband, Brian, "This isn't going to work. We need a Plan B."

The thing is, we had a really energetic kid on our hands, and I just knew that those preschool teachers were not equipped to give my son's spirit what he truly needed. A mother always knows! 😉
That's when our homeschooling journey began.
I was already a teacher, but I was starting all over again, with two young boys of different ages, at home, and a bit surprised by such a big life change.
Yet secretly really pleased to be at home with my kids! Believe me though, homeschooling was challenging at first.
Curriculum collector – Yup. Information overwhelm – Yup. Burnout on the horizon – Yup.
And right when we got into a groove, our daughter came along 6 weeks early! Which ended up being a whole year of adjusting. My then 7 and 9 year old boys learned how to cook eggs when they got tired of peanut butter & jelly sandwiches three meals a day… 😉
We made it through that time and many other ups and downs…

I found an amazing mentor and got the homeschooling guidance I needed. I learned how to simplify.
I discovered how to meet my children right where they were and tap into my own inspiration. ✨
We had so many heartwarming times! AND these three souls are now out in the adult world… They're making it. We actually did it!
Homeschooling friends started asking for my help…
And so about 14 years ago (when my kids were 8, 15, and 17), I began helping other moms make their homeschooling lives work too. I helped them simplify and find joy in the homeschooling journey. It really is an art…
What began as a local co-op with a few homeschooling families, turned into a global business serving hundreds of families around the world offering homeschooling guidance. 🙏
Homeschooling is awesome.
It's beautiful.
It's worth it.
You can do this!

I help home educators relax into the rhythm of life, honor the unique people in their family, and customize their curriculum so that the lessons are actually landing.
I do this for all the children, mamas, and papas out there. 💕 💕 💕
I see you. I know what it's like to choose the homeschooling path, to fumble and stumble, but then to pick yourself back up and find your way.
There is a way! Homeschooling can be simple, doable, and aligned.
And I'm here with the homeschooling guidance you need.
What's unique about Art of Homeschooling is we're not offering you another curriculum.
You can get curriculum and materials anywhere – they're just a click away… You probably have enough on your bookshelves right now! 👍
But what are you going to DO with the resources you have?
I help homeschooling parents find their rhythm and customize their days, seasons, and years.
Because even if you have a favorite method of teaching, you still need to make it work, fit, and resonate with your real-life circumstances.

With my 30+ years of teaching, 25+ years homeschooling, and 14+ years of mentoring homeschoolers – I've seen it all.
And I've come to the conclusion that there is no open-and-go cookie-cutter way to do ANY of the styles of homeschooling. 😵
You (and I mean each and every one of you!) need to find Your. Very. Own. Groove. 🏄
There's an art to homeschooling! And you're the sculptor, painter, maestro, crafter, and creator of your own homeschooling masterpiece.
Instead of curriculum, we offer you the homeschooling guidance you need from someone a little further along the path than you.
Art of Homeschooling is inspired
by Waldorf Education.
And here's why!
🌟 Having a rhythm helps (a ton!)
🌟 The stages of childhood development are
important to consider when bringing lessons
🌟 The arts and hands-on learning make
the content more fun and memorable
To me, these principles are universal and reach across all pedagogy!
So I'm happy to sprinkle in Waldorf insights, but don't worry, no dogma!

Did you know we have a FREE guide for each of those key pillars? Click the links above!
I love all things natural, and comforting 😉
When I'm not mentoring homeschooling parents, you can find me…
~ Out hiking or biking
~ Singing with my women's circle
~ On a walk with my husband Brian and our sweet pooch, Gus
I also love to read and cook and garden!
My favorite beverage is a matcha latte…
And you can catch me bingeing a favorite show from time to time! 😆
(Call the Midwife anyone?)
I believe in a world where…
Child development is prioritized in every educational setting
Learning differences are acknowledged, even celebrated, and educational alternatives are available to all children
Homeschooling is seen as a legitimate educational choice and homeschooling parents are valued as doing important work in this world
Next steps to get the homeschooling guidance you need
Would you like to learn more about what we're up to around here?
Click YES! above to check out the offerings here at Art of Homeschooling.

Because you deserve a simple happy homeschool life! 💜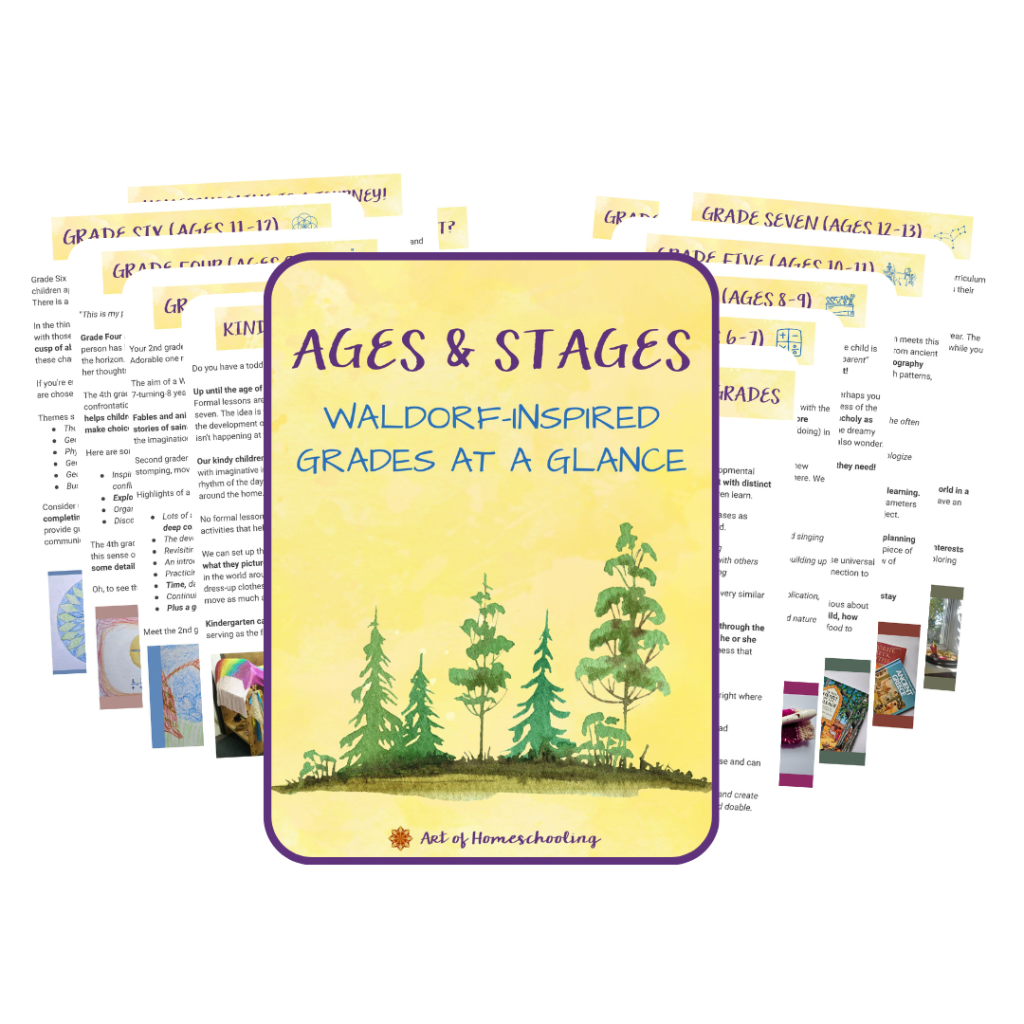 Free AGes & Stages Guide
Discover the wonders of each stage of learning so you can bring your children exactly what they need and homeschool with more confidence.