Years ago, Friday night became family game night at our house. Laughing, sharing, and building memories.
Here are the best games for families and family game night. Our family's all-time favorites.
Send this list to the grandparents if they are looking for gift ideas!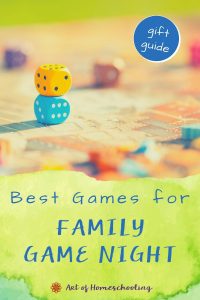 This post contains affiliate links for your convenience. You can read my full disclosure policy here.
The games below recommended are listed from youngest to oldest!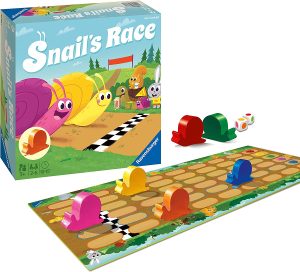 Snail's Pace Race – this was our family's very first board game! A beautiful cooperative game from Ravensburger with wooden snail pieces and die with colored dots. It's hard to find games for young children and this one's a gem. Ages 3+
Kapla Blocks – natural, unfinished wooden planks that can be built into just about anything. Don't underestimate this simple set of blocks. They can build amazing, elaborate structures. Great for solitary play as well as cooperative building. My teenagers each wanted their own set! Ages 3+
Bananagrams – a word game where players race each other to build crossword grids. Small and compact, great for family game night and also to take with you on the go. My 18-year-old daughter still plays this game with her college friends!
Ages 7+
Mancala – an ancient strategy game for two players. Great to play when studying Ancient Civilizations. Ages 7+
Rummikub – our #1 top family favorite. We were introduced to this game by my husband's Aunt Shirley years ago. And it's still a go-to favorite on Friday nights.
Ages 8+
Labyrinth – a race for treasures through a moving maze. One of my daughter's favorites. Ages 8+
You've Been Sentenced! – create silly sentences that are hilarious. Ages 8+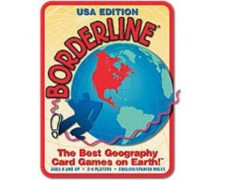 Borderline Card Game – the best geography card game. Comes in USA version, World, and Africa. Learning is happening while having fun. Ages 8+
Apples to Apples Junior – a game of crazy comparisons, full of laughter and so much mixed-age fun. Ages 9+
You can also get the original Apples to Apples for the pre-teen and teen crowd. Great for holiday gatherings too. Ages 12+
Looking for more ideas? Find additional Gift Guides & Book Lists for Simple Natural Families here.