One summer when I was 8 years old, my friend Betsy and I organized an outdoor theater performance in our backyard. (Just one example of simple ways to have fun at home this summer.)
Our play was called The Lemonade Stand. We practiced in the shade of a tree for weeks leading up to the big performance complete with lawn chairs set up for the audience. And ice cold glasses of lemonade, of course. ?
Another summer, my Dad got a group of families together to build a playhouse out of plywood. We built it, painted it, and even added curtains to the cut-out windows. Each year, that playhouse moved to a different neighbor's backyard for continued fun.
Do you recall special summer moments from your childhood?
When time seems to stand still and you're lost in the moment, filled with an expansive sense of freedom and simple joy? 
These are what Kim John Payne, author of Simplicity Parenting calls, "Golden Moments" ~ when we feel sweet connections with each other and ourselves.

My team and I have put together a list of 108 old-fashioned and simple activities to do with children of all ages – right at home. So you can create some golden moments of your own. 
This does not have to be a boring summer! It can be fun and wholesome.
Peruse through this list of indoor, yard, and neighborhood activities… Choose some to take into your summer for simple ways to have fun at home.
And, if you create a rhythm for your summer days, it will support your children to know what to expect while supporting you to pace yourself and schedule in your own needs, too. Rhythm always soothes the chaos!
Here we go, let's take a look at: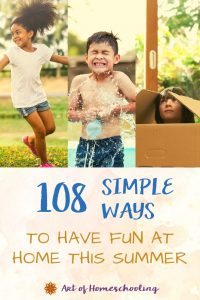 This post contains referral links for your convenience. You can read my website disclaimer policy here.
Simple Ways to Have Fun at Home This Summer
Fun Indoors
Make up a dance to a song

Create plays or little dramatic scenes

Make music

Play Simon Says

Play red light green light

Make a cardboard box fort

Do a word search or puzzle

Paint with watercolors or draw pictures

Make woven potholders with a little loom

Weave

friendship bracelets

Create a fundraiser, volunteer, or donate food

Take bubble baths

Mix up some watermelon-lime-mint slushies (so refreshing!)

Make homemade ice cream

Paint pet rocks and glue on googly eyes

Make homemade paper

Join the summer reading program at your local library

Join this online reading program:

Traveling Through the Pages Summer Reading Adventure

Make honey popcorn for Friday Family Movie Night

Join an online art class (

this one is so sweet!

)

Join an online music program (

love these for flute and piano

)

Put on a shadow puppet show

Make sun prints

with special paper from a Sunprint Kit

Listen to Sparkle Stories (

here's one called Animal Day Camp

)

Make

this rhubarb dream treat

with fresh strawberries on top

Learn to juggle

with this video 

Make sock puppets




In the Yard

Set up a tent and sleep out in the backyard

Play kick the can

Cook dinner over a campfire (and roast marshmallows!)

Set up an obstacle course or relay race

Braid weeds

Make a wreath out of vines

Make mud pies

Catch bugs

Grow food in your yard or in containers on your patio

Play frisbee

Play in the sprinkler or kiddie pool

Fill up a sandbox

Hang up some hammocks and nap in the shade

Play hide and seek

Make a slip and slide

Dig holes in the dirt

Have a water balloon fight

Play hopscotch

Learn to hula hoop

Have a picnic

Sign up for Camp Tinkergarten (8 weeks of free fun activities!)

Play tag

Make a rope or tire swing

Add water to the sandbox to create drip castles, ponds, or construction sites

Water the plants outside

Collect rain water into buckets from the roof

Wash the car, bikes, or scooters with soap, sponges, and the hose

Freeze blocks of ice and chisel them outdoors

Create potions with baking soda, vinegar, and food coloring

Blow giant bubbles

Trace each other with sidewalk chalk on the driveway or pavement and decorate

Press flowers and leaves, laminate, and cut into bookmarks

Eat breakfast outside

Build a birdhouse out of scrap wood

Build a bug hotel

Have a movie night in your backyard

Build a teepee out of bamboo sticks

Make an outdoor book nook for cozy reading

Host a garden party

Play tug of war

Get a big refrigerator box to play with




Around the Neighborhood

Have a yard sale

Make a lemonade stand

Have a bake sale

Go for an early morning or nighttime walk

Go for a scavenger hunt

Ride bikes, scooters, or roller skates

Climb trees

Pick fruit or flowers

Hunt for rocks

Make and fly a kite

Visit neighbors (bring gifts!)

Roll or cardboard-slide down a hill

Play hopscotch with chalk in the road

Pick up garbage with a trash picker and a bucket 

Play in the rain!
Ah. So there you have it! Simple ways to have fun at home this summer.
Are you beginning to imagine some fun nourishing times?
I sure hope so. Your family deserves it! 
☀️
If you'd like to reset + plan out a joyful summer, join us for the 4-Day Summer Reset 2023 here.