Summertime is the perfect time to read a good book in the shade. Sunny days, slower schedules, and a break from formal lessons can be a much needed in-breath for families. Here are my personalized recommendations of summer reading for homeschooling families ~ for kids, families, and parents, too. (updated for 2023)
This post contains affiliate links for your convenience. You can read my full website disclosure policy here.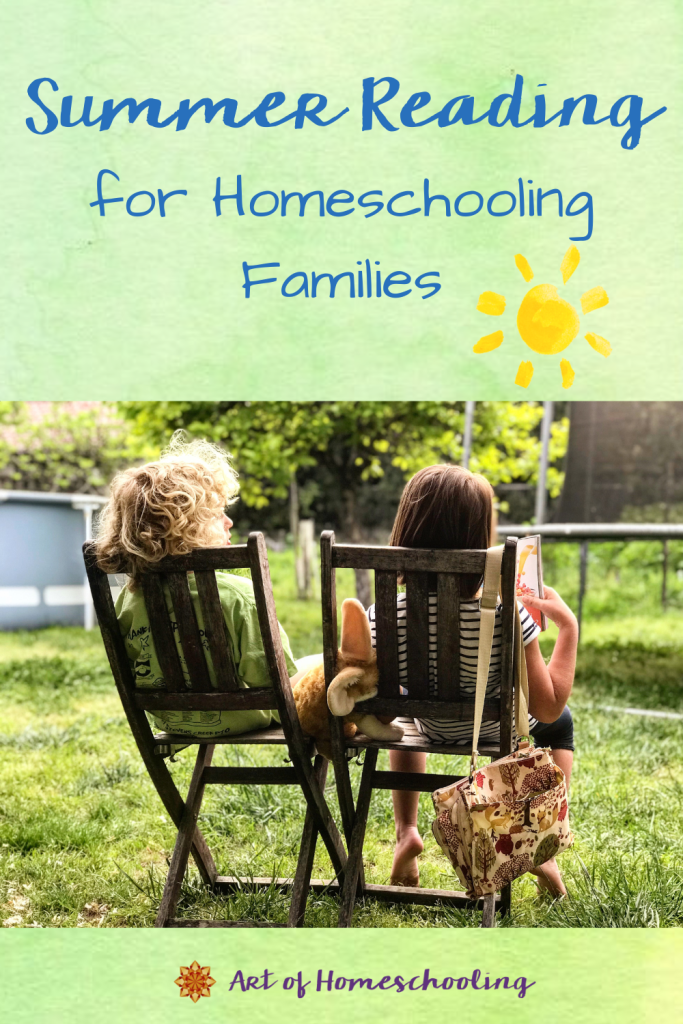 Summer Reading Picks for Kids & Families
Here are some of my family's all-time favorite read-alouds for summertime plus some wonderful new literature. Great for family's to read together, for older children to read on their own or to younger siblings.
Picture Books
Time of Wonder by Robert McCloskey
A beautiful story of summertime on an island in Maine during a big storm. Poetic language and lovely pictures.
The Bee Tree by Patricia Polacco
When a young girls gets bored with her reading, her grandpa knows a wild hunt for a bee tree is just what she needs. This story has the sweetest ending, it may tear you up a bit!
Come Next Season by Kim Norman
This darling, delightful picture book celebrates the magic of the seasons and the joys of family. With simple text and soft illustrations, this book is perfect for even very young children.
Journey Cake, Ho! by Ruth Sawyer
Rhyme and repetition make this cumulative story a classic. This is a merry chase set in the mountains.
Home in the Woods by Eliza Wheeler
This is a thoughtful picture book about a young mother and her eight children set during the Great Depression in the deep woods of Wisconsin. Hard times, self-reliance, surprise delights, and blessings bring this family close together.
The Rainbabies by Laura Krauss Melmed
In the magic of a moonshower, a childless couple finds a dozen tiny babies in a meadow. This classic is written in folktale tradition with lovely archetypal characters.
Chapter Books
Swallows and Amazons by Arthur Ransome
A whole series of summer fun with boats and no parents in Britain between the wars.
Misty of Chincoteague by Marguerite Henry
A classic story of summer, sand, and a wild mare on Assateague Island and the people who try to tame her.
Homer Price by Robert McCloskey
The tales of a witty boy in small-town America. Fun and funny. Great for boys.
Old Mother West Wind by Thornton Burgess
Old Mother West Wind and her bag of Merry Little Breezes meet many charming characters on the Green Meadows and in the Green Forest, Peter Rabbit, Johnny Chuck, Redtail the Hawk, and Old Granny Fox. Short chapters and gentle lessons about wildlife.
The Milly-Molly-Mandy Storybook by Joyce Lankester Brisley
Millicent Margaret Amanda is an adorable little girl who lives in a thatched white cottage in the south of England. These sweet stories about Milly-Molly-Mandy's family, pets, farm, and village where written in 1925.
A Long Way from Chicago by Richard Peck
For elementary and middle grades kiddos, this hilarious story is set during the summers of the Great Depression when Joey and Mary Alice take the train from Chicago to their grandmother's rural town.
Nim's Island by Wendy Orr
A more modern story with a tropical theme, perfect for summer adventures. Nim is fiercely independent, but when she's left alone at home on the island and her father's boat is nearly destroyed in a storm, she must be braver than she's ever been before.
Homeschooling Enrichment Reads for Parents
Two categories of books for Moms: both homeschooling enrichment and fiction for fun. Why not choose one or two of each this summer!
Waldorf Education: A Family Guide by Fenner & Rivers
A collection of articles on the philosophy, curriculum, and traditions of Waldorf education. Insightful and clear.
The Therapeutic Eye: How Steiner Observed Children by Peter Selg
A description of how Steiner suggested we develop our capacities to "look at the children before us" and find ways to bring them what they need.
The Four Temperaments by Helmut Eller
A fresh looks at an ancient classification of personalities often used by Waldorf teachers and parents to help them understand and work with their children.
Being at Your Best When Your Kids Are at Their Worst: Practical Compassion in Parenting by Kim John Payne
Kim John Payne's new book really gets to the heart of the parenting in a heartwarming and encouraging way.
Big Magic by Elizabeth Gilbert
Inspiration to live creatively and follow your inner path. A great mantra for us all, "creative living beyond fear."
Fiction Picks for Adults
Where the Crawdads Sing by Delia Owens
"I must go down to the seas again, to the lonely sea and the sky…" (poem by John Masefield). This book is full of beautiful poetry, alluring geography, and a sad, sweet story.
The Gown: A Novel of the Royal Wedding by Jennifer Robson
This is a beautifully written historical novel about one of the most famous wedding dresses of the twentieth century – Queen Elizabeth's wedding gown – and the women who made it.
The Unlikely Pilgrimage of Harold Fry: A Novel by Rachel Joyce
The sweet story of an older gentleman who embarks on a journey to walk hundreds of miles to a hospice to say good-bye to an old friend.
The Guernsey Literary and Potato Peel Pie Society by Mary Ann Shaffer
Written as a series of letter, this novel is full of warmth and humor. A celebration of the written word in all its forms and of finding connection in the most surprising ways.
Small Things Like These by Claire Keegan
A sweet and moving portrait of an Irish community that's both powerful and haunting. Beautifully written reflections on family, courage, and hope.
The Giver of Stars by Jojo Moyes
I loved this book set in the Depression because it's all about books and rural libraries. It's the story of five amazing women and their remarkable journeys through rural Kentucky to bring books to so many.
Hope you enjoyed these suggestions for summer reading for homeschooling families.
What are you looking forward to reading this summer? Please share!