Need some inspiration to bring some sparkle back into your home and homeschooling? Sprinkle some smiles on your homeschooling day with these three games.?
Sometimes the days seem so long, like we're just going through the motions of homeschooling lessons, cooking, cleaning, and caring for our families.
Let me share three simple ideas with you to bring some sparkle and delight into your days with your children ~ a movement game, an observation game, and a card game.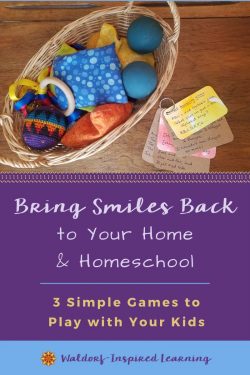 Sprinkle Some Smiles on Your Day with Homeschooling Games
Alphabet Soup
Here's a game for parent and child to play with a racket ball, tennis ball, or Pinky ball. This is a great movement activity for warm up time before you start your lessons. Bounce pass the ball back and forth to each other while reciting this sweet, silly rhyme:
ABC and vegetable goop;
What shall we put in the alphabet soup?
A, B, C, D, E, F, G…
When the ball is dropped and rolls away, pick something silly that begins with the letter you dropped the ball on and add it to your alphabet soup. Decide before you start how many ingredients you'll put into your soup, or how long you'll play the game. Will it be a radish-eggplant-alligator-tricycle soup?!
Three Changes
Another game for encouraging sweet smiles and building connection before you start your daily lessons is Three Changes. Have your kiddos close their eyes or wait outside the room while you change three things in the room. When you call them back in, can they find the three changes? Take turns playing or increase the number of changes. Who can find five changes?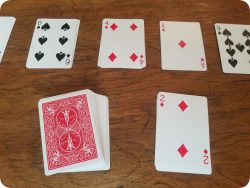 Up and Down Donkey
Lastly, here's an easy to learn card game for two or more players. Perfect for building connections before starting your lessons, engaging the whole family around the meal table, or including everyone in a family game night. Up and Down Donkey requires two decks of cards to make a deck of six sets of ace (one) through 10. The only skills needed are recognizing numbers and counting 1 to 10. The directions can be found here for free, Up and Down Donkey
Check out Movement Games for Children for more ideas on homeschooling games.
Want to bring board games to your family? Here are 10 Best Games for Family Game Night.
Connect and play with your kiddos. Sprinkle some smiles and delight into your days. Let me know if you try one of these fun and engaging homeschool games!