The month of December, with all of the holidays and hype, can get crazy for homeschoolers. What I always wanted in the early years was a simplified homeschooling rhythm for December.
I've learned in my twenty+ years of homeschooling, that just pushing through the plans usually ends up with us throwing in the towel at some point and me feeling like a failure (again). 
Really, it's more like the lessons just fizzle out at some point. And come January, when I look back at where we left off, I'd always be disappointed in myself.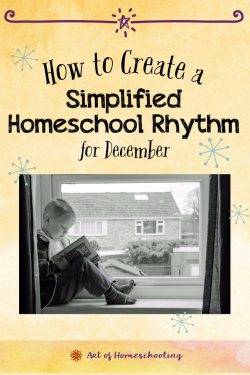 But what if we set up the month of December for success in our homeschooling? What might that look like?
Rather than planning full lesson blocks during this holiday season, how about a simplified rhythm.
The usual Waldorf main lesson block rhythm is a three-part lesson in a two-day rhythm. (Want more on this? Read Rhythm is (Always) the Answer.)
Instead, about 8 years ago and for my third child, I finally heeded the advice of my mentor, Barbara Dewey of Waldorf Without Walls, "Don't plan any main lesson blocks for December."
And then, I developed this simplified lesson structure for December so that I wouldn't feel like it's all or nothing.
How to Create a Simplified Homeschooling Rhythm for December:
Warm up with a few songs and verses.

Read a story aloud for the whole family.

Make gifts (handwork projects) or holiday crafts.
So simple. Much less stress. And a set-up for success!
Here are a few examples of this simplified rhythm.
This post contains some affiliate links for your convenience. You can read my full disclosure statement here.
Pick a few songs and verses, and then try one of these ideas:
Want more book ideas? See 50+ Wholesome Winter Holiday Books for Children.
Join a wonderful community of homeschoolers inside Inspired at Home and get the support you need! Handwork + Stories (the perfect rhythm for December) is just one of the masterclasses inside this mentorship community full of learning, group coaching calls, and planning sessions. Join anytime, no long-term commitment.
Just remember, creating a simplified homeschooling rhythm for December will lead to happier holidays. 
Let me know what you come up with!