The books listed below are our family's favorite wholesome winter holiday books for children. For reading and giving. Over 50 favorites are listed here!
I have organized them into the categories of Winter, Christmas, Winter Solstice, Chanukah, Multiple Holidays, and Gift Making & Giving. Within each category, I generally start with books for younger children and then moved to older children's books.
All of these books are great reads for the whole family during your winter season.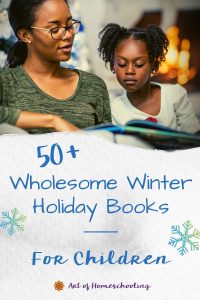 This post contains affiliate links for your convenience. You can read my full disclosure policy here. Thanks for your support in this way!
WINTER
The Snowman by Raymond Briggs
(A beautiful, wordless picture book in which a little boy builds a snowman that comes alive in his dreams.)
The Snowy Day by Ezra Jack Keats
(The sense of possibility and wonder are captured in this book like no other! And the joy of that first snowfall.)
The Story of the Snow Children by Sibylle von Olfers
(The tale of a young girl visiting a snow princess' birthday party, full of dancing snow children and snowmen who deliver delicious frozen treats.)
Katy and the Big Snow by Virginia Lee Burton
(A winter classic about Katy the snowplow who helps to dig out after a blizzard.)
The Tomten Astrid Lindgren
(A little troll wanders around a lonely old farm on winter nights, reminding all the animals of the promise of Spring.)
Trouble with Trolls by Jan Brett
(The story of mischievous trolls causing trouble for a little girl and her dog and the different ways the girl outwits them. The Mitten is another wintertime favorite by the same author.)
Ollie's Ski Trip by Elsa Beskow
(The is the book that tells the story of King Winter and his struggle with Mrs. Thaw, a scene that many families like to recreate on their nature tables.)
The Big Snow by Berta and Elmer Hader
(One of our family's all-time favorites! The woodland animals all know what to do when winter comes – a gentle, peaceful book with such expressive pictures of all the animals preparing for the big snow.)
Stranger in the Woods: A Photographic Fantasy by Carl Sams & Jean Stoick
(A beautiful story told in photographs of the woodland animals' reactions to a snowman.)
Snow, Snow: Winter Poems for Children by Jane Yolen & Jason Stemple
(Beautiful snowy poems accompanied by stunning winter photographs.)
Owl Moon by Jane Yolen
(A family favorite that captures a child's anticipation of being invited to go out into the wintry night to look for owls. The awe is captured beautifully here; one has to be quiet when looking for owls!)
Snowflake Bentley by Jacqueline Briggs Martin
(A Caldecott Medal winner and based on a true story. Wilson Bentley was a scientist who found a way to photograph snowflakes in the late 1800s.)
The Long Winter by Laura Ingalls Wilder
(A great read-aloud for multiple ages from the Little House series.)
WINTER SOLSTICE
Sun Bread by Elisa Kleven
(A baker tries to bring some warmth to the grey of winter. Recipe included!)
The Longest Night by Marion Dane Bauer
(On the longest night of the year, all the woodland creatures argue about who can bring back the sun. Beautiful watercolor illustrations.)
The Solstice Badger by Robin McFadden
(An engaging tale and beautifully artistic illustrations bring the Sun's story to life as he learns that compromise, compassion, friendship, and wisdom will save the day.)
The Winter Solstice by Ellen Jackson
(Folklore about the shortest day of the year with beautiful paintings to accompany. Includes a folktale on the creation of the seasons.)
The Shortest Day: Celebrating the Winter Solstice by Wendy Pfeffer
(Explains the winter solstice from a historical perspective.)
Return of the Light: Twelve Tales from Around the World for the Winter Solstice by Carolyn McVickar Edwards
(Twelve traditional stories from different cultures about the sun standing still. Great for telling and/or creating puppet shows.)
CHANUKAH
Hanukkah Bear by Eric Kimmel
(An elderly woman who makes delicious latkes mistakes a bear for her rabbi. A sweet retelling of a traditional tale.)
Hershel and the Hanukkah Goblins by Eric Kimmel
(The villagers are worried that the goblins are going to ruin yet another Hanukkah for them, but Hershel outwits the goblins. A witty adaptation of an ancient story.)
Festival of Lights: The Story of Hanukkah by Maida Silverman
(The story of the first Hanukkah along with a song and instructions for playing dreidel and saying the blessings.)
The Power of Light: Eight Stories for Hanukkah by Isaac Bashevis Singer
(A wonderful collection of stories by a prize-winning author.)
While the Candles Burn: Eight Stories for Hanukkah by Barbara Diamond Goldin
(Eight original stories on the themes of courage, miracles, and religious freedom.)
Eight Tales for Eight Nights: Stories for Chanukah by Peninnah Schram
(The original story of Chanukah plus eight tales about light, freedom, and dedication.)
Hanukkah at Valley Forge by Stephen Krensky
(During the Civil War, a soldier inspires George Washington with the miraculous story of how a band of Jewish soldiers defeated a much larger army of powerful Greeks.)
CHRISTMAS
The Little Drummer Boy by Ezra Jack Keats
(In the procession traveling to Bethlehem, a little boy plays the drums as his gift to the new baby.)
The Velveteen Rabbit by Margery Williams
(Classic 1922 children's story about a beloved stuffed animal. So lovely!)
A Newbery Christmas: Fourteen Stories of Christmas by Newbery Award-winning Authors by Martin Greenberg & Charles Waugh
(A sweet anthology of stories.)
The Gift of the Magi by O Henry
(A classic O Henry story with a surprise twist, but also full of love and devotion.)
Hallelujah Handel by Douglas Cowling
(A young orphan meets Handel in London and is invited to join the chapel singers. A lovely companion to Handel's Messiah.)
Jesus by Demi
(An inspirational biography of Jesus using text from the King James Bible. You could also look for Mary by the same author.)
The Toymaker's Christmas: Paper Toys You Can Make Yourself by Marilyn Scott-Waters
(11 paper toys you can pop out, fold, and glue together.)
Miracle on 34th Street by Valentine Davies
(An award-winning 1940s story of hope and goodwill.)
Boxes for Katje by Candace Fleming
(This inspiring story is based on the author's mother's childhood, showing we can each make a difference.)
This Is the Stable by Cynthia Cotton
(A poetic retelling of the nativity story.)
Home for Christmas by Jan Brett book
(A naughty little troll learns the value of family, kindness, and helping one another in this fun tale.)
The Polar Express by Chris Van Allsburg
(This book reminds us not only to believe in the Spirit of Christmas and Santa, but also in ourselves. A beloved classic.)
Amazing Peace: A Christmas Poem by Maya Angelou
(An illustrated version of the poem Angelou read at the White House in 2005 about celebrating with many faiths.)
The Best Christmas Pageant Ever by Barbara Robinson
(A funny story of naughty kids who pull off a celebration in surprising ways.)
The Glorious Impossible by Madeleine L'Engle
(Rejoice in the story of the birth of Jesus illustrated with frescoes by Giotto.)
A Christmas Carol by Charles Dickens
(A classic story written by one of England's greatest novelists.)
MULTIPLE HOLIDAYS
The Trees of the Dancing Goats by Patricia Polacco
(A beautiful story celebrating the miracle of friendship and multiple faiths during the winter holiday season.)
Around the Year by Elsa Beskow
(There is a delightful verse and playful picture for each month of the year in this book, from icy February to the green shoots of April, and Christmas in December.)
Holiday Folding Stories: Storytelling and Origami Together for Holiday Fun by Christine Petrell Kallevig
(Great for making storytelling props; includes origami for 10 different holidays including Chanukah and Christmas.)
GIFT MAKING & GIVING
Things I Can Make by Sabine Lohf
(Many simple project ideas that young children can make from readily available materials.)
The Quiltmaker's Gift by Jeff Brumbeau Gail de Marcken
(A generous quiltmaker makes a quilt for a greedy king.)
The Giving Tree by Shel Silverstein
(A sweet, tender story for all ages about giving to others.)
Gifts of the Heart Patricia Polacco
(A story of the magic of family and giving the right kind of gifts.)
Making Things: The Hand Book of Creative Discovery by Ann Wiseman
(An encyclopedia of making crafts from puppets, prints, and paper projects with stories and tips from artists.)
Gifts from the Heart by Cynthia Whitney Ward
(A collection of unique handmade gift ideas.)
Papercraft by Angelika Wolk-Gerche
(Easy-to-follow instructions for making stunning gifts out of paper.)
The Giving Book: Open the Door to a Lifetime of Giving by Ellen Sabin
(Activity book for children about the joy of giving.)
The Book of Giving: Poems of Thanks, Praise, and Celebration by Kay Chorao
(A collection of poems by well-known poets representing a variety of cultures and religions.)
❄️❄️❄️
Enjoy curling up on the couch with your children, some hot cocoa, and a good winter holiday book!
Want to hear more about what Steiner said regarding storytelling and reading to children? It might be different than what you think! Check out these posts: From Soul to Soul and Reading Stories to Children.
Looking for more gift ideas? Check out my Gift Guides and Book Lists for Simple Natural Families.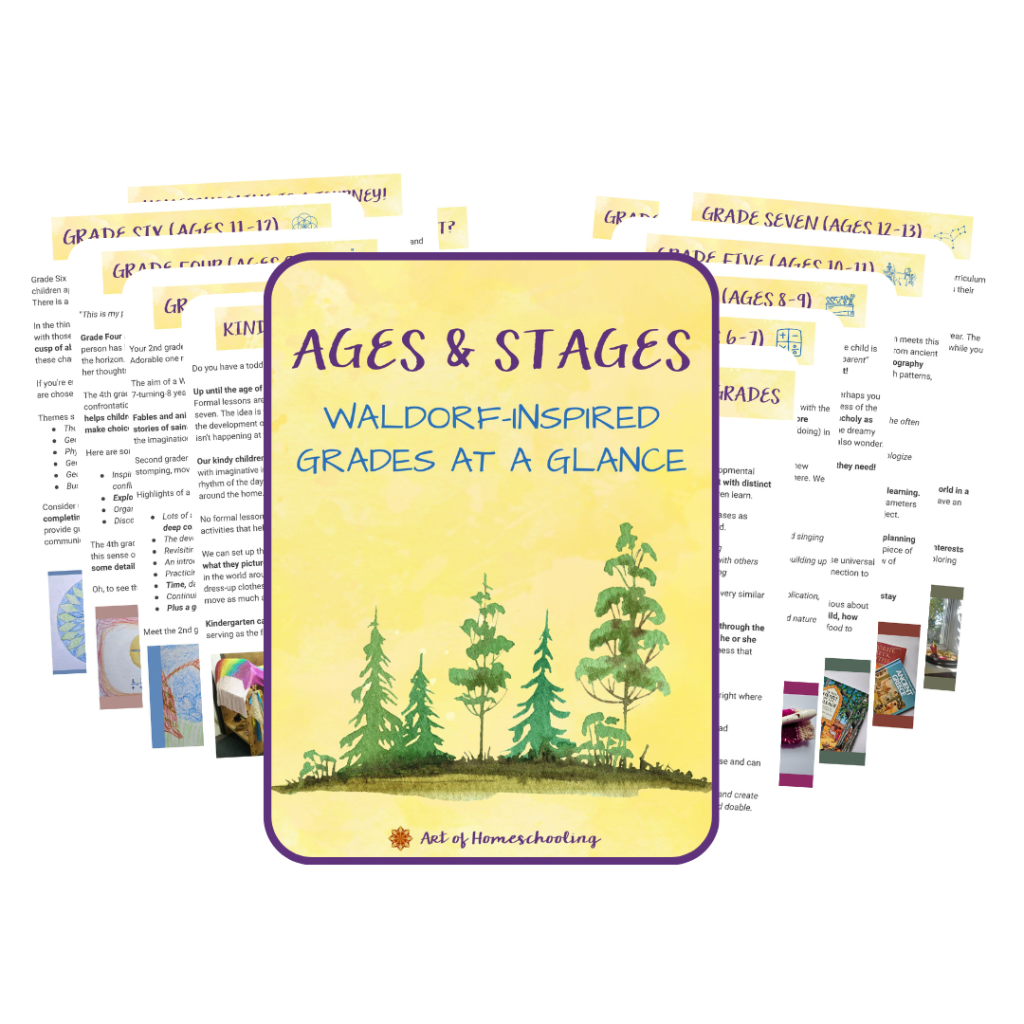 Free AGes & Stages Guide
Discover the wonders of each stage of learning so you can bring your children exactly what they need and homeschool with more confidence.