Does the idea of gathering around the table warm your heart like it does mine? Let's explore menu planning for your family.
And, I know it's not always easy to pull off. Here is the story of my menu planning journey along with lots of tips for you. 
This post contains some affiliate links for your convenience. Click here if you want to read my full Disclosure Policy.
Why Family Dinners?
Family dinners provide a point of connection in our daily rhythm that brings us all together.
Check out The Family Dinner Project whose mission is "Connect with your family…one meal at a time." IF you wish you were better at making family dinners a priority, check out their 4 Weeks to Better Family Dinners.
Do you know all the benefits to children of eating dinner together as a family?
Children who regularly eat dinner with their families are likely to have better grades, stronger peer relationships, better literacy skills and fewer behavioral challenges than their peers who don't participate in regular family dinners!
The "magic" of family dinners is grounded in research on the physical, mental and emotional benefits of regular family meals.
Here are just some of the benefits of family dinners:
Better academic performance

Higher self-esteem

Greater sense of resilience

Lower risk of substance abuse

Lower risk of teen pregnancy

Lower risk of depression

Lower likelihood of developing eating disorders

Lower rates of obesity
Menu Planning is the Place to Start
Family dinners can provide an anchor point each day in the life of a homeschooling family. But making dinnertime happen all together with healthy food on the table? Not always as easy as it sounds!
For years, I knew I wanted to make dinnertime a rich experience for sharing and togetherness. But more often than not, I would get to 4pm and not know what to make or serve for dinner.
And 4pm is not the time to figure that out!
I was hungry and exhausted myself. Yes, I get hangry. I was rarely motivated at this late hour of the day to make healthy food that took much prep (read: chopping vegetables). And so, more often than I like to admit, dinner would consist of ravioli and "red sauce." Again.
I knew I needed to plan ahead somehow. But I wasn't sure where to begin. Thus began my journey with menu planning. And I want to share with you all of my tips and ideas for menu planning for your family.
Dinner Theme Nights
The first game-changer was to pick dinner themes for each night of the week. Theme nights at least shorten the list of possibilities and get us to the making of the food faster.
There are so many possibilities. Here is a list of just a few:
Taco Night

Soup & Salad (or Soup & Sandwich) Night

Crockpot Night

Grill Night

Leftovers Night

Mexican Night

Meatless (Vegetarian) Night

Breakfast for Dinner Night

Kids Cook Night

Take Out Night

Seafood Night

Casserole Night

Pasta Night
Mapping Out a Plan
Next step: mapping out a plan. Believe me, I've tried so many meal planning ideas! From making a cute, magnetic menu board to hang in the kitchen, to simply writing a dinner plan in my daily planner, and even using a colorful printable.
But here's the thing. For me, if I get too specific, it doesn't work. I've spent hours creating the plan, but then something changes and I need to flex. Then I feel like all that planning was a waste of time. And I end up ditching the whole plan.
I need a basic framework that's flexible and doesn't take too much of my time setting it up. Plus, I want a planner that allows me to use my own recipes.
I enjoy cooking ~ when I'm not under pressure or too hungry myself! And we've accumulated many recipes that have become family favorites over the years.
Every time I download one of those free menu plans for the week, I end up only making a few of the recipes. I rarely use someone else's plan as is because the recipes seem too complicated or contain ingredients that we don't eat, and making substitutions isn't always easy.
Simple, doable and sustainable is what I want.
Enter Plan to Eat
Plan to Eat is a simple to use online meal planner that makes eating at home easier. This amazing tool for menu planning uses your recipes, scheduled for the days you want them. It automatically makes your grocery list, organized the way you like to shop, using the recipes you've selected. Plan to Eat makes it easier to eat real food, prepared at home, with your family gathered around your own table. 
I can collect all of my own recipes in this program (just type them in) plus save recipes from my favorite websites. (For me, those tend to be gluten-free and vegan cooking blogs that I love.) I can also get recipes from "friends" within the planner.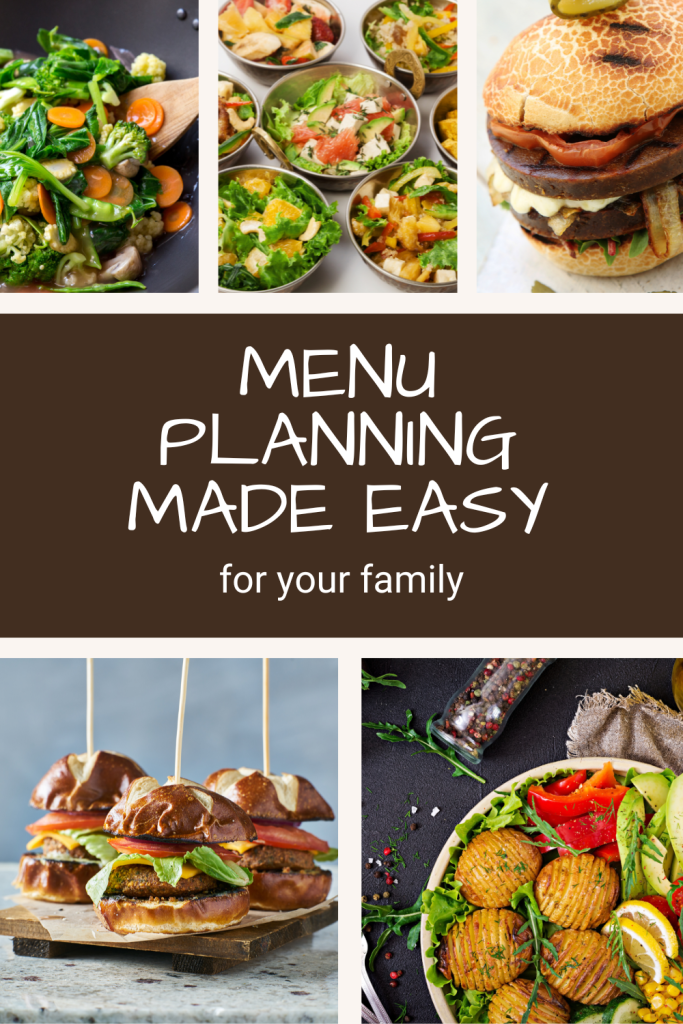 In Plan to Eat, I can create my family's weekly meal plan by using the drag & drop feature. Takes maybe 20 minutes.
Then I can print out a grocery list (or read it from my phone while at the store) after I remove items that we already have on hand. I print out the plan for the week (or month if you want to plan far ahead) and hang it on the side of my refrigerator. That's it.
Plan to Eat offers a 14-day FREE trial so you can see if it's right for you. Menu planning for your family made easy.
What Can a Good Menu Planner Do for You?
A good meal planning tool can help you…
Eat healthier

Save time planning, cooking, and shopping

Reduce your stress by knowing what's for dinner

Make family dinners a reality more often
The planning is quick. Cooking time is streamlined. And yes, my grocery shopping takes way less time than it used to because I shop from a list and have some regular dishes and ingredients that I make often. Plus there's flexibility.
Eat healthier, save time and money, know what's for dinner. A win-win all around. WooHoo!
If you have any food allergies or dietary restrictions, Plan to Eat is a real lifesaver. I'm both gluten-free and dairy-free, and I now have a wonderful collection of recipes for dinner rolls, birthday cakes, soups, condiments, and even ice cream!
Plan to Eat also has a tagging system not only for type of Course (main, side, dessert etc.), but also for type of recipe. I can tag recipes as gluten-free or vegan. I can then search for a group of tags when I'm sitting down to plan the next time.
I've been using Plan to Eat for over five years now. (It's a testament to the power of meal planning with Plan to Eat that I've stuck with this tool consistently for years!!!) And I now have 430 recipes in my planner.
How to Collect Your Recipes
Here's how I've gatherer my recipes inside Plan to Eat:
Online Recipes: Yes, there's a handy tool that allows you to find a recipe online ~ on just about any of your favorite websites ~ and save the recipe to your recipe collection with just one click. You then even schedule the recipe for an upcoming date right after saving.
Family Recipes: some of my recipes are family favorites that I've typed in. Then I can schedule these favorite meals often to keep everyone happy! Some of our favorites include Tomato Basil Tart, Easy Cheesy Lentils, and vegan Peanut Butter Cookies.
Recipes from Friends: some of my recipes come from friends within the program. Yes, you can "friend" another PTE user and share recipes!
Share the Cooking
Another perk: anyone in my family can cook dinner on any given night because they know what the plan is and we have all the ingredients!
Every week, I do our meal planning on Sunday. Then I print the plan out and put it into a plastic sleeve that hangs on the side of our refrigerator with a magnet.
Here's a great example from my family: I am currently taking a yoga class on Wednesdays at 5pm. I'm not home during the dinner-prep hour. So, my husband and teenage daughter switch off making dinner on Wednesdays. They just check the plan, and make the meal! Super for me and we still all get to have dinner together when I get home.
Plan to Eat has a great blog, too. Here is a link to a series of 5 posts they did on Meal Mapping.
Above all, I encourage you to find ways of making family dinners happen regularly in your home. Remember my mantra: "Scale back until it works and then build back up from there."
If it's not working right now, that means it's time to simplify menu planning for your family.
Just like homeschooling, let's make menu planning simple, inspiring, and doable.