If you've always wanted to plan a Lantern Festival for your family but don't know where to begin, read on! Fall is here and it's time for a lantern walk! And I have everything you need to plan a lantern festival.
This can be as simple as spending the morning making lanterns and then gathering your family at dusk for a walk. Or, inviting friends to meet you at a park for a lovely lantern walk through the trees. 
You could plan this on or around November 11th, which is when Martinmas is celebrated in Europe. Or, you could include a lantern walk over Thanksgiving weekend (if you're in the U.S.). Maybe you want to do this activity instead of trick or treating! 
Festivals give us anchor points through the year. It doesn't matter how elaborate your celebration is, just that you mark the time with reverence.
I have always found that celebrating festivals allows my chattering brain to slow down, to take a break from main lesson plans or judging how well our year is going, and focus on the now. To celebrate what's right in front of me. Right here, right now.
I have gathered together all of my best resources for celebrating the Lantern Festival just for you!
Plan Your Lantern Festival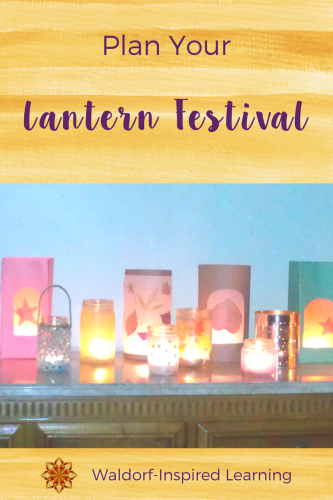 You'll find links below to an article on the festival and how to go about planning, song sheets, a lantern making reference sheet, and a sample invitation. 
I've even included a favorite verse about St. Martin.
How to Make 8 Different Lanterns
Lantern Festival Sample Invitation
St. Martin Verse
St. Martin rode through wind and snow
On his strong horse, his heart aglow.
He rode so boldly through the storm
His great cloak kept him well and warm.
By the roadside, a poor man arose,
Out of the snow in tattered clothes.
"I beg you help me in my plight,
Or else I'll die of cold tonight."
St. Martin stopped his horse and drew
His sword and cut his great cloak through.
One half to the beggar man he gave,
And by this deed his life did save.
Want everything you need to plan your Lantern Festival in one place? Join Inspired at Home – a membership that offers you trainings, weekly coaching calls, and a supportive homeschooling community – to get this masterclass plus 20 others!  
Here are my favorite books for planning festivals, complete with songs, recipes, verses, and crafts.


What do you have planned for your Lantern Festival?