Celebrating Festivals as a Family
Whenever I ask my kids – I have 3 who are all grown now – to share their favorite memories from our homeschooling years, they always include something from our festival celebrations.
Our lantern walks in the woods after dark, our winter solstice spiral, making candles at Candlemas, spring equinox plays, or our May Day festivals. I love hearing this!
And it doesn't surprise me – because gathering to celebrate festivals strengthens bonds, builds togetherness, and creates powerful memories, along with marking the turning of the seasons from year to year.
"Find your own personal connection to the seasons and their festivals as a way of creating an oasis of sorts, a time apart from the everyday to be present to something bigger."
In this episode of the Art of Homeschooling Podcast, I share with you some benefits for celebrating festivals, a simple structure for planning a festival, and three tips to keep in mind when bringing festivals to your family.
"Festival celebrations help us to mark the seasons, and can really become the anchor points to your year."
What Are the Benefits to Celebrating Festivals?
Festivals can help us…
Create special childhood memories

Connect to nature and the change of seasons

Establish family traditions

Strengthen family bonds
"Festivals provide us a time to rest, replenish, and restore."
Crafting a Simple, Doable Family Festival
A few songs & verses or poems

A story

An activity or ritual – fun, outdoors, artistic

Food!
3 Tips for Celebrating Festivals as a Family
Choose a few to do well, rather than trying to do them ALL. Keep it simple and doable for you!

Start with the seasonal celebrations that mark the corners of the year and plan as much as possible to celebrate outdoors.

Give yourself a few weeks to prepare, make crafts, learn songs or poems, and enjoy the anticipation of the celebration.
Here are some suggested festivals to choose from…
Spring Equinox
May Day
Summer Solstice
Autumnal Equinox
Michaelmas
Lantern Festival
Santa Lucia
Advent
Winter Spiral
Winter Solstice
Candlemas
If you want to read more about the festivals celebrated within Waldorf communities, this list from the Sanderling Waldorf School is a great place to start.
Mentions
Start where you are! Here's a simple idea to add a Story and Verse for Thanksgiving to your traditional family meal.
Michaelmas is fall celebration with themes of gathering courage for the coming dark months of winter. It's a time to tell stories of bravely battling dragons. And a time to bake a harvest loaf or delicious dragon bread. I share a Michaelmas play and several verses are here, Celebrating Michaelmas at Home
Inspiration for Lantern Festivals can be found here, How to Make Lanterns for Your Lantern Walk and Plan Your Lantern Festival.
The halfway point between the spring equinox and the summer solstice is May Day. Check out Celebrating May Day for ideas!
I describe our spiral walk ritual during the winter holiday season here, My Heart is Shining Like a Star.
Resources
If you want even more help crafting festivals for your family, I have an entire masterclass called Celebrating Festivals inside the Inspired at Home membership community. Plus a Lantern Festival masterclass.
Inspired at Home is a month-to-month membership that you can join anytime and cancel anytime. And the Celebrating Festivals and Lantern Festival masterclasses are just two of the over 25 masterclasses you'll have access to when you join…plus you get weekly group coaching calls, planning support, and monthly verses & songs for you to bring to your family. Check it out!
Here are some of my favorite books for celebrating festivals as a family.
Happy Celebrating!
About the Podcast
The Art of Homeschooling Podcast is for parents who are ready to thrive in homeschooling. In each episode, we share stories and strategies so you can drop the overwhelm and get in touch with inspiration. You CAN create a homeschool life you love.
I'm your host, Jean Miller, homeschooling mother of three now-grown children. And here at the Art of Homeschooling, we keep it sweet and simple so you can focus on cultivating creativity and connection at home.
Never Miss an Episode!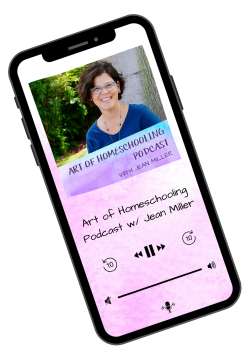 Subscribe & Listen
And save or share this episode on Pinterest with the image below.