So many styles of lanterns to make and so little time! Here in my family, we've been collecting all of our homemade lanterns over the years from many Lantern Festivals. I love getting them all out and setting them up to light. I put together a list of ideas for you for how to make lanterns. Plus a special treat, a video tutorial where I show you how to make four different styles of lanterns.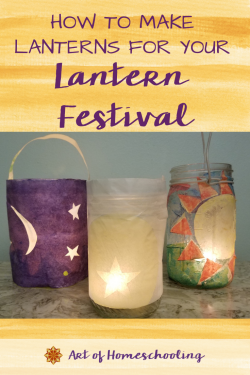 The following suggestions for making lanterns include the materials you'll need for how to make each type of lantern.
You can find complete instructions in the referenced books themselves.
This post contains affiliate links for your convenience. You can read my full disclosure policy here.
Of course, you are not limited to these lantern types.
Let your creativity inspire you!
How to Make Lanterns for Your Lantern Festival
1. Paper Lantern from The Children's Year (p. 104-105)


tracing or wax paper, thick colored/construction paper, pressed leaves or colored tissue paper, 4 ½ " round plastic lid, string.
2. Paper Lantern from Festivals, Family and Food (p. 106)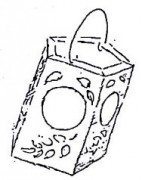 firm paper 15-16" long, tissue paper, card stock for bottom.
3. Paper Lantern from All Year Round (p. 164-166) card or thick paper 8×20", tissue paper, wire such as floral wire, craft knife.
4. Paper Lantern from Earthways (p. 33-34)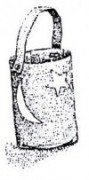 heavy construction paper or white watercolor paper, crayons or liquid watercolor and paint brushes, paper fasteners, masking tape, tissue paper.
5. Pressed Leaves Lantern from Earthways (p. 35-36) pressed leaves, wax paper, round box tops, construction paper strip, florists' wire, masking tape.
6. Paper Lantern from A Child Seasonal Treasury (p. 55)
watercolor paper (17×21"), watercolor paints, tissue paper, wire, double-sided tape.
7. Tin Can Lantern
large tin can filled with water and frozen two days ahead (!), markers, towel, hammer, different sized nails, thin wire. You hammer nail holes into the outside of the tin can in any pattern you wish. Then let the ice thaw and melt.
8. Glass Jar Lantern
glass Lantern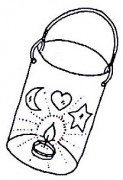 mason jar, canning jar or clean smooth jar, colored tissue paper, wire and watered down glue. Simply glue torn pieces of tissue paper all over the outside of the glass. These lanterns are easy and exquisite!
And now for the special video tutorial showing you how to make 4 different types of lanterns out of paper, glass jar, tin can, and balloon. With lots of tips for making lanterns with children.
If you want to know more about the Lantern Festival, plus add verses and songs, click here Plan Your Lantern Festival.
Want everything you need to plan your Lantern Festival in one place? Join Inspired at Home – a membership that offers you trainings, weekly coaching calls, and a supportive homeschooling community – to get this masterclass plus 20 others!