Waldorf art is unique and beautiful. The crayon drawings, the watercolor paintings, and oh, those colorful chalkboard drawings! But when we're new to Waldorf, we often wonder how to learn Waldorf art. How do we learn the specific techniques so that we can bring these lively arts to our children?
The answer is Waldorf Art for Beginners, a self-paced online course created by Robyn & Brian Wolfe over at Waldorfish.
Oh, how I wish this course had been around twenty years ago when I was just starting out on my Waldorf homeschooling journey!
I've searched for years for a way to help Waldorf homeschoolers learn these arts at home. And now it's available to you in this online course, Waldorf Art for Beginners.
How to Learn Waldorf Art
So often in the beginning of our homeschooling, we lack the confidence to even try to make main lesson books because we aren't sure how to do the crayon drawings. Or we feel at a loss on the watercolor painting because we just don't get how to paint wet-on-wet. Much less why!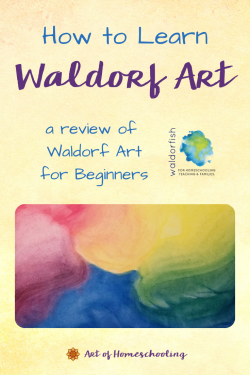 In this post, I offer my review of Waldorf Art for Beginners. I recommend this as a starting point for homeschoolers new to Waldorf, or those still struggling with bringing color and artistic experiences to their children.
This post contains affiliate links for your convenience. You can read my full disclosure policy here.
Waldorf Art for Beginners is a self-paced course with 8 videos. This course is straightforward and so practical, a great way to learn Waldorf art. 
The course includes the three basic art skills needed for Waldorf homeschooling: watercolor painting, crayon drawing, and chalkboard drawing. That's really all you need to learn and you will be well on your way to bringing art to your children on a daily basis!
The videos offer some instruction for the parent, and some activities that you can do with your children. Oh, if only I'd had this course when I was just starting out!
It took me years to learn these things about crayon drawing, painting, and chalk drawing. Lots and lots of trial and error, just jumping in but not feeling confident. It was scary because I didn't feel like I knew what I was doing. We rarely painted in the early years because I found it so intimidating.
This online course is so much more effective than just reading about these techniques in a book. Believe me, I've tried learning painting and drawing from a book and it's very difficult. Especially when you're a beginner. Once you can see and understand the techniques, books can be very helpful. But we really need to see someone demonstrating  the way to hold the brush, the way to blend the colors to be able to bring this to our children's lessons.
The combination of video and print in Waldorf Art for Beginners is just right. There are 8 videos, ranging from 7 to 14 minutes in length. Along with some tutorial print lessons that include photos.
Here is an outline of the lessons which can be completed in four days.

Waldorf Art for Beginners
Getting Started – Day One (3 Lessons)
Video One: Supplies – watercolor paper, paint, & boards
Video Two: Supplies – watercolor brushes, jars, rags, storing supplies, soaking bin
Crayon & Chalk Supplies – with a discount of 10% off from Bella Luna Toys
One of the things I love about Robyn & Brian at Waldorfish is that they offer lots of options. Plus, they are really clear about what's necessary and what's not.
In discussing supplies, Robyn shows 3 options for painting boards. She suggests starting with the primary colors. But you don't necessarily need to use the Stockmar brand. She talks about how thick and what size paper. In the discussion about brushes, I even learned a few things here about size. There are even DIY instructions on how to make your own chalkboard.
At one point Brian says, "It's easier than we think to make a really nice image with these (block crayons)." I would only add "…with some very focused, practical instruction."
And that is exactly what Waldorf Art for Beginners provides.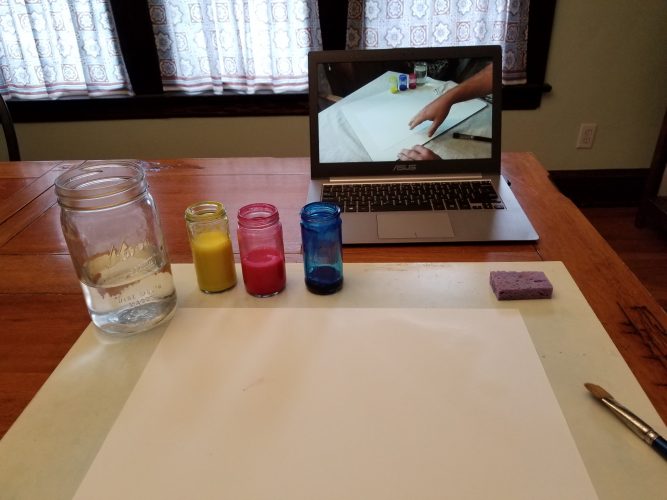 Watercolor 101 – Day Two (2 Lessons)
Lesson:

Soaking Paper & Mixing Pigments

Video: Watercolor Tutorial
I learned a new technique in this lesson about how to use a dry brush for blending.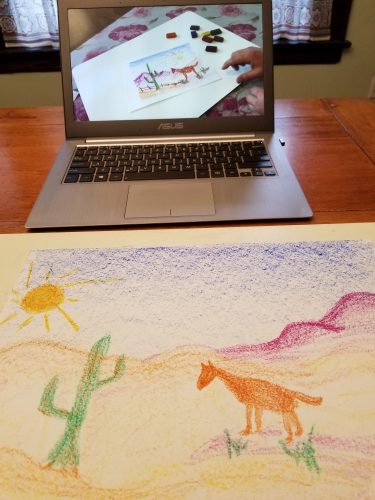 Block Crayon Basics – Day Three (4 Lessons)
Lesson: Care & Storage of Beeswax Crayons
Video : Crayon Exercises (for Adults) – Part I
These exercises for adults are so helpful for understanding and experiencing shading & line, values of light & dark. Plus how to use the different edges of the block crayons. 
Video: Crayon Exercises (for Adults) – Part II
Video: Crayon Drawing (for Adults & Children)
Demystifying Chalk Drawing – Day Four (2 Lessons)
Lesson: Care & Storage of Chalk
Video: Chalk Basics & Chalk Landscape
One of the goals in Waldorf artistic experiences is the liberal use of color because this helps children "to shape and perceive new ways of looking at the world." These lessons provide the support in how to do this.
Brian talks about getting shape and color up quickly, and then we can blend and add simple gestures. He says, "it's not a complicated process." With the guidance that Waldorf Art for Beginners offers, Waldorf homeschooling parents can gain the confidence to bring these unique and beautiful techniques to their children at home. 
I highly recommend Waldorf Art for Beginners. The price is so reasonable! Plus, Waldorfish has extended a 10% off discount to my community!
Here's What To Do Next
Check out the details of Waldorf Art for Beginners here. 
Have fun creating art with your children.