Michaelmas is a fall celebration that takes place in many Waldorf schools and communities all over the world. The themes of this holiday include gathering strength and courage for the coming darkness, banning together, and facing our fears. Many choose verses of courage and tell the story of St. George and the Dragon at a festival or celebration.
Whether simple or elaborate, the end of September (Michaelmas is usually celebrated on the 29th) is a nice time to acknowledge that strength and courage are needed as the days grow colder and the dark increases.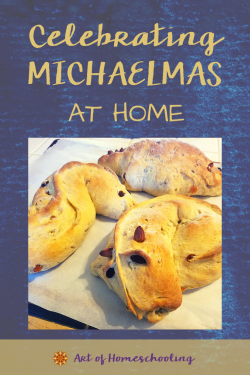 I want to share with you some verses and stories that you might use to create a celebration with your immediate family, neighbors or friends.
Here is a Michaelmas Play found in the Waldorf Clearing House Newsletter (Fall 1976 issue, scroll down to bottom of page 3). This particular play was written for second graders, but I've used it with mixed ages, as a puppet play and a staged performance. Just reading it is lovely, too. I personally like this version of the story because in the end, Michael does not slay the dragon, but brings him back to the village to serve the people of the village. And the story is told in verse!
Just FYI, the Waldorf Clearing House Newsletter was published from 1967-1988 by and for Waldorf teachers and they are now free online at the Waldorf Library. You can find lots of great resources for stories, articles, and circle activities in this as well as the Gateway newsletter found at this site.
Brave and True
(this is a nice verse to recite while marching out the rhythm.)

Brave and true I will be
Each good deed sets me free.
Each kind word makes me strong.
I will fight for the right,
I will conquer the wrong.
St. Michael

Earth grows dark and fear is lurking,
O St. Michael, Heaven's knight,
Go before us now and lead us,
Out of darkness, into light.
Another fun tradition in our family is to make Dragon Bread. You can use any yeasted bread recipe, and form your dough into a dragon (lying flat) Then decorate with slivered almonds for teeth and scales and, a raisin for the eye.
Looking for more ideas? Check out this post How & Why Waldorf Families Celebrate Michaelmas.
How do you celebrate Michaelmas at your house?