The balance is what draws me in. Exactly equal amounts of light and dark. Only for a moment, though. A time to embrace celebrating the Equinox with children.
We celebrate a moment of perfect balance when day and night, light and dark are equal. On the Equinox.
I want to remember that it's just moments that we get. Brief moments of joy to savor that can carry us on to the next one.
Here in Ohio, it's the Fall Equinox we are celebrating.
And Fall is an exquisite season here, full of orange and yellow and red leaves, crisp air and blue skies.
Our harvest this year has yielded applesauce, grape jam, zucchini muffins and lots of pesto!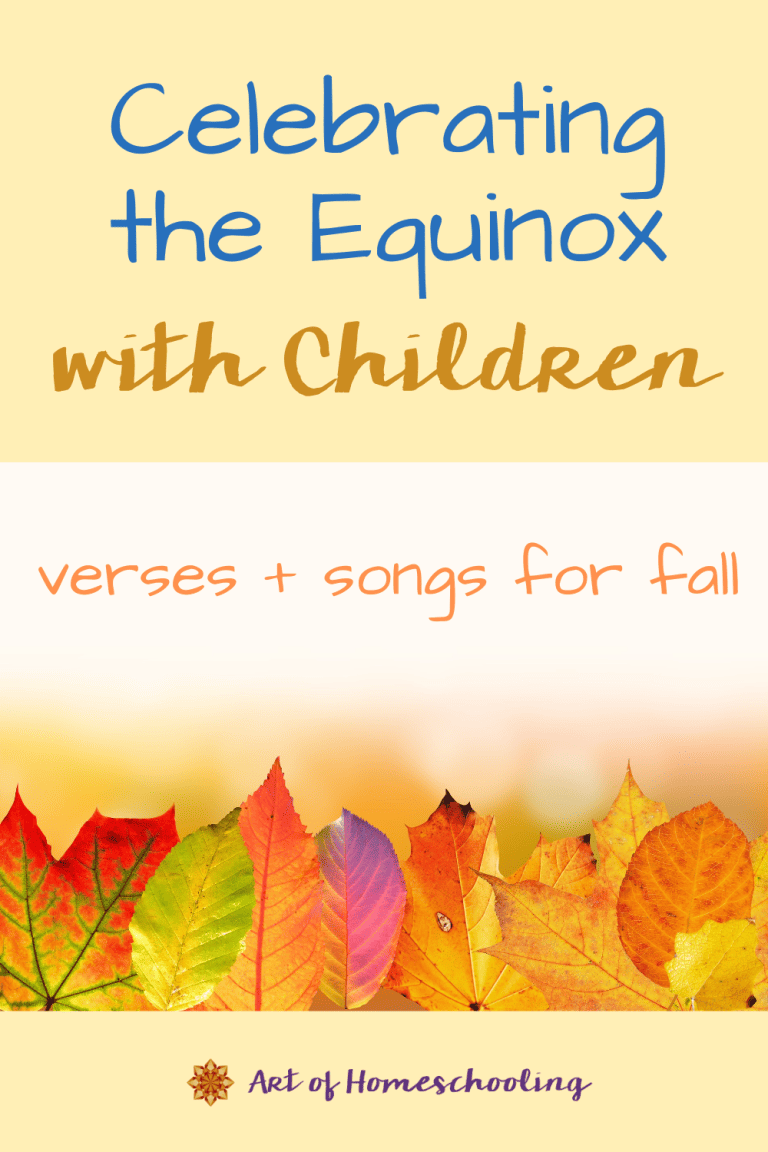 When my youngest was little, I put together a weekly group for homeschoolers that we called "Apples and Pumpkins."
Every week, we gathered for a story, craft, snack and outdoor playtime.
So sweet to spend the afternoon with a variety of ages from babes in arms to eight or nine year olds. And the Moms traded off planning the activities.
We always started with what most of us call "Circle Time." That was my contribution.
Click here for more ideas on How To Do Circle Time at Home.
I have notebooks full of songs and verses organized by season that I've gathered over all the years with my own children and small groups. And I want to share them with you!
Here are a few verses to help you celebrate this beautiful fall season.
Happy Equinox!
The Leaves Are Green
The leaves are green, the apples are red;
They hang so high above my head.
Leave them alone 'till frosty weather
And then they will all fall down together.
The leaves are green, the nuts are brown;
They hang so high, they won't come down.
Leave them alone 'till frosty weather
And then they will all fall down together.
Wind Up the Apple Tree

The Apple Tree
Here is a tree with its leaves so green. (Arms outstretched with hands open)
Here are the apples that hang between. (Clenched fists)
When the winds blow, the apples will fall. (Arms wave like the wind, then drop)
And here is a basket to gather them all. (Arms form basket)
September by Helen Hunt Jackson
The goldenrod is yellow,
The corn is turning brown,
The trees in apple orchards
With fruit are bending down.
The gentian's bluest fringes
Are curling in the sun,
In dusty pods the milkweed
Its hidden silk has spun.
The sedges flaunt their harvest
In every meadow nook,
And asters by the brookside
Make asters in the brook.
By all these lovely tokens
September days are here,
With summer's best of weather
And autumn's best of cheer.
Thanks an Iroquois Indian Address
Thanks to our mother, the earth, which sustains;
Thanks to the rivers and streams and their water;
Thanks to the corn and the grain fields that feed us;
Thanks to the herbs which protect us from illness;
Thanks to the wind and the rain for their cleansing;
Thanks to the bushes and trees and their fruiting;
Thanks to the moon and the stars in the darkness;
Thanks to the sun and his eye that looks earthward;
Thank the Great Spirit for all of the goodness."
Are you looking for verses on anything specific? Just ask!
Here is a song to go with these Fall Equinox verses: The Winds of October Song.
Check out this post for Celebrating Michaelmas.
I've got ideas for Fall Baking with Children here.
Have fun celebrating the Equinox with your children!