I get this question a lot! People wonder what the atmosphere is like, what the workshops, accommodations and food are like! So I thought I'd answer a few questions here about the Taproot Teacher Training for homeschoolers.
The Atmosphere
Taproot has a remarkably supportive atmosphere. Together with parents and often teachers from small school initiatives, we all form deep connections and a sweet community over the long weekend.
Here are some of the comments about what participants liked most about Taproot last year:
"warmth and community"
"emphasis on the lively arts"
"learning that there's flexibility in homeschooling with Waldorf"
"being with like-minded people"
"the teachers were kind, encouraging, open, and very knowledgeable"
"the general energy and positive joy that I received from everyone"
"everything!"
The Workshops
All sessions at Taproot are taught by teachers who have homeschooled their own children or grandchildren, or have worked directly with small groups of homeschoolers. All presenters also have experience teaching in either Waldorf schools, or public or private schools as well. Most importantly, all workshops are very hands-on, in keeping with the Waldorf philosophy. Lots of opportunities for doing and for seeing what homeschooled children have created. Participants receive a summary handout from each session.
The Accommodations
This year, we will be gathering at Camp Asbury in Hiram, Ohio. This beautiful camp has rolling hills, a lake, trails for hikes in the woods, campfire rings and more. Sleeping arrangements are in dormitory-style bunks. 
The Food
The kitchen staff at Camp Asbury will prepare all of our food. It's camp-style with lots of extra salads and veggies. Camp Asbury is also able to accommodate special dietary restrictions. Participants are asked to specify any special needs on their registration form. 
Here is the group from Taproot 2014. You can read my reflections from last year's gathering here: Taproot Reflections.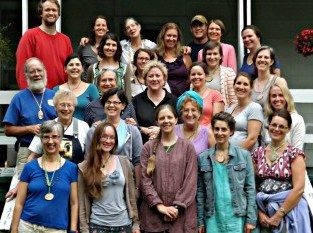 Want to hear from a participant? You can read Shelia's reflections on her blog, Sure as the World, Taproot Homeschool Teacher Training.
If you have any questions at all, please feel free to ask!