I'm just home from this year's Taproot Teacher Training, and what a weekend! My word to describe the group this year is "warmth." There was just such warmth and support among this group of twenty seven caring souls: twenty one homeschoolers/teachers and six presenters.
What a beautiful weekend. We painted, discovered a bee hive in a tree, made tabletop puppets, explored child development, delved into the blocks for each grade, did form drawing and shaped geometric solids, sang songs and experienced Eurythmy, did woodworking, played recorder, shared so many ideas, and laughed and cried together!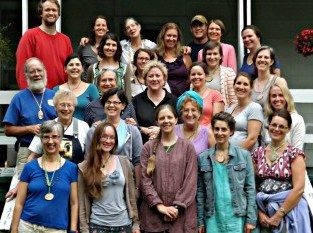 I love meeting homeschoolers from all over the continent who travel to central Ohio to learn from each other and gather the courage and know-how to return home to our families and bring them this wonderful way of teaching and learning. Thank you to each and every one of you who made the trek. The experience is born out of the community created by those who show up.
Special thanks to Barbara Dewey and John Quimby for preparing for and hosting us all on their farm, to Barbara for her hands-on skill in preparing for kindergarten and the early grades, and to Quimby for his appreciation and knowledge of the natural world and sciences; to Jenny Sage for her skill and talent with the recorder and her love of children; to Royse Crall for her wisdom and deep experience with the Waldorf curriculum and her laughter; and to my intrepid partner, Alison Manzer, who brings such joy and lightheartedness to the whole serious business of Waldorf homeschooling.
To those of you who were not able to this attend year, please consider joining us next year at a new location somewhere in the great state of Ohio!
As promised, here is the recipe for the homemade, gluten-free, chocolate cookies that I brought! Enjoy. 🙂  And here's to a rich, sweet year ahead!
Chewy Chocolate Cookies (recipe makes 2 dozen)
2 1/2 cups almond flour
1/4 cup coconut flour
1/4 cup cocoa powder
1/2 tsp salt
1 tsp baking soda
2 egg yolks
1 tsp vanilla extract
1/2 cup honey
1/2 cup coconut oil
Preheat oven to 325 degrees. (Note: this does not say 350!) Mix together dry ingredients: almond flour, coconut flour, cocoa, salt, and baking soda. In a separate bowl, whisk together egg yolks, vanilla, honey, and coconut oil. Add the wet to the dry, stirring until smooth. Scoop spoonfuls onto a parchment-lined cookie sheet. Bake for 15 to 18 minutes, making sure not to burn. (My recipe is adapted from another recipe which calls for the addition of chocolate chips; you can find the original recipe over on the blog If Cave Mom Baked Cookies.)