The Steiner Cafe is a virtual gathering place where we explore and reflect on the lectures Rudolf Steiner gave at the Teacher's Seminar in 1919, the very first Waldorf teacher training. Together with my homeschooling friend, Alison Manzer, we ponder these lectures from the perspective of homeschooling.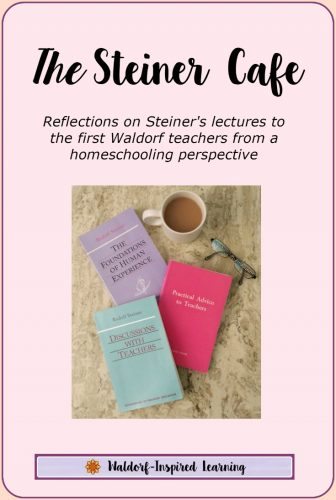 Steiner's lectures to teachers from 1919 are published in three books. 
This post contains affiliate links for your convenience. Click here to read my full disclosure policy. Thanks for your support!
These lectures are enlightening to read and reflect upon for our Waldorf homeschooling. We invite you to pick up the books and read along.
Another option is to read the books online at www.rsarchive.org. Or, you can listen to the lectures read aloud at www.rudolfsteineraudio.com.
Here are the lectures we've covered so far:
Day Twelve, Discussions: "Make It As Lively As Possible"
Day Twelve, Foundations: "Strengthening Their Bodies, Not Just Their Minds"
Day Eleven, Discussions: "Lessons on Plant Classification"
Day Eleven, Practical Advice: "Geography Lessons Are an Example of How Everything Can Be Done"
Day Eleven, Foundations: "What to Consider When Creating Waldorf Curriculum"
Day Ten, Discussions: "Steiner on the Plant World at the Teacher's Seminar"
Day Ten, Practical Advice: "The Three Stages of the Waldorf Curriculum"
Day Ten, Foundations: "Teaching the Whole Human Being: Body, Soul & Spirit"
Day Nine, Discussions: "Give Children a Pictorial Survey of the Plant World"
Day Nine, Practical Advice: "Teaching Foreign Languages"
Day Nine, Foundations: "Cultivating a Prayerful Attitude"
Day Eight, Discussions: "Steiner Says: Healthy Food & Caricatures"
Day Eight, Practical Advice: "Working out the Curriculum"
Day Eight, Foundations: "Remembering and Forgetting & The Twelve Senses" 
Day Seven, Discussions: "Steiner's View on Teaching History"
Day Seven, Practical Advice: "Steiner on Humans and Animals"
Day Seven, Foundations: "The Space in Between"
Day Six, Discussions: "Reading Stories to Children"
Day Six, Practical Advice: "Inward is the Path"
Day Six, Foundations: "Three Parts of the Soul"
Day Five, Discussions: "Speech, Temperaments, Misbehavior"
Day Five, Practical Advice: "Drawing, Writing, Reading"
Day Five, Foundations: "A View of Human Nature"
Day Four, Discussions: "The Temperaments & Math"
Day Four, Practical Advice: "Tips on the First Day of School"
Day Four, Foundations: "The Power of the Will"
Day Three, Discussions: "A Thing Can Be Good in a Variety of Ways"
Day Three, Practical Advice: "The Arts Engage the Will"
Day Three, Foundations: "Cosmic Law"
Day Two, Discussions: "The Temperaments"
Day Two, Practical Advice: "It All Starts with Love"
Day Two, Foundations: "Avoid Teaching that is Abstract"
Day One, Discussions: "Story Content for each Grade"
Day One, Practical Advice: "Teaching is Communication from Soul to Soul"
Day One, Foundations: "Teaching is a Moral and Spiritual Task"
Introductions & Backstory: "Meet Me at the Steiner Cafe"