Lecture ten is a gem! In this lecture from Practical Advice to Teachers, Rudolf Steiner outlines the three stages of the Waldorf curriculum. He's getting more concrete and specific here because it's only five days until the very first Waldorf school opens its doors!
As you may know, Steiner never wrote out a detailed curriculum. Many believe he intended to eventually, but he died five years after the first Waldorf school opened and those years were consumed with all of the challenges that come with opening a new school.
Steiner did write a few outlines. Aside from this one on the stages of the curriculum, he also wrote a list of the stories that are suited for each grade. Click here for the "Waldorf Story Content for Each Grade."
Steiner opens this lecture by describing the need to go from the simple to the complex, to build up the curriculum slowly. Helpful advice for those of us homeschooling!  
"The curriculum will not at first contain everything, for we shall build up the way we view things by degrees."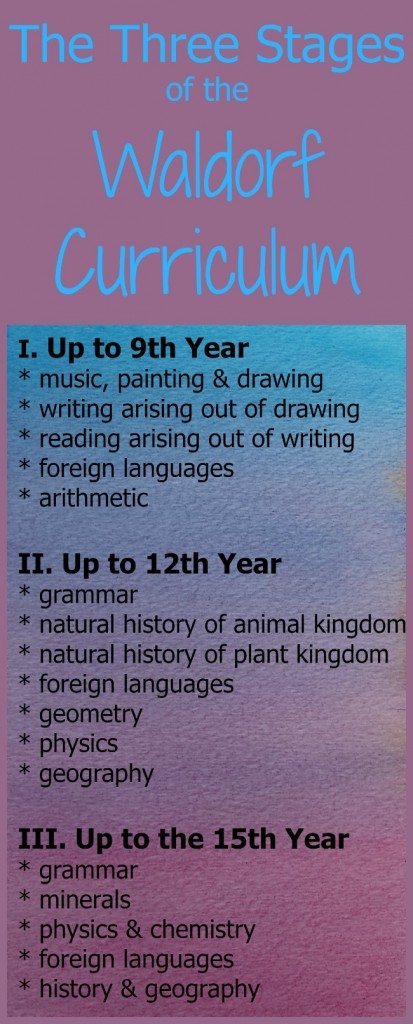 This lecture details a critical piece of the Waldorf curriculum framework. And is a great starting point for homeschoolers because the three stages are not grade-specific but a sequence of subjects from about age six or seven to age fourteen or fifteen. Alison: Love the fluidity and the relaxation that this brings: thinking about the school years as being broken up into three longer more fluid stages versus grades.
"It will be good (speaking now of the ideal) to have less of a sharp differentiation between the classes within each stage than between the stages themselves."
The Three Stages of the Waldorf Curriculum
I. Up to the 9th Year
the artistic realm is the starting point

music, painting & drawing (including geometric forms)

writing arising out of drawing, reading out of writing

foreign languages (only learning to speak)

arithmetic somewhat later
II. Up to the 12th Year
developing self-awareness

grammar, word-inflections

natural history of animal kingdom

natural history of plant kingdom

foreign languages

geometry

physics

geography
III. Up to the 14th or 15th Year
grammatical syntax (sentence structure)

minerals (through geometric forms linking to physics)

physics & chemistry

foreign languages

history & geography
"We must bring our intellectual age back to the realm of the will…what the teacher speaks is not followed by reflection on what he has said or by a slow spoken answer, but by action."
Steiner reiterates that it is economical to teach in this way. We want to remember, too, that we build from the bottom up, from those first subjects and then add from there.
Steiner also mentions compromise in this lecture. "Naturally we shall have to compromise…" He speaks specifically of needing to share space in the school in a way that the activity of different subjects will not disturb other classes or subjects.
Steiner's example here is that the young children cannot be doing music in the same classroom or even next to others who need absolute quiet in their lessons, so it may need to be moved to the afternoon. At home, we have to juggle these considerations as well if we have more than one child, but on a much smaller scale, of course.
Alison's  reflections: To heal the culture by incorporating a more ancient slower time table – to unite the intellect with feeling and will through practices like working with the memory and reciting and the idea of reading coming from writing…"binding the human being to the world versus abstracting the human being from the world." This bears a lot more thinking about:)
I also noticed once again Steiner's similarity to Charlotte Mason with his emphasis on narrative retelling instead of formal composition up until high school. Steiner definitely thought that the ability to retell accurately and thoughtfully (versus completely imaginative or creative writing) was one of the most important goals for the scope of the entire education and the foundation upon which any fruitful composition instruction must rest.
Back to Jean: I also find it reassuring to realize that Steiner and his first Waldorf school had to factor in the constraints of reality just like we do. Steiner was a pragmatist. And these lectures in the Teacher's Seminar can at times be more helpful to us as homeschoolers than trying to model ourselves after a Waldorf classroom.
These three stages of the Waldorf curriculum are a simpler starting point for our homeschooling.
This outline is a progression, a sequence. This could also allow for combining grades or at least overlapping some subjects in a homeschool setting.
Just as Carrie Dendtler over at the Parenting Passageway has expressed, I believe that Waldorf homeschooling is becoming (or always has been?) a movement in and of itself rather than just an offshoot of a Waldorf school.
The three-stages-of-curriculum approach is something I personally want to explore more, particularly as it applies to Waldorf homeschooling. This year, the 9th annual Taproot Teacher Training reflects this, with a workshop on main lessons before the 9-year change and one on main lessons after.
What are your thoughts on the three stages of the Waldorf curriculum?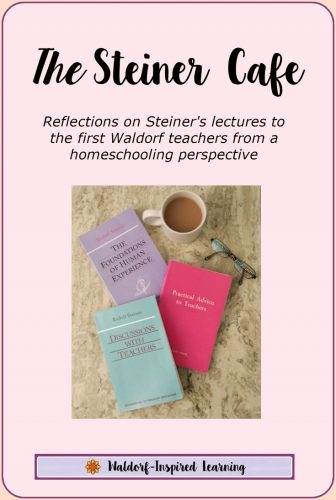 The Steiner Cafe is a place to explore and reflect on the lectures that Rudolf Steiner gave at the Teacher's Seminar in 1919, the very first Waldorf teacher training. 
To read reflections on previous lectures, check out The Steiner Cafe.
These lectures are published in three books. Below are affiliate links for your convenience. Click here to read my full disclosure policy.
  The morning lectures are found in The Foundations of Human Experience; later morning lectures in Practical Advice to Teachers; and afternoon lectures in Discussions with Teachers. 
We invite you to pick up the books and read along. Or if you prefer, you can read online at www.rsarchive.org. Or listen at www.rudolfsteineraudio.com.
Lot's of options! Hope you'll join in the conversations.