Rudolf Steiner poses this question to his first teachers-in-training in August of 1919: what is health-giving to children? This is our starting point as we begin to sort out how and what to teach in Waldorf homeschooling.
Alison, my partner here at The Steiner Cafe, asked me on the phone: "Don't you think this lecture is a game changer?!"
Steiner reminds his teachers that we are talking about the first two decades of life here. And these two decades are divided into three parts: before the 9 year change, from age 9 to puberty, and after puberty. He reviews that up to the 9 year change, children learn through imitation. Between age 9 and puberty, children learn from a loving authority; and after puberty, children form their own judgments. As homeschoolers, if we can just get these three stages of development into our heads, we are doing well!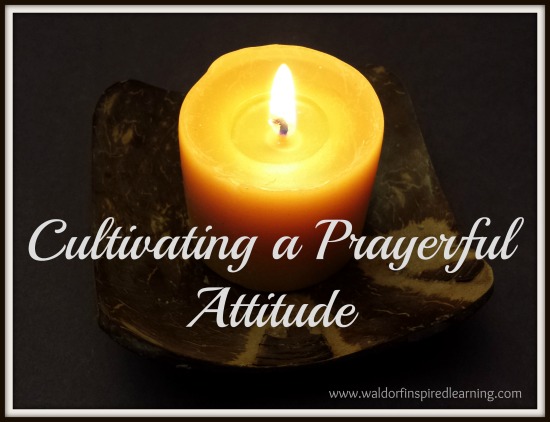 The game changer here is the bigger picture of a person's whole life. And the most important thing to teach? What is health-giving to children? What is the final goal? A prayerful attitude. 
That's right. This cultivating of reverence and honor in children is really what it's all about.
Remember back to the Opening Address? Steiner wants to make the world a better place through education.
He leads up to the importance of cultivating a prayerful attitude through an explanation of concept, conclusion and judgment. He wants to make sure his teachers do not "have the children memorize finished conclusions." The learning needs to be alive. And let us remember that the arts bring learning alive and help make it memorable.
Everything you provide the children when you tell them a story and relate it to humans – when you relate the squid and the mouse to humans in natural history, when you excite a feeling of wonder for the telegraph that is completed by the ground wire – all of these are things that connect the whole world in its details to the human being.
Steiner goes on to say that "to teach concepts that are intimately connected with human nature means to give children living concepts. These living concepts undergo metamorphosis, transforming themselves throughout people's lives." This is a much bigger picture than, say, what to teach in grade two!
In Steiner's own words: 
What lives in human beings tends toward metamorphosis. If you can bring it about that the children have concepts of respect and honoring, concepts of all that we can call, in an all-encompassing sense, a prayerful attitude, then such thoughts will be living in children permeated with a prayerful attitude, and will remain into old age. In old age, these concepts will be transformed into a capacity to bless and to give others the results of a prayerful attitude.
As parents, aren't we ourselves searching to discover our own gifts to share with the world? And isn't that what we want for our children? For them to discover their gifts and be able to share them? To be able to bless others?
Alison and I found this lecture both sobering and inspiring at the same time. A big responsibility we have! First is just figuring out what a "prayerful attitude" even means! And finding a place of acceptance that education is really about the entire life cycle.
Both Alison and I, who work with teens at this stage in our lives, feel that teens today crave a sense of reverence and honor. And it is our responsibility to cultivate that no matter what age our children may be.
So then we must ask ourselves:
What would an education that above all else is trying to cultivate a prayerful attitude look like?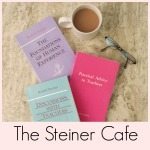 The Steiner Cafe is a place to explore and reflect on the lectures that Rudolf Steiner gave at the Teacher's Seminar in 1919, the very first Waldorf teacher training. Each month here, we ponder one day of the seminar. It's March 2015, and we are on Day Nine.
For reflections on previous lectures, check out The Steiner Cafe page.
These lectures are published in three books; the morning lectures in The Foundations of Human Experience; later morning lectures in Practical Advice to Teachers; and afternoon lectures in Discussions with Teachers. We invite you to pick up the books and read along.
If you prefer, you can read online at www.rsarchive.org, or listen at www.rudolfsteineraudio.com. Or, just meet us here each Thursday or Friday at The Steiner Cafe for some lively discussion. Lot's of options! Hope you'll join us.