"You must look on the first lesson you have with your pupils in every class as outstandingly important." Thus Steiner begins Day Four of his midday lectures to the teachers in the first Waldorf School (collected in Practical Advice to Teachers). This lecture on day four of the Teacher's Seminar is full of "suggested conversations" to have with children at the beginning of the school year. Consider these tips on the first day of lessons.
How can we apply these ideas at home? Steiner says do not follow the latest ideas, but design our plans with the children's development in mind. And let them do something skillful with their hands right in the very first lesson!
The purpose of these welcoming conversations is twofold: to draw the children's attention to why they have come to school – or to lessons — and to instill in them respect and admiration for adults and what adults can do.
Steiner calls these "suggested conversations" to have with the children on the first day of school.
"So you have come to school, and now I am going to tell you why you have come to school. You have come to school in order to learn something. You have no idea of all the things you will be learning in school, but there will be all sorts of things that you will have to learn. Why will you have to learn all sorts of different things in school? Well, you have no doubt met some adults, some grown-up people, and you must have noticed that they can do something that you cannot do. And so that one day you will also be able to do what the grown-ups can do is the reason why you are here. One day you will be able to do something that you cannot do yet.
You can't read yet, but you will learn to read and when you have learnt how to do it you will also be able to take the books and learn from them what the grown-ups can learn from them. Grown-ups can write letters to each other, in fact they can write down anything they like. Later on you will also be able to write letters, for as well as learning to read you will also learn to write. As well as reading and writing, grown-ups can also do sums. You don't yet know what doing sums means. But you have to be able to do sums when you go out into life, for instance if you want to buy something to eat or to wear, or if you want to make something to wear.
Look at yourselves! You have two hands, a left one and a right one. These hands are for working, you can do all kinds of things with them.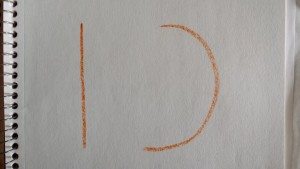 Now I am going to do this (Steiner draws a straight line and curve on the board). And now you can take your hands and do it too."
Steiner very much urged the teachers to "bring in the fullness of life" and not just games or activities artificially constructed for school. He asked the teachers this question: How, then, can we really work effectively, particularly in the forming of the will right from the start?
The examples he gives begin with drawing, then painting, then music. Use the hands and ears before handwriting and then reading, he urges. This is the day where Steiner introduces the straight and the curved lines as the drawing lesson, and he explains the importance of hearing and seeing and speaking of beautiful things.
His key points of method are this:
Take it as slowly as possible! (Steiner's example: If you let each child come up to the blackboard and draw what you drew, this will take time!) Give time for experiences to settle in.

Use the principle of repetition (and draw something similar the next day, asking the children what it is).

"Do not present the children directly with what you want to teach them; instead you leave them for a while in a state of expectation."
The feeling of concordance of notes and beautiful pictures…"These things, and not the letters of the alphabet, are the starting points for the early lessons."
The key is strengthening the will, so that children can grow up to make positive contributions and help make the world a better place. Lovely words to think about as we begin crafting our plans for next year.
Over my years of homeschooling, I have loved finding ways of making that first day or week special, with favorite muffins or coffee cake for breakfast, new supplies given as gifts, a special ceremony, or a picnic.

Have you ever read Miss Rumphius? If not, find a copy. It's oh so lovely and all about growing up to make the world a more beautiful place! Here's an idea for an annual ritual: read Miss Rumphius aloud to your children at your first day of school picnic every year!
How will you begin your first day and week of lessons?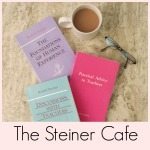 The Steiner Cafe is a place to explore and reflect on the lectures that Rudolf Steiner gave at the Teacher's Seminar in 1919, the very first Waldorf teacher training. Each month here, we ponder one day of the seminar. 
To read reflections on previous lectures, check out The Steiner Cafe page.
These lectures are published in three books; the morning lectures in The Foundations of Human Experience; later morning lectures in Practical Advice to Teachers; and afternoon lectures in Discussions with Teachers. We invite you to pick up the books and read along.
If you prefer, you can read online at www.rsarchive.org, or listen at www.rudolfsteineraudio.com. Or, just meet us here each Thursday or Friday at The Steiner Cafe for some lively discussion. Lot's of options! Hope you'll join us.