What would Rudolf Steiner say to us over tea at the European cafe where folks met almost 100 years ago to begin plans for the first Waldorf School? What would we want to ask him? Meet me at the Steiner Cafe!
Let the conversations begin here at The Steiner Cafe. We will meet every week right here, so grab your favorite hot beverage and join us in reflecting on learning, childhood, how stories help teach and how engaging in the arts helps us remember what we learn. What did Steiner really say?
Today, as a special treat, I'm including my favorite chai tea recipe at the end of this post! 
The back story: When my friend Alison said she wanted to delve into some Steiner together, I suggested the three books that comprise the very first teacher training. This "pedagogical course" took place for two weeks in the late summer of 1919 just before the first school opened. In those two weeks, Steiner gave three lectures a day to a small group of soon-to-become teachers. 
Here are the three books:
This post contains affiliate links for your convenience. Click here to read my full disclosure policy.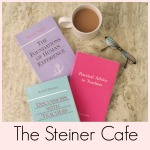 Each week, Alison and I will share our reflections on Steiner's lectures and we will cover one day of lectures a month. You may wish to read along in the three volumes, or you may want to join in by stopping by here for our reflections. Either way, please join the conversation and leave your comments!
Here are some highlights from the Introduction to The Foundations of Human Experience:
In 1919, Europe had endured a long war which caused much destruction and suffering. Steiner's goals for the first Waldorf school were educational renewal and contributing to lasting peace. Wouldn't you say that as homeschoolers, we share similar aims?

These lectures had the very practical purpose to help prepare

 the teachers for the new school, but also for all to use "as a starting point along the road to heightened self-development." Yes, self-development (for us adults)!

In the 

"Note of Appreciation from the Waldorf School Faculty," the first teachers describe the beginnings as such: "The thoughts presented by Dr. Steiner prompted industrialist Emil Molt to decide to found a school that was to be a germ for the free spiritual life…

As this work of Rudolf Steiner is now sent out into the world, the teachers of the Waldorf School wish to accompany it with a deep feeling of gratitude and the desire that it be taken up with understanding so that it may fructify education everywhere."
My hope in undertaking this project of reading and sharing here at The Steiner Cafe  is to "fructify" our educational experiences in our homeschooling, for we are certainly a part of "education everywhere."
A few more highlights from Introductions to Practical Advice and Discussions with Teachers:
"Rudolf Steiner is concerned with the most effective and beneficial means of educating the child in whatever society he happens to live."  

The "pedagogical course" was quite brief, just two weeks, with the understanding that those teachers would continue their training. For us today, these lectures can inform our homeschooling, our concepts of teaching and learning, and our "training" is ongoing!
And now, here is my favorite recipe for making your own delicious hot beverage!
Chai Tea Recipe
2 cups water
1 Tbsp cardamom pods
1/2 tsp whole black peppercorns
1/2 tsp whole cloves
3″ fresh ginger root (peeled & sliced thin; about 18-20 thin slices)
1/8 cup cinnamon chips (or 6 small sticks; I buy cinnamon chips in bulk)
Put all ingredients into a small pot and bring to a rolling boil. Reduce heat to medium-low and simmer for about an hour. The end result is about 1 1/2 cups of concentrated, spiced liquid. I then put 1/2 cup of this (reheated if necessary) into a mug along with an equal amount of hot water. If you want to add some tea, you can steep a tea bag of black tea or even green tea right in the mug. Add sweetener and milk (my favorite is honey and coconut milk) to your liking. Delicious! This keeps well in the refrigerator and can even be made in large batches and frozen.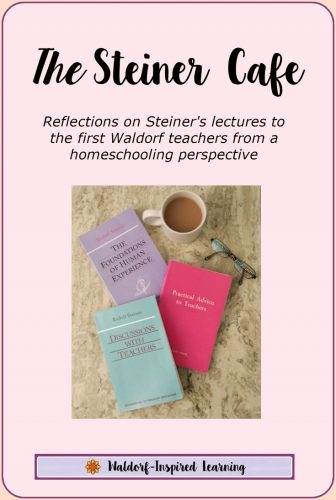 The Steiner Cafe is a place to explore and reflect on the lectures that Rudolf Steiner gave at the Teacher's Seminar in 1919, the very first Waldorf teacher training. 
To read reflections on previous lectures, check out The Steiner Cafe.
These lectures are published in three books. The morning lectures are found in The Foundations of Human Experience; later morning lectures in Practical Advice to Teachers; and afternoon lectures in Discussions with Teachers. 
We invite you to pick up the books and read along. Or if you prefer, you can read online at www.rsarchive.org. Or listen at www.rudolfsteineraudio.com.
Lot's of options! Hope you'll join in the conversations.