I must admit that I've created many different systems for cataloging my recipe collection and for menu planning over the years. MANY! But a few years ago, I finally settled on a super simple system that saves me lots of time. Are you ready?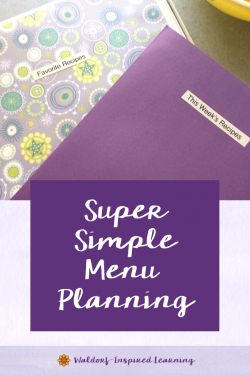 Two Steps to Super Simple Menu Planning
1. I have general categories or themes assigned to each day of the week (see the list below), and
2. I pick a recipe I want to make in each category and put them into a folder that says "This Week's Recipes."
That's really it. And it works so very well.
What are my themes? Here they are. I encourage you to pick ones that work for your family.
Recipe Themes
Sunday: Soup and Salad

Monday: Moroccan or Mexican

Tuesday: Tart (like quiche) or Tacos

Wednesday: Wacky Wednesday (often breakfast for dinner)

Thursday: Take Out (either literally, or something easy like burgers or dogs or chili in the crockpot)

Friday: Shabbat Dinner (full course meal of usually chicken or salmon)

Saturday: Pizza
I've collected lots of copies of recipes over the years and keep them in notebooks by type (main dishes, soups & sides, desserts & breads etc.). So for the "This Week's Recipes" folder, I pull from those notebooks each Sunday when I sit down to plan.
If a recipe I want to make is in a cookbook or online, I stick a small post-it note on the inside of the folder that names the recipe and where to find it. 
As my kids have gotten older, I've jotted down what I'm planning for dinner on a calendar – on our big family calendar that hangs in the kitchen.
That way everyone knows the plan and can step in to make dinner tonight if I'm in a crunch. We have the ingredients on hand because I've done the shopping (I make the list the day I make the plan) and all I have to say is "could you start dinner, please!?!" 
Planning Tools
Update: I now use the free online tool, Trello, for creating my super simple menu plan. But the same principles apply! 
My husband and I also use a free app for smart phones called Our Groceries App. This is where we can type in any needed items into our grocery list. When we add an item to the list, everyone can see it!  And then you can cross things off while at the store. So very handy. You can even create lists for other stores like the office supply store or craft store, too.
In Need of recipe ideas? Check out the books below.


You can read more about my motivation here at this post: Family Dinners. 
If you're just getting started with menu planning, or feel like you need to revamp so you can relax and renew this week, simply jot down categories or themes for each day of the week and pick a favorite recipe for each category/day. That will be the first step toward simplifying your dinner plans each week.
When it becomes part of your weekly rhythm, the predictability helps children and us parent folk feel more secure! And more relaxed!!!
Do you have any new inspirations to share about how you handle the process of providing meals for your family?