When I talk to parents about planning main lesson blocks, they often ask, "How can I easily focus on Waldorf painting and drawing?"
Here's how the conversation usually goes.
I am explaining the 3-part lesson in a 2-day rhythm like this, "on Day One, you present new material with a story, and then you paint a picture or draw into the main lesson book. On Day Two, you revisit that story and write a summary into the lesson book."
Most parents reply, "OK, I can do that. Except I don't really know how to paint or draw."
Well, what then?
Often I find myself saying you just have to do it. Just start, and you will learn as you go along.
But over and over again, I hear from clients that they never get to it because they feel inadequate, not prepared. They don't know how to do the drawing and painting in the Waldorf style, so this stops them. Many parents simply avoid moving forward with their main lesson block. They get stalled and hung up here.
(Can you tell this is all very familiar to me? When my children were young, I had this fantasy that if only I could freeze them for about five years to go and learn everything I needed to about Waldorf, then maybe I could come back and feel prepared to homeschool them!)
Unless you have an opportunity to attend a live workshop (like the Taproot Teacher Training), it can be very intimidating and even difficult to learn the Lively Arts.
Until now!
This post contains affiliate links for your convenience. You can read my full disclosure policy here.
Today, I am very excited to share with you a review of the Weekly Art Lessons from Waldorfish. Robyn and Brian at Waldorfish have put together an online program in the arts that is fun, easy to use, and so very do-able for Waldorf homeschoolers. So you can easily focus on Waldorf painting and drawing in your homeschool.
A Few Details on the Weekly Art – Foundations lessons from Waldorfish:
You get 34 lessons total, mid-August – May.

For the 2020/2021 homeschool year, registration is open until September 11.

You can purchase the full year or pay in monthly installments.

The lessons are delivered via video in an online learning platform. You just login. Plus, you have lifetime access to these lessons after purchasing.

You can watch these lessons yourself, and then teach them to your children. Or, you can watch and do them with your children.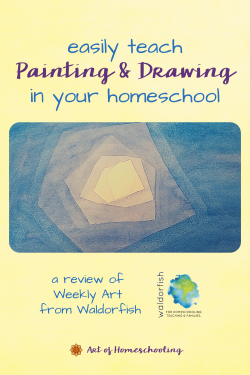 I had an opportunity to do four lessons from last year's Weekly Art, now available as Bundle #2. This bundle includes a crayon drawing landscape, veil painting, a chalk drawing, and a pencil drawing. I'd never done veil painting before (because I didn't know how! Yes, it's true). And the chalk drawing on paper was my favorite!
If you don't want to do the full year of lessons, you can purchase one or all of three Bundles with four lessons each from last year's weekly art classes.
Here are some of my drawings and paintings.
Each month of the Weekly Art Lessons has a variety of types of lessons. The lessons are easy to access and include a list of specific supplies needed for that lesson, and often two videos. The videos are usually under 15 minutes and teach a variety of techniques while walking you through the project.
I highly recommend Weekly Art – Foundations lessons to all homeschoolers. Just click the link above for more details and to enroll. *Please note: if you've already taken Weekly Art, you'll want to get in touch with Waldorfish to enroll in their Weekly Art – Diving Deeper course.
I can imagine a family doing art lessons once a week, say on Friday afternoons, and using the Weekly Art Lessons from Waldorfish to guide this art experience. You could set aside an hour to an hour and a half for a fabulous addition to your weekly rhythm.
Not only would you have the experience of creating a piece of art together each week, the tips and techniques from these lessons would then carry over into your main lesson block work.
My only minor challenge with this program is that the videos move rather quickly. You may not finish your picture during the video. But the beauty of video is that you can pause it and resume, or go back and review different sections. The teaching is excellent and the philosophy refreshing.
So rather than stressing about how and when you're going to learn to paint or draw, just have fun doing Weekly Art Lessons. And the techniques and skills you experiment with will carry over into your other homeschooling lessons.
Just from the four lessons I did in Bundle #2, I learned new tips on shading while drawing, blending colors, value and texture, and patience!
One of my favorite qualities of Weekly Art – Foundations lessons is that many times Brian or Robyn will say just use whatever materials you happen to have on hand – a regular pencil is fine, or just grab some computer paper and start drawing.
This attitude is so refreshing in the world of Waldorf education where so often we have this sense that everything has to be done a particular way. Then that becomes another stumbling block for many, bringing up feelings of inadequacy and resistance. If we don't quite know how to do it, we'll just wait until that illusive day somewhere in the future when we learn the proper way and then we can bring it to our children.
Well, wait no longer and get your hands on either the Weekly Art Lessons or one of the Bundles. Waldorfish also offers Waldorf Art for Beginners.  My recommendation would be to do the Weekly Art – Foundations all year September through May.
You can try a Free Sample Lesson here.
What are your goals for art in your homeschool this year?
If you want some suggestions, click here to get Your Guide to Lively Homeschooling.