My new image of the rhythms in our lives, in our homeschooling, is a series of concentric circles. This represents how to Waldorf homeschool with rhythm using the natural rhythms that already exist all around us. 
From the outer ring of the year or the seasons, we move through these rhythms.
Year

Seasons

Month

Week

Lesson (2 Days)

Day

Breath

Heartbeat
These are the concentric circles of rhythm in our lives. So how do they help us with homeschooling? 
How to Homeschool with Rhythm
We can begin with the whole in mind just as Steiner suggested. And then work from the outside in.
Starting with the rhythm of the year, we think about where our children are developmentally and where our family is this year. What kind of a year do we anticipate?
From there, we begin to visualize the seasons of the year including holidays, festivals, and family gatherings. And then we can decide which main lesson blocks we want to do during which seasons or months.
Our weekly rhythm includes activities we do on certain days of the week as well as which days we will be doing lessons at home.
The 2-day lesson rhythm includes a day of presentation and artistic activity followed by a day of review and summarizing. (Want to understand this rhythm better? Check out my post Rhythm Is (Always) the Answer.)
Finally, we have our daily rhythm that helps us to create a container for all of these activities and learning.
All of these rhythms connect the outer world to the rhythms inside our bodies, namely our breathing and our heartbeat. 
Get my new rhythm guide, Homeschool Rhythm Starter Kit, to learn how to embrace rhythm, design your day so it works for you, and create a visual to keep you on track..
I find that if I can visualize these different rhythms and create a plan for each, the rhythms create a strong container for our homeschooling. They help me to continue forward with my plans while at the same time remaining flexible to face whatever life may bring.
That is the dance of rhythm in our lives.
If you want some help in how to Waldorf homeschool with rhythm, consider joining me in my online group coaching program, Plan It Out. You can work through the six video lessons at your own pace. And join in every June as I do a 3-week run-through with the group. Click here to find out more about Plan It Out.
Remember to start with rhythm in your homeschool planning.
Rhythm will ground you and bring focus to your homeschooling.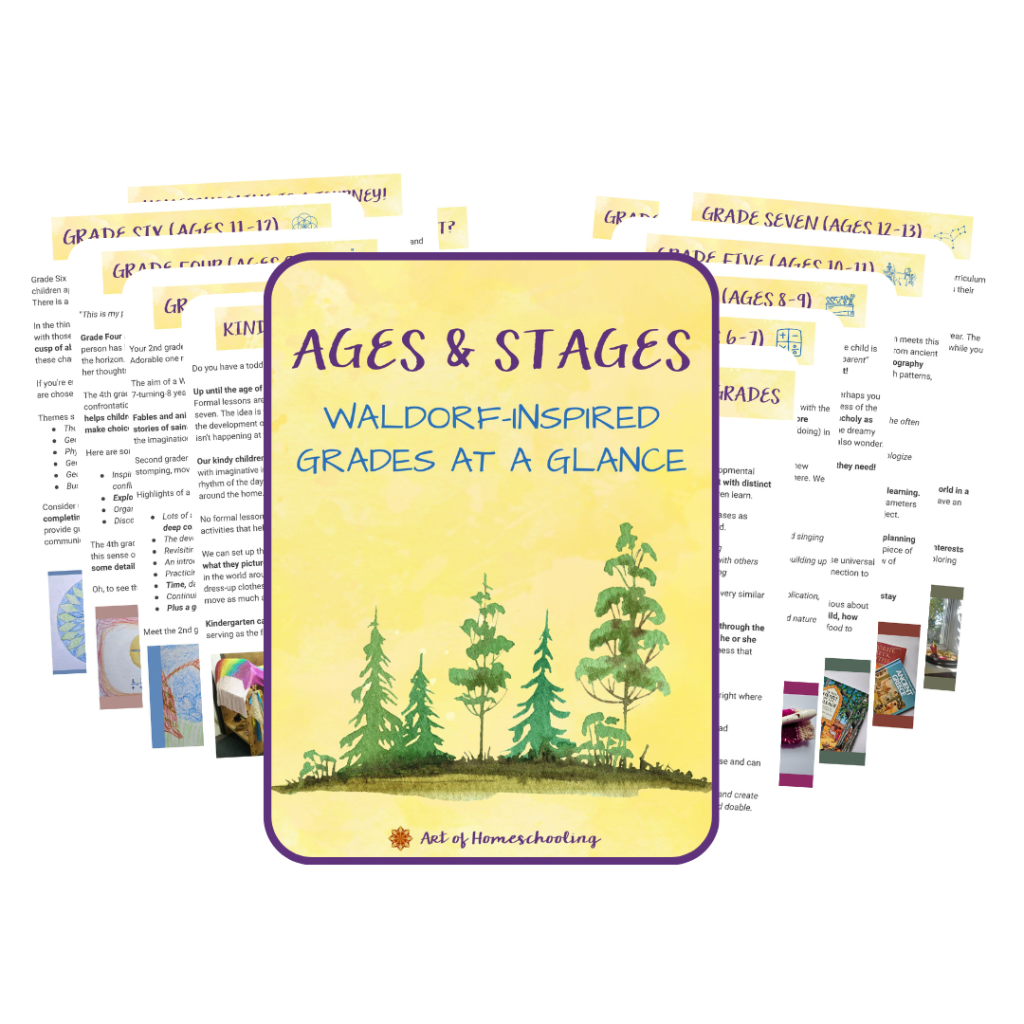 Free AGes & Stages Guide
Discover the wonders of each stage of learning so you can bring your children exactly what they need and homeschool with more confidence.