My three children have all graduated now from high school and homeschooling. My husband and I are officially "empty nesters" after almost 30 years of parenting! And I will tell you that the adage "the days are long but the years are short" is oh so true. Today, I want to offer reassurance for homeschoolers plus three tips I wish I'd taken to heart early on in the journey.
I've been doing a lot of reflecting and thinking about both the joys and the challenges of homeschooling.
Looking back, here's what I miss the most. And what I don't miss. ?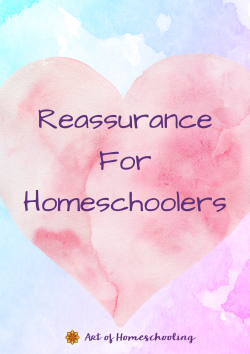 This post contains affiliate links for your convenience. You can read my full disclosure policy here.
What I Miss the Most 



Going on a hike with friends and calling it school.
Reading books aloud on the couch. My friend, Alison, calls this "couch time." So. Many. Amazing. Books.
Spending time with my children every day. Making eye contact, hugging them (when they'd let me), eating with them, hearing their voices.
Gathering around the family table. For meals, drawing and painting, projects. Our dining room was the hub of our homeschooling and life. And I miss all the activity.
Going on family trips and calling it school.
Witnessing the learning all the time. Watching my children make discoveries and connections. Watching them be curious about things. Watching them make beautiful things with their hands.
The laughter.
What I Don't Miss



The arguing and whining. About who gets to sit in the front seat of the car, who gets to choose the game to play, who gets to serve dessert, why one gets to do something the other never did at their age…
The fatigue from not getting enough sleep, lying awake worrying, or just being so busy all the time.
The lack of brain space for my own thoughts.
How much I always underestimated how long things will take!
What I Wish I Could Change
If I had to do it all over again, I think the only thing I'd change is to relax more and stop worrying so much.
To know deep in my heart that it's not about perfection, it's all about connection.
To give myself a little more space and grace.
To be more lighthearted and confident, knowing that it all works out just fine no matter what we chose to do on any given day.
To know that uncertainty and doubt are part of the journey. And that's OK.
To have more patience with myself and my children, and less critical self-talk. More acceptance and less anxiety.
Because the days are long and the years are short, my friend.
What you choose to do with your children matters.
But the lessons aren't all that matters!
The relationship definitely matters more than anything else.

After all, the end goal is children who grow to recognize their gifts and go out into the world to share those gifts with others.
Reassurance for Homeschoolers
Here's the thing: there will be good days and bad days.
But I wish I'd known that when you have a bad day, that doesn't mean homeschooling isn't working!
I'd sum it all up by offering these three tips as reassurance for homeschoolers:
That's it really. And I hope by sharing these tips, you get that you can do this homeschooling thing even when some days aren't so pretty. Even when some seasons are wonky or disheartening.
You, dear homeschooling parent, are doing important work in this world.
Here are a few other reassuring posts that you might like to read.
5 Tips to Start Waldorf Homeschooling
Show Up as You in Your Homeschool
What I Get to Do Now
My biggest joy these days is getting to connect with homeschooling parents like you who are on this amazing adventure!
I feel so honored and grateful now to spend my days guiding others on the homeschooling journey. To help you develop the clarity and confidence to find a path for yourself that works for your unique family.
If you're looking for homeschooling support, you can find out more about What I Offer here.
As for my own family, we are all geographically spread out too far for this Mama's taste!
But I savor the moments when our whole family is back together again at holidays, family events, and summer camping trips. And in between, on Zoom.
I am so grateful that all three of my kids even though they're very different from each other, share these qualities.
They each…
Love to read

Are good at fixing things

Love to cook

Relish time outside and adventuring

Are kind and sensitive friends

Are curious about the world, interested and interesting human
These days, I love seeing my children navigating the world as young adults in ways that bring them joy.
And I wouldn't trade those 25+ years of homeschooling for anything.
It's been an amazing journey.
"The days are long but the years are short."