Episode 1: Homeschooling is a Journey
Homeschooling is a long game for sure, and sometimes we all need to be reminded of that. In Episode #1 of the Art of Homeschooling Podcast, you're going to hear some highlights of my family's homeschooling journey of over 25 years! 
Now I can look back on my own journey and see that it was unfolding as it should. There were bumps in the road, for sure! There was uncertainty, a new baby and illness. And yes, even yelling. But there was also laughter, connection, time and space for creativity, and the freedom my children needed to blossom into themselves.
In this first episode of the Art of Homeschooling Podcast, laugh with me as I look back on my journals from my homeschooling journey and listen as I share my gratitude and reflect on the advice I would want to give my younger self.
Here in this episode, you'll find encouragement and reassurance wherever you are on YOUR homeschooling journey.
"I just want you to know that there are good days and bad days in homeschooling."
Highlights
The three things I would have told my younger self: Simplify, Relax, and Trust

Commit to ONE lesson a day

Know that you are enough!

Find your mentor

Think of yourself as a facilitator of experiences
"A mother's job is making memories." 
Mentions
My mentor, Barbara Dewey, at Waldorf Without Walls
1:1 Mentor Sessions with Jean: If you feel like you need a guide on your homeschooling journey right now, or just want to talk through things with a homeschooling mentor, book your 1:1 Mentor Sessions with Jean here. 
Resources you'll also appreciate….
Discover seven steps for getting started with homeschooling plus my favorite basic supplies and resources right here: Just Starting with Waldorf Homeschooling? So you can bring the magic of homeschooling to your family.
Now that all three of my kids have graduated from high school and homeschooling, I've done a lot of reflecting on our journey. You can find more Reassurance for Homeschoolers here in this post – what I miss, what I don't miss, and what I wish I could change.
Never Miss an Episode

!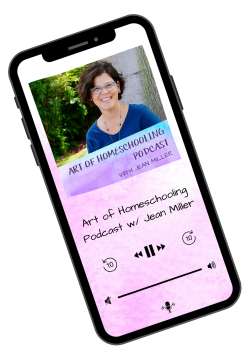 Follow & Listen:


About the Podcast
The Art of Homeschooling Podcast is for parents who are ready to thrive in homeschooling. In each episode, we share stories and strategies so you can drop the overwhelm and get in touch with inspiration. You CAN create a homeschool life you love. 
I'm your host, Jean Miller, homeschooling mother of three now-grown children. And here at the Art of Homeschooling, we keep it sweet and simple so you can focus on cultivating creativity and connection at home.
Check out all podcast episodes here.
And you can save this episode for later or share this on Pinterest with the image below.