I love this series of books – One Small Square. The series includes a variety of titles like Backyard, Woods, Pond, and Seashore. I encourage you to try nature study with one small square.
The concept in these books is to measure off a yardstick square of outdoor space and observe it closely over time. Each book gives lots of ideas for what to look for on the surface and digging down into the soil, along with activity suggestions including how to create a nature notebook about your small square and so much more.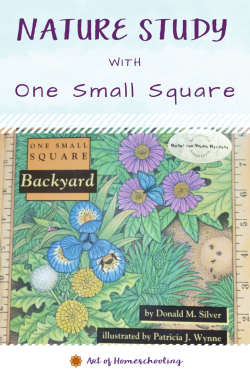 Here is a link (it's an affiliate link; you can read my full disclosure policy here) so that you can check out all the titles in this series: One Small Square. 
We've had lots of fun with these books over the years, starting with the Backyard title right at home.
We also used the Pond book one spring when we met at a local Nature Center for hikes with other homeschoolers. Each person had a nature notebook and we'd walk the trails and boardwalk around the pond, stopping to sketch and record what we saw each week. Some very happy memories.
I mention these books because I often find that when the weather is cold, or in early spring, I feel both anxious about getting enough "learning" in before the end of the year rolls around. But at the same time, we're all tired of the regular rhythm and routine and in need of something new. Spring fever, I guess!
Especially around the spring holidays, I always like to have an idea for a multi-age block for the whole family in my back pocket for a "one week off block" just to mix things up. One of these books would be perfect for such a block.
Or you could use one of the One Small Square titles for Friday afternoon nature studies and observe your square over time. Whatever we do, I know it's good to get outside!
Do you have any "one week off blocks" in mind for the coming weeks at your house?