Here's a description of a homeschool day in the life with just a 15-year old.
When your last child is the only one still at home, it can be almost like homeschooling an only. Except not.
And homeschooling teenagers is a whole different experience. 
Every January, over at Simple Homeschool, Jamie runs a series called A Homeschool Day. I love reading the series because it's like a patchwork quilt: homeschooling is different for each family. This is both a blessing and a curse! This year, I was inspired to write up a description of one of our homeschooling days, allowing me to take a step back and observe. 
My first impression is that this day looks nothing like the early years of our Waldorf-inspired learning!
Each day of the week is different and has its own "rhythm." My daughter, Lila, is a sophomore in high school now. And she and I are often doing something akin to the parallel play of toddlers, each doing our own work but sharing the space.
My second thought is that I am ever so grateful for those early, cozy years of strong rhythm and working with the arts and language and nature, because they built such a strong foundation for launching into the adult world.
That strong foundation will always be there and is what the independence of the teenage years is built upon.
And it is a luxury to be able to really see that now! I have two already launched and in their twenties, so Lila is the baby. Preparing them takes time, years and years of time. And I am so grateful we have chosen this path of homeschooling so that we have that time.
This post contains affiliate links for your convenience. You can read my full disclosure policy here. 
Here is one of our days last week.
7:30 am – I wake and sit for my morning meditation. My husband is at work in his home office across the hall and Lila is still sleeping. Next, I bundle up and head out the door for my morning walk. It's only 11 degrees, but I make myself go out. Once outside, I'm so glad. There are more birds each day and the pair of juncos in our apple tree are so sweet.
I return, make a green smoothie, eat some leftovers from last night, and do my morning chores of putting away clean dishes from the rack and dishwasher. I then sit in front of my Sunbox while doing some writing. (My Sunbox is my "happy light" that simulates sunlight and helps me to sleep better.) This is my morning rhythm just about every day. But as is true for many homeschoolers, from this point on in the day, no two days are alike! I often tell people that homeschooling is much more like a college schedule where each day of the week is different than it is like brick and mortar elementary or secondary school.
My husband, Brian, comes down to get the trash out, and I help gather the recycling. We both are pleased (surprised?) to notice that Lila emptied the inside trash cans last night without being reminded!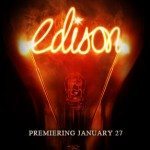 9:00 am – Lila comes downstairs, cuts up a grapefruit and is ready to watch an American Experience show on PBS, a special on Thomas Edison that we recorded last night. Lila's pretty motivated on Wednesdays to get her work in because tomorrow is ski club in the afternoon, so we're busy from noon on!
Lila is studying Modern World History this year (1850-present). Since this is my third child, I'm pretty comfortable homeschooling High School. We create our own transcripts and there are two ways to earn a course credit: by completing a high school textbook in the subject, or by counting hours, with 120 hours equaling one credit. Mostly, the textbook option has been reserved for math. That means that for history, Lila is counting hours. So after watching this 2-hour PBS program, Lila logs her hours. We stop half-way through for Lila to get some more breakfast and me to make a cup of tea, a luxury of learning at home. (If you want to read about a history project we did recently, check out this post about our Historical Figure Fair.)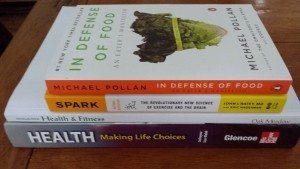 11:15 am – Lila picks up one of her books for Health to read – Spark: The Revolutionary New Science of Exercise and the Brain by John Ratey. This is part of her Health curriculum. We chose the Oak Meadow package for Integrated Health & Fitness this year which includes a syllabus, the book above, Michael Pollen's In Defense of Food: An Eater's Manifesto, a textbook by Glencoe, Health: Making Life Choices, and the Human Anatomy Coloring Book by Margaret Matt. This is Lila's second experience with a textbook other than for Math. Last year, she used the Holt Biology book and now this Health text. I must say, textbooks are not her favorite method of study, nor mine! And Rudolf Steiner, the founder of Waldorf education, said no textbooks for elementary school. After spending most of your education reading well-written, living books full of rich stories, textbooks can seem full of dry facts and distracting sidebars. Even for high school, we try to find alternatives.
I've agreed to substitute some things for textbook reading! For the nutrition section, we'll be watching Foodmatters and some other documentaries. And for the human sexuality portion, I'll give her the book, It's Perfectly Normal by Robie Harris.
Noon – I catch up with a long-distance homeschooling friend, and while I am on the phone, our 23-year-old, Ben, stops by. I wish I could stay to visit but I need to grab an apple and head out the door to a meeting. On my way out, I remind Lila to walk the dog. While I'm gone, she works on her health lesson and makes her own lunch. We tend to eat breakfast and lunch separately these days, often together but preparing our own food because I am on a special autoimmune paleo diet for my health. And that's one of the changes that happens when the youngest is a teenager!
1:45 pm – I return from my meeting and Lila is reading. Brian has finished in his office and headed out. He's self-employed so his schedule varies from day to day, too! Lila and I have a conversation about her math project. A bit of background: Lila takes her three core subjects – math, science and English – at the Homeschool High School Learning Center, a new group that began last year that meets on Mondays. The teens (grades 8 and up) then do homework on their own the rest of the week. This is a great set up for teenagers!
The Learning Center classes don't start up again until next week, but the students have a math project to work on over break. They are to pick a career path and research colleges, choose one, and then find out costs, projected income etc. about their chosen career. Lila has chosen graphic design for the project. I share with her that a friend of mine who teaches at the Institute of Art suggested to me that Lila look into industrial design, knowing that Lila is into both engineering challenges and art. I pass along her tip that these students all find well-paying jobs right out of school!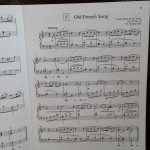 2:30 pm – Lila practices piano, something I love listening to! She's in Suzuki Piano, Book 5, and I'm very proud of her skill at this. (So is she!) Even when she practices at the last minute!
3:00 pm – We leave for her piano lesson. I grab a book to read while I wait.
4:30 pm – We're home from piano and it's Lila's night to make dinner (once a week). I offer to help because there's a lot of vegetable chopping and preparation to do in part because of my healing diet. We get started and Lila puts on some of "her music" while we work. We check in with Dad for his ETA so we can time dinner.
6:15 pm – We sit down together for dinner and sing our blessing. One of our key anchor points to the day is dinner together. This remains one of my favorite moments in the day. Even when our big twenty-something year old boys join us for dinner, we all join hands and sing. This has been a constant in our family through all these years.
At dinner, Brian catches us up on Ben's news from his visit earlier in the day. He's been asked by his landlord to be the building manager (which is great news since this is what he's essentially been doing through the week-long fiasco of his building's boiler breaking.) Ben works at a hip local restaurant and lives nearby.
Then we all talk about Isaac's upcoming birthday. He's the oldest and is turning 25! We talk about gift ideas. It's not only his birthday, but we're also celebrating his graduation from grad school with an MS in systems management. He started his first real, adult job last week with an international greeting card company headquartered in Cleveland! Hooray for grown children living in town! (For now at least.)
After dinner, Brian cleans up while I get ready to head out to singing with my women's group (something I've done almost every Wednesday for 20 years). And while I'm out, Brian and Lila catch one of their action-packed shows (the super hero comics spin-offs).
10:30 pm – I arrive home and Brian asks me to take the dog out. I reluctantly do it since I still have my coat on. Gus, our beloved dog, spies a rabbit in the snow-filled winter garden and takes off. I come back in for boots and Lila offers to help me find Gus. I am touched by her offer. We find the dog and call it a night!
Want to read my other posts in this series? 
Homeschool Day in the Life with a 16-Year Old
Homeschool Day in the Life with a Senior in High School
This post is linked to a series over at Simple Homeschool. You can check out other homeschoolers' descriptions of their days.