Simple Self-Acceptance Practices for Parents
In this episode of the Art of Homeschooling Podcast, I share with you three simple self-acceptance practices for parents.
These are techniques you can start using today to help you shift your mindset from self-criticism to self-compassion.
Homeschooling & Mindset
Homeschooling is really about two things.
Mindset and action.
As homeschooling parents, we tend to focus more on the action piece of this equation ~ curriculum, lesson plans, daily rhythm, tomorrow's to do list, etc.
But as time goes by, we begin to realize there's so much more to it.
How we think and feel about ourselves, our children, and our progress all profoundly affect how we show up for our children every day.
It's our mindset that motivates our actions through it all.
Inner Work
You may have heard the phrase positive mindset or growth mindset.
Or in Waldorf circles, maybe you've heard the phrase inner work.
It's all the practice of diving deeper into your inner self for the purposes of self-exploration, self-understanding, healing, and even spiritual connection.
In More Resources below, you'll find more about inner work, and the Inner Work Journey I lead every spring.
Today, these simple self-acceptance practices for parents are a great starting point.
Below, you'll find highlights from the episode.
3 Simple Self-Acceptance Practices for Parents
Number One: The power of "yet".
The powerful little 3-letter word yet can shift our thoughts from defeat and difficulty to openness and possibility. The power of yet can invite in discovering and a willingness to try new hard things.
Listen to your self-talk and when you find yourself thinking "I can't do that," try to add the work yet. Like this, "I can't do that yet."
Number Two: "I'm Learning"
The homeschooling journey for us as parents is almost always about learning something new!
Even as you continue this journey year by year, each year will bring new content, skills, and our changing children to challenge us.
Here's a mindset shift to try when you're facing a new challenge as a homeschooling parent.
Instead of saying, "I have no idea how to teach that!" try saying to yourself, "This year, I'm learning how to teach that."
Can you hear the shift there?
Wow, this is a big one.
And I want to emphasis that this is a practice. It can take a lifetime of daily practice to accept the full range of emotions, both positive and negative, that are a part of family life.
A great way to begin practicing acceptance is to forgive yourself when you make a mistake. Offer yourself forgiveness and acceptance.
And the acceptance will ripple out to your children and family, big emotions and all.
Certainly in my parenting journey (heck, in my human journey), I've found the practice of acceptance to be a lifelong affair.
Starting with accepting myself ~ mistakes and all.💜
Simple Shifts on the Path of Self-Compassion
I hope these three practices help you shift from self-criticism to self-acceptance. So you can choose the path of self-compassion.
I promise this will fuel your action-taking in a big way.
More Resources to Support Your Homeschooling Journey
If you need more help with taking action in your homeschool, I'm here for that, too!
Check out my group coaching program, Inspired at Home. Or book a one-to-one Mentor Session with me to help you get unstuck so you can move forward with your homeschool lessons.
Also, every spring I lead the Inner Work Journey, a transformative three-week experience for homeschooling parents.
Through Inner Work Journey, we strengthen our inner landscape to focus on self-compassion, self-talk, and self-preservation. Check out the link to find out more and add your name to the waitlist.
And for more about inner work, you'll love What is Inner Work Anyway? Because you are worth it, my friend!
Rate & Review the Podcast
If the Art of Homeschooling Podcast has inspired you, I'd LOVE it if you could rate and review the podcast on your favorite podcast player! Reviews can be left on Apple Podcasts (iTunes), Podcast Addict, or Stitcher.
Or simply pop on over to lovethepodcast.com/artofhomeschooling and choose where you want to leave your review.
And if you want to show your appreciation for the Art of Homeschooling Podcast, you can buy me a coffee!
Never Miss an Episode!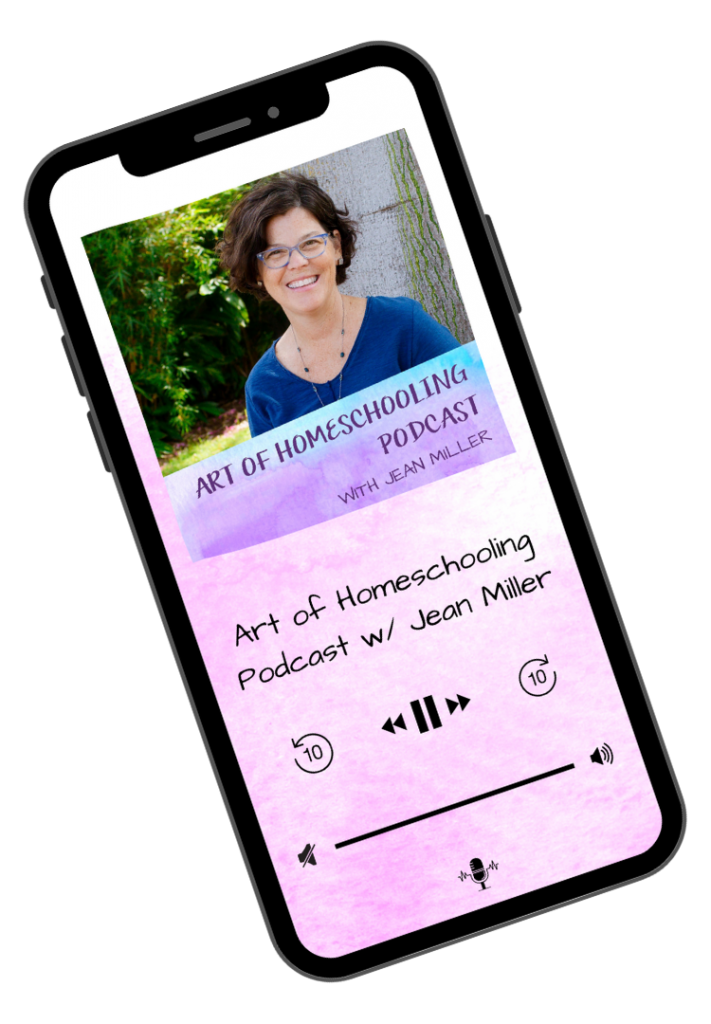 Save or share this encouragement on Pinterest with the image below.