3 Ways to

Stay Focused in Your Homeschool
Hey friend! If you need ideas about how to stay focused, you're in the right place! Welcome to Episode #66 of my podcast. Here I have 3 ways to stay focused in your homeschool. Let's chat!
This topic comes up often in conversation with homeschooling parents. Staying focused, motivated, and inspired can be challenging!
Uncertainty Wears Us Thin
Honestly, I want to start by acknowledging that there are times in our lives and in our homeschools when focus is more challenging than others. Times when distraction rules and staying present is more difficult. And when we need to give ourselves and our families a little bit of extra love and acceptance.
From challenging behaviors like resistance, to family illnesses, to disruption and uncertainty in our communities, it can all wear us thin.
When we don't know what tomorrow will bring, it can weigh on us heavily as homeschoolers.
So the question remains, "How can I stayed focused as a homeschooler?"
I have three ways to stay focused that I think can really help you at times like these. To help you be gentle with yourself and improve your focus on the learning activities. I say this is a win – win.
Tip #1: Set a Time Limit
Setting a clear boundary for the beginning and ending of your lessons can help you as the parent-teacher and your children to give your full focus to the learning activities. Because kids like to know how long it's going to take!
Time limits can offer a comforting boundary which allow our brains to fully engage. You get to decide what works for you and your children. Try this:
Commit to being fully present and engaged with your children for a set period of time
Turn off your phone and shut down your screens
Set a timer
The Pomodoro Technique is an interesting and inspiring technique to check out. It's a method that was developed by an Italian graduate student who wanted to improve his focus on his studies. Check out the link below.
Tip #2: Add in Movement!
Movement is grounded in rhythm and helps to regulate our breathing. It's such an important aspect of holistic learning and the Waldorf method. Rhythmic movement is part of the fabric of learning, and can be woven into math, language arts, science – any subject really. It's a super tool to improve focus!
In order to spark engagement in your homeschool lessons, try adding some creative movement activities such as:
a brisk walk
yoga stretches
tossing bean bags
clapping or marching to poems or times tables
jumping rope
bouncing a tennis ball or pinky ball
Check out the link in the resources below for podcast episode #27 with Brian Wolfe of Waldorfish, all about Movement Games & Activities.
One other note is that ALL of the lively arts can improve focus, so check out podcast episode #23 to hear more. Links below.
Tip #3: Take a Break
Improve focus by taking a break, and coming back to the lesson or subject. The trick is the come back to it part.
It might be necessary to reframe any thoughts you might have about giving up or resigning to feelings of defeat. Try on these thoughts instead: "this isn't working right now" or "she's not getting it yet."
Taking a break doesn't mean you're giving up on the learning. Just shifting gears for a time.
Tips to try:
Use your intuition to decide when to revisit an activity, lesson, skill, or topic. Make a commitment and write it down.
Mix things up with a morning of cuddling on the coach with tea and a read-aloud story. Or an afternoon outside in the snow or puddles.
Consider a different angle or new activity to approach the learning when you come back to it.
Try These 3 Ways to Stay Focused

in Your Homeschool
These are my three simple ways to stay focused in your homeschool no matter what's going on around you. Remember that lots of learning can happen in small pockets of really focused time. And you'll feel better about making progress and experiencing some forward momentum if you try these tips for staying focused.
Gentle boundaries, shifting gears, and taking a break can help you weather the uncertainty and renew your focus and inspiration. Because homeschooling is a journey.
And I'm here to help you navigate!💜
Resources to Explore
Podcast Episode #27: Movement Games & Activities with Brian Wolfe
Podcast Episode #23: Weaving the Lively Arts into Our Lessons
Rate & Review the Podcast
If the Art of Homeschooling Podcast has inspired you, I'd LOVE it if you could rate and review the podcast on your favorite podcast player! Reviews can be left on Apple Podcasts (iTunes), Podcast Addict, or Stitcher.
Or simply pop on over to lovethepodcast.com/artofhomeschooling and choose where you want to leave your review.
And if you want to show your appreciation for the Art of Homeschooling Podcast, you can buy me a coffee!
Never Miss an Episode!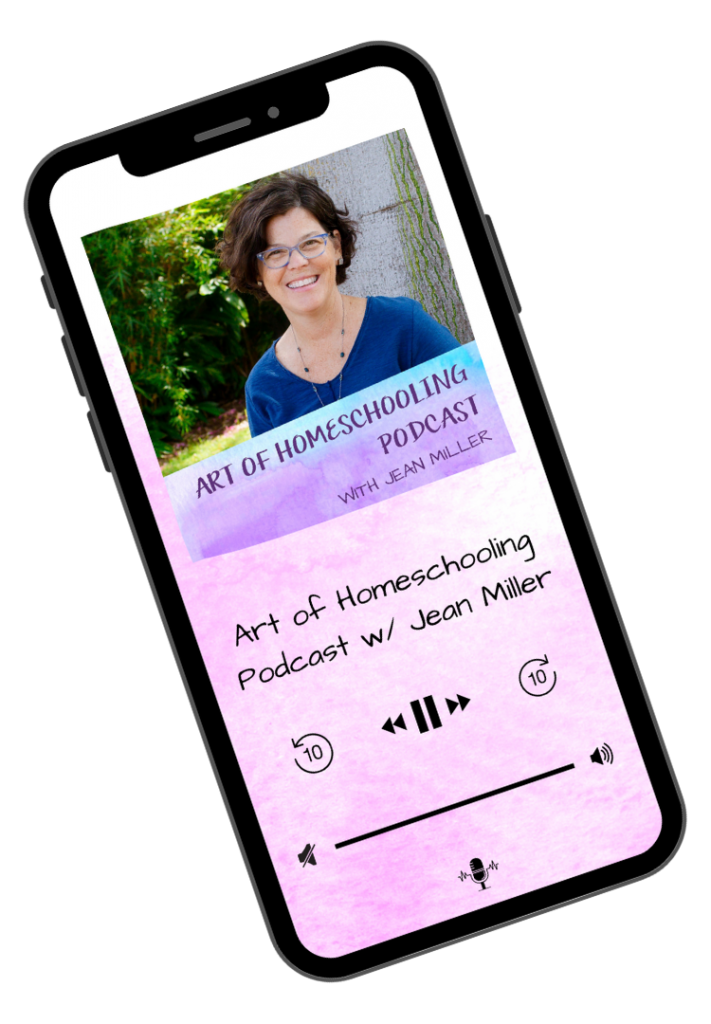 Save or share this encouragement on Pinterest with the image below.