How to Save a Homeschool Day Gone Bad
We all have those days, right!?! So how do you save a homeschool day gone bad?
You know those kind of days, when it's 11 am and you haven't started lessons and everyone is crabby and you get an important phone call and then you just feel like throwing in the towel on homeschooling!
It's messy! But you are not alone, my friend!
How to Save a Homeschool Day Gone Bad
I've recorded this episode of the Art of Homeschooling podcast to share with you 16 creative strategies to get you through those hard days.
I always suggest that homeschooling success starts with a steady daily rhythm. Because rhythm is what helps our children feel relaxed and secure.
If you're asking, "What is rhythm?" go have a look at my free guide, Homeschool Rhythm Starter Kit
But even with a good daily rhythm, things can go wrong. Our days and our plans sometimes get derailed.
First of all, I encourage you to consider your own well-being as a parent. Give yourself a little extra love and acceptance. Here are three things you might try:
Slow down your pace and your breathing. Give yourself and everyone else a little bit of space.
Center yourself. Ground yourself in the moment.
Observe and accept what is without trying to change it.
After all, what your children need most is for you to be calm, loving, and reassuring.
Next, listen in and read along as I share 16 ideas that can help you save any homeschool day gone awry.
16 Ideas to Turn Your Homeschool Day Around
Here are some ideas for you to try. And they may even spark some more ideas of your own.
Make a checklist so kids can see what the non-negotiable tasks are. Checklists can be detailed with each step of the main lesson, so that the child can understand and see what's expected and know when they'll be done with their homeschool lesson.
Play My Turn Your Turn: Explain to your child that you'll pick the first activity (a short activity, not a multi-step main lesson), then let your child gets to pick the next activity to do with you. The child can pick anything reasonable such as playing Legos, playing dress up, having a pillow fight, building a fort, etc. Take turns. Set a time limit, say 15 minutes for each activity. Or, decide that you each get to have two picks for the morning.
Let the children play. Children need unstructured time and space. Give them time to just be while you sit down and rest. Do something you want to do. So you can feel refreshed and ready to start again tomorrow.
Pull out a favorite learning game, maybe related to a previous main lesson block or an engaging skill-building game. Something like Scrabble, Bananagrams, or Boggle. And just heads up: our February masterclass for Inspired at Home members is all about learning games and movement. Join the membership to join in!
Take a short break, then come back together for a Spruce Up the School Room Day. Organize all the main lesson books or binders together. Sponge off the chalkboard. Let the kids vacuum the baseboards and rugs. Explore under the bookcases for all the escaped pencils or marbles. Your children will come back the next day with more ownership and may have even reviewed some of their work while organizing. Assign tasks if need be so they can see when the activity will end, just like the end of the lesson.
Choose a great read-aloud book to enjoy together on the couch. Read extra chapters of your current read aloud or pull out some old favorites. You might even take turns reading. This can be a great reset.
Make some popcorn and watch a favorite movie or documentary.
Decorate your sidewalk with inspiring messages using chalk.
Get outside! Either to play in the yard or go to the woods, a walking path, or hiking trail. Throw rocks in the stream or lake. Notice the birds or rain or plants. Splash in the creek. Make mudpies. Or build a lean-to.
Look through old family photographs. Notice how much you've all grown and changed or how things were different or the same in the photos.
Make some tea and muffins, pull out all your poetry books, and gather for Poetry Tea Time. This can be a fun time to all look through books and find a poem to read aloud and share.
Play hide and seek with favorite dolls, farm animals, gnomes, or toys. When my kids were young, we loved a game called Seek Don't Speak where everyone but the "hider" (the person doing the hiding) leaves the room. The hider then hides the gnome or toy. Then everyone returns to look around. Everyone is silent. And when someone spots the hidden item, they sit down without giving the location away, waiting for everyone to spot the toy. Take turns until everyone gets a chance to hide the toy.
Print out some mandala coloring pages of varying difficulty so that everyone can sit around the table and color together.
Write letters or postcards to friends or family. Maybe even write a collective letter to a grandparent where everyone adds their own little note. Then you might even walk to the mailbox or post office to mail it off!
Make cooked playdough and play with it while it's still warm. Use gems, beads, rocks, shells, or noodles to create mandala mosaics. I still love this smell!
Plan and cook a full meal together ~ soup, salad, bread, cookies. You may even know someone who needs a little extra help right now and you could cook for them and then deliver the meal. Helping others often gets us out of thinking about our own stresses.
Connection, Not Perfect

i

on
Let it go! Homeschooling is about building connections, not about being consumed by perfection.
Try one of these wonderfully nourishing, connecting activities for those days when all else seems to go awry. Switch gears so you can get back on track.
And remember, you are not alone! All homeschoolers have crazy days sometimes!
Links to Explore
Find my free guide here: Homeschool Rhythm Starter Kit
The February masterclass in my membership community, Inspired at Home, is all about learning games and movement. Join us now and get access to all 25+ masterclasses plus coaching calls and a supportive, inspiring community of holistic homeschoolers from all over the world!
Rate & Review the Podcast
If the Art of Homeschooling Podcast has inspired you, I'd LOVE it if you could rate and review the podcast on your favorite podcast player! Reviews can be left on Apple Podcasts (iTunes), Podcast Addict, or Stitcher.
Or simply pop on over to lovethepodcast.com/artofhomeschooling and choose where you want to leave your review.
And if you want to show your appreciation for the Art of Homeschooling Podcast, you can buy me a coffee!
Never Miss an Episode!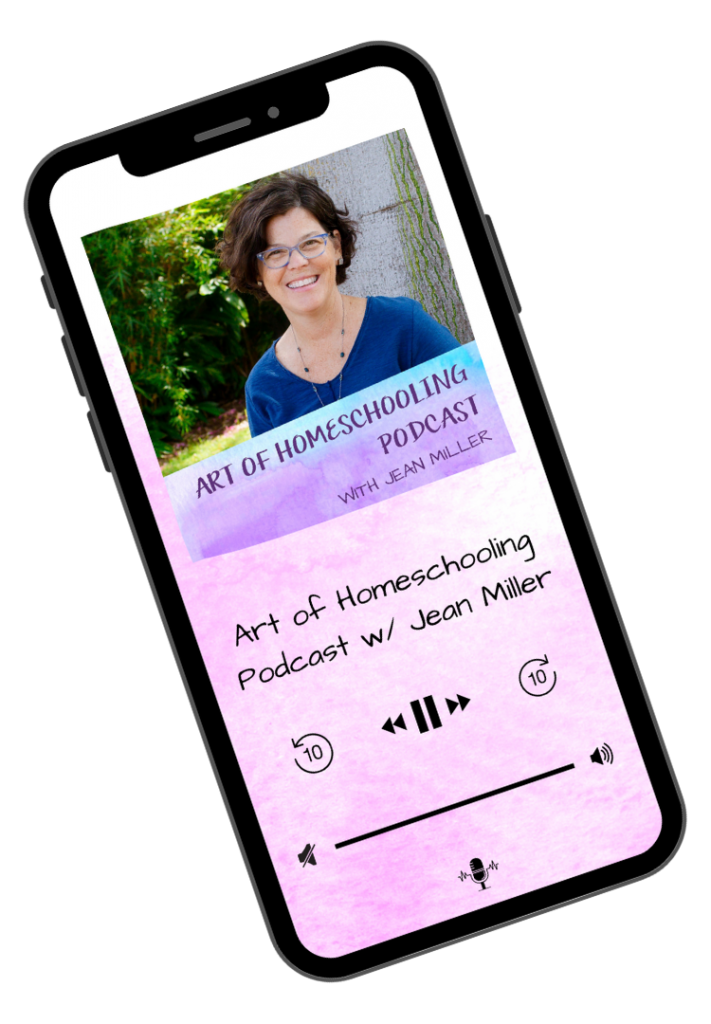 Save or share this encouragement on Pinterest with the image below.