Every year in the winter months, I start to go a little stir crazy! My kids did too!!! Homeschooling is not for the faint of heart, that's for sure. As the winter months approach, don't let the weather deter you from getting out there. Here are 3 tips to encourage you to take homeschooling outside.
One thing I discovered over the years of homeschooling is that getting outside is a surefire way to help everyone get back to center. It's at the top of my "what to do when all seems lost" list that this homeschooling mama kept taped to the inside of a kitchen cabinet to remind me to do something different when things weren't working. 
Before I get to the tips, I just want to say that getting outside in the colder months is not easy! We're an outdoorsy family. And in all our years of homeschooling, I still had to consciously plan for getting outside.
We found it easier when there was snow to play in! But on cold, grey, rainy days…not so much.
When I learned to take the action I describe in these three tips, our outdoor adventures were way more successful!
Keep reading for a great resource I just discovered: an outdoor subscription box for kids (with a special discount if you want to try it out).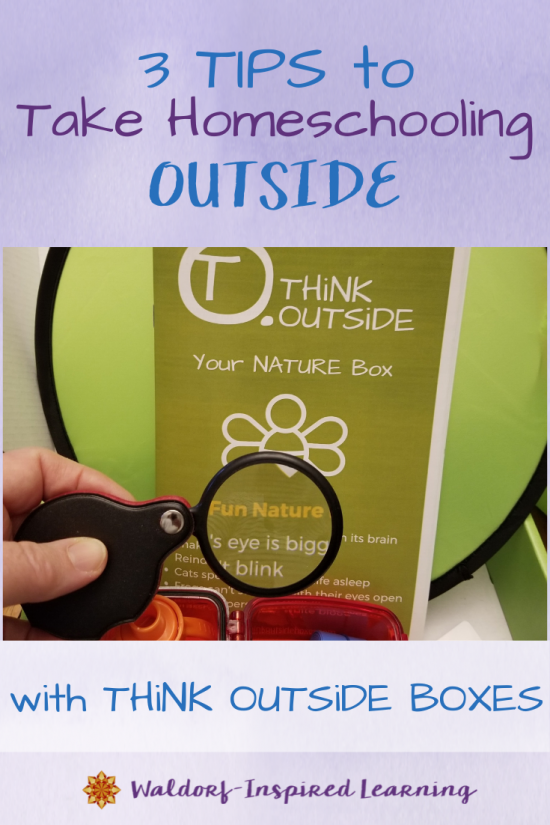 3 Tips to Take Homeschooling Outside
Tip #1: Get the Right Gear
Once on a nature walk during a homeschooling program at our local Nature Center, the guide said, "there's no such thing as bad weather, only bad gear." And that's never left me. Getting the right clothing for everyone – wool socks and hats, rain boots and coats – can make or break any outdoor adventure. If you want to spend more time outside with your kids, get the right gear so everyone can be warm and dry. Playing and learning outside is much more fun when you do.
Tip #2: Plan for Time Outside
Regular time outdoors is so healthy for all of us. From the sunshine and exercise to the risk-taking and appreciation of nature, we all benefit from playing and learning outside. Your children benefit in so many ways from hands-on experiences in nature. Nature study is where the science curriculum begins by cultivating wonder and observation skills. So plan to take homeschooling outside! The time outdoors is not wasted, it counts as learning time!
And we all know that outdoor experiences are much more likely to happen when we plan them into our daily, weekly, or monthly rhythm. The best way I've found to do that is by planning a weekly outing. One year, we met up with homeschooling friends every Friday for a hike. Or perhaps a monthly outing is more your speed. Another homeschooling year, we hiked the same trail once a month all year to watch the seasonal changes. We took a photograph in the same spot each time to record what we saw.
Tip #3: Combine Focused Activities with Unstructured Time
I'm not sure how many nature walks I've been on with my kids. But with three children and over 25 years of homeschooling, there have been a lot! And what I've found to be a super successful formula is a combination of focused activities plus unstructured time to play and explore.
Start off with an activity everyone does together. This might be a story. Or sending everyone off to find their "sit spot" where each person goes to observe their own little corner of the woods. Another possibility is to guide everyone to look for something related to your lessons, like collecting leaves, looking for insects, or signs of animals.
I've discovered a wonderful resource for those outdoor activities!
And I'm super excited to share with you an outdoor subscription box for kids that looks perfect for homeschoolers who want to take homeschooling outside.
THiNK OUTSiDE BOXES will get you and your kids outside and active while fostering independence, resourcefulness, confidence, and empathy.
What a fun way to bring focused activities to your outdoor adventures!
Disclosure: I received this product at no cost and was compensated for my time to write an honest review. I was not required to post a positive review. I only choose to review products and resources that I would consider using with my own children and that I believe other homeschooling families have an interest in. The links in this post are affiliate links. You can read my full disclosure policy here.
How Can THiNK OUTSiDE BOXES Help You Take Homeschooling Outside?
THiNK OUTSiDE BOXES is an award-winning monthly subscription service for children 7+ (children as young as 4 can join in) that arrives on your doorstep with beautiful new outdoor gear plus activities to do outside. Follow the seasons with these monthly themed boxes. Honestly, it's nature study in a box. 😉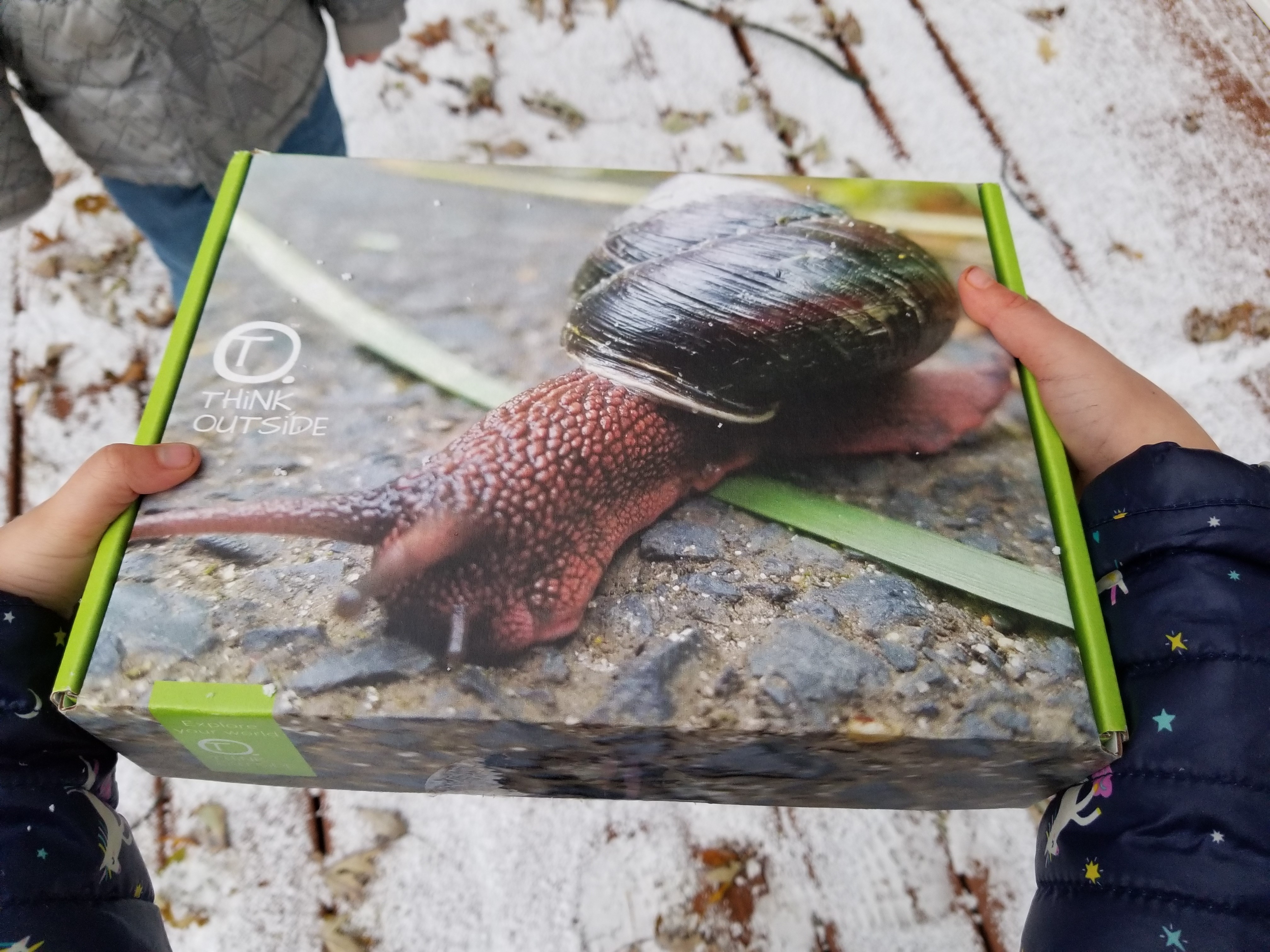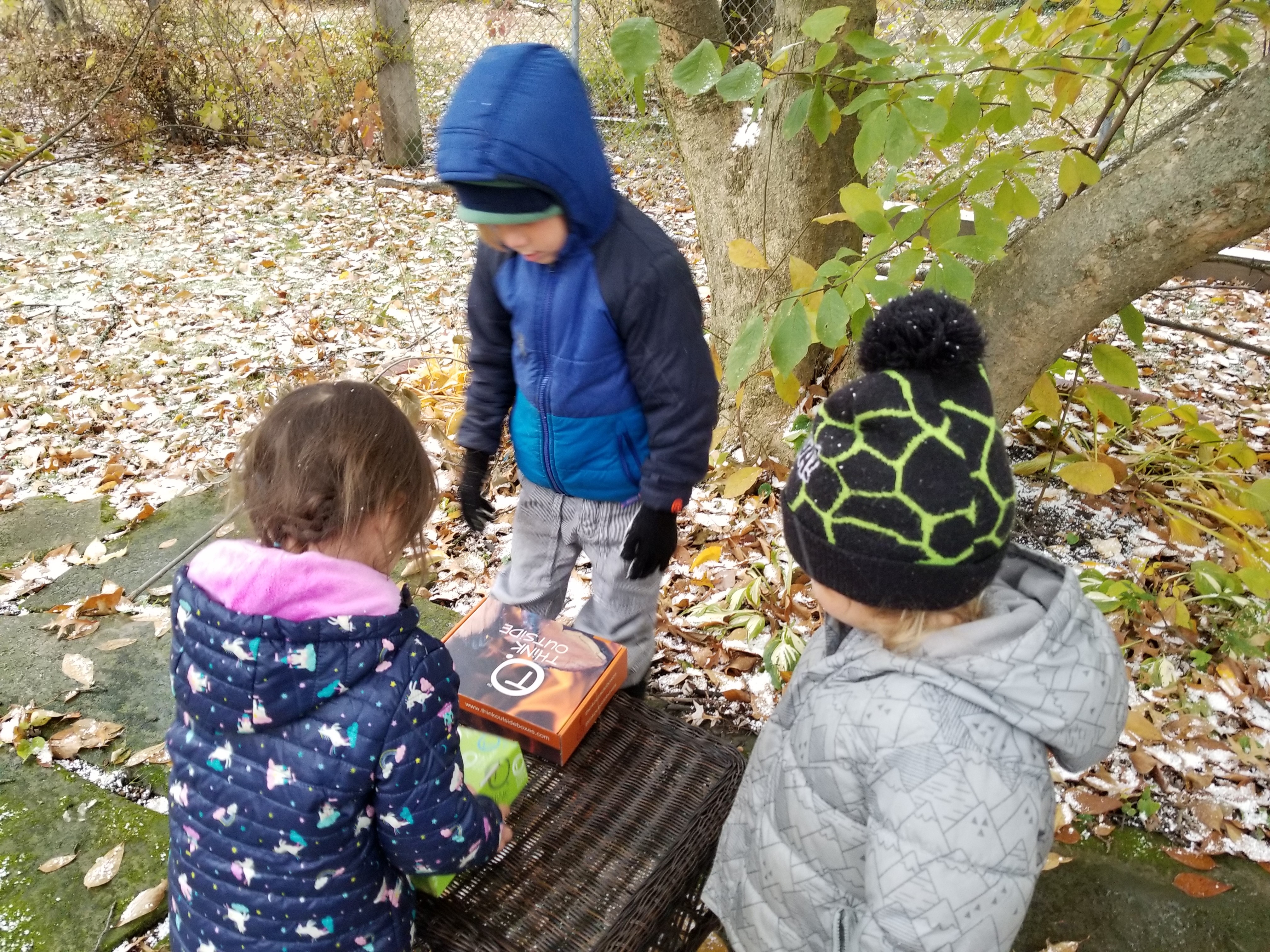 I had the opportunity to check out two of the boxes: NATURE (July box) and FIRE (October box). And I'm so impressed!
Each box comes with:
24+ page manual and activity guide

Lesson plans with hands-on activities

3-5 pieces of quality outdoor gear

Challenges to do as a family

Water-resistant resource cards

National park spotlights
I was really impressed with the quality of the gear. 
For instance, in the NATURE box, there is a beautiful magnifying glass, bee sting kit, Frisbee and trail tweezers with a little light inside.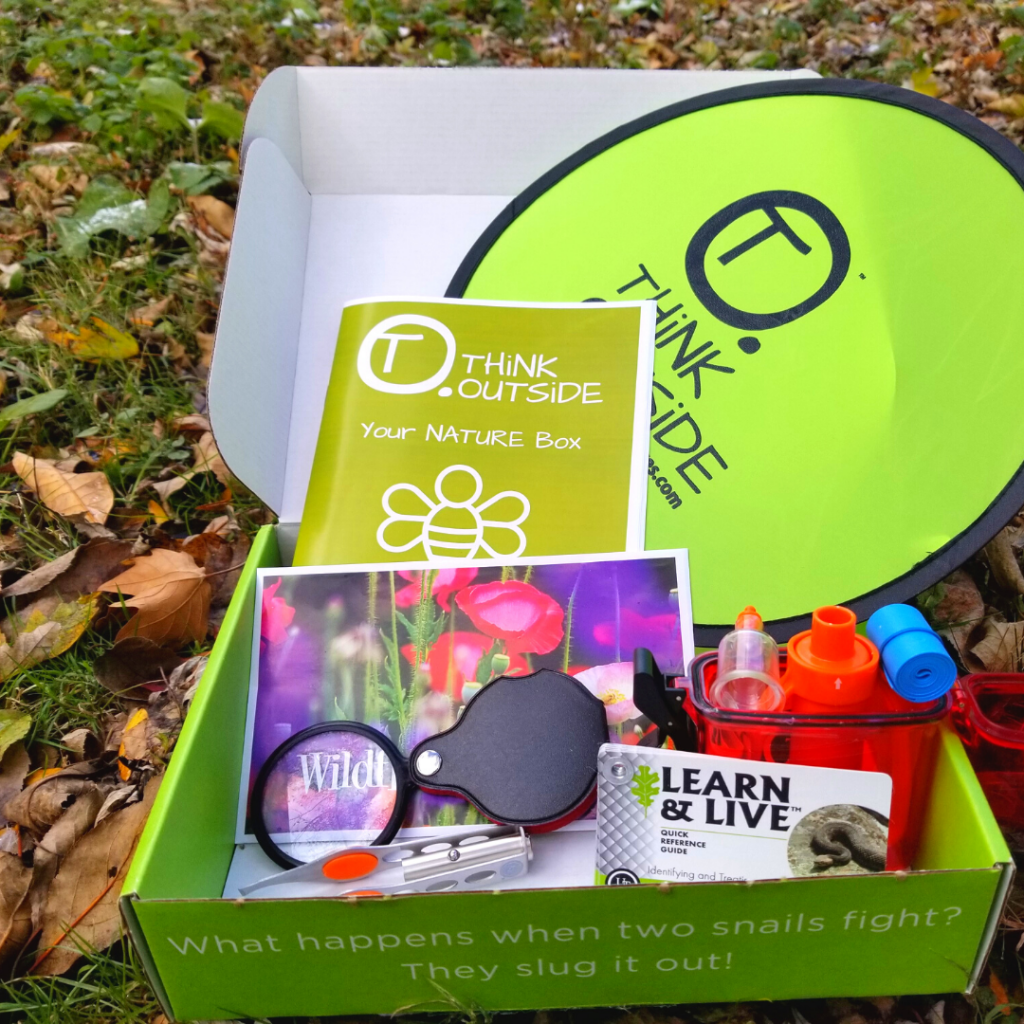 The FIRE box has great campfire kit in a burlap sack with natural fire-starter kindling, a sparklight, and a metal telescoping fire bellows!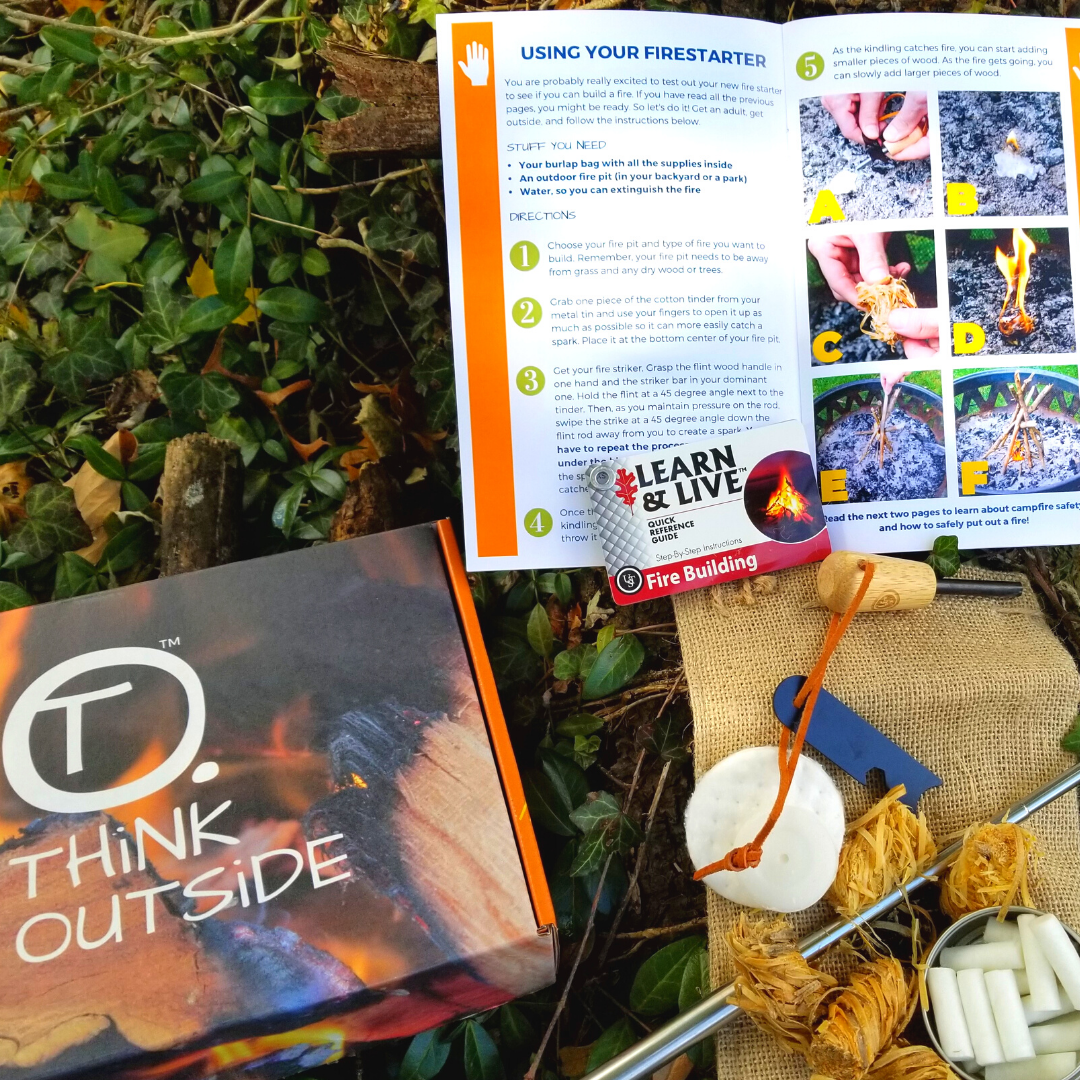 In addition, the manual and activity guide in each box is high quality, too. You could honestly get an entire week of outdoor activities out of these boxes. Think of it like a mini-main lesson block that you can do in between your blocks. Or use the box once a week for your nature outings. All good to go – no planning necessary on your part!
The first box you order is Your Pack Building Box. You can order extras so each child has one. Inside you'll find:
A backpack

Emergency contact tag

Paracord and carabiner

Emergency whistle

24-page manual chock full of activities (Skill Test, What to Pack, Family Survivor Challenge & more!)
THiNK OUTSiDE BOXES provide an entire year-long outdoor curriculum so you can take homeschooling outside. Over the course of a year, each young #Outsider will not only receive essential gear to enjoy the great outdoors, but practice key outdoor skills – anything from building a shelter to navigating by the start, tracking animal prints, or making a fire.
Here's a great image of the monthly themes: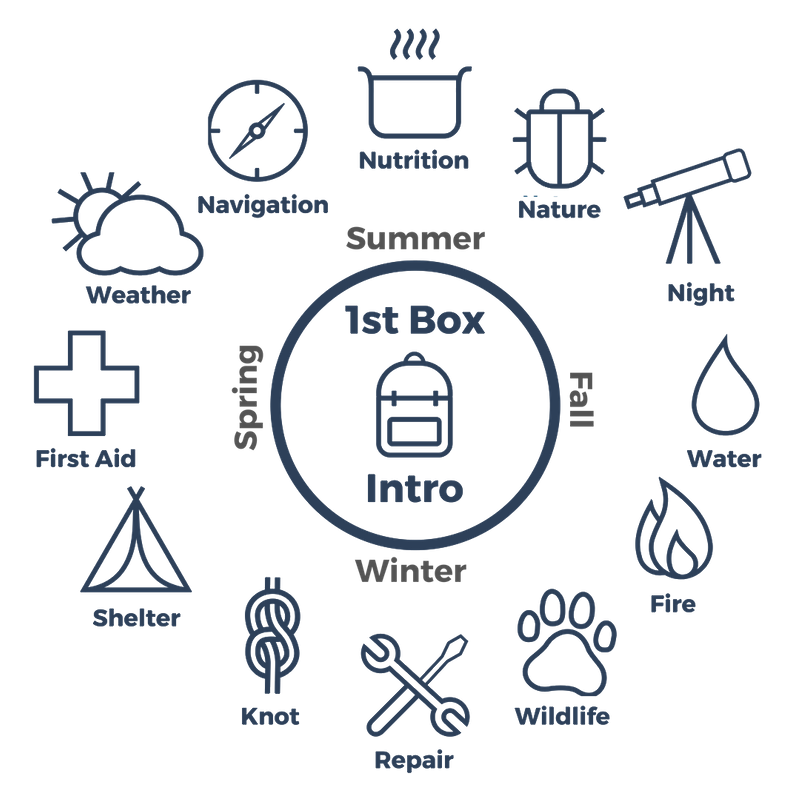 So whether you're nature lovers like my family or you need a little extra help nudging you and your kids to get outside, THiNK OUTSiDE BOXES is just right for you.
Above all, these outdoor adventure subscription boxes will inspire you to get the whole family outside! No more trying to come up with your own nature study plan. You get everything you need inside each box. You'll no longer have to talk your kids into going outside OR think about what to do once you're there!
Have grandparents or aunts and uncles asking for holiday gift ideas? THiNK OUTSiDE BOXES are the perfect answer! A great gift for the whole family to enjoy together.
With THiNK OUTSiDE BOXES, you can take homeschooling outside to keep everyone active. And you don't have to do the cajoling, planning, or gathering of supplies! It's all well done for you, and delivered to your door.