In this third interview in our series of four, I had the opportunity to talk again with Janet Langley, one of the authors of The Roadmap to Literacy: A Guide to Teaching Language Arts in Waldorf Grades 1-3. More great ideas for helping homeschoolers plan main lessons that promote literacy.
Janet is a former Waldorf class teacher and she wrote The Roadmap to Literacy book with Jennifer Militzer-Kopperl, a private remedial educator who works with Waldorf students. They are both accredited Waldorf teachers.
You can get a copy of the book at Janet's website, Waldorf Inspirations. Be sure to visit the site for many wonderful (free) ideas and resources for early childhood and each grade, 1-8.
In this conversation, Janet and I talk about how we go about planning main lessons to support the skills of reading, writing, and language fluency. 
In this interview, we dive into planning main lessons. Then in the fourth interview, we'll talk about how to plan practice sessions to keep the literacy skills going even when you're not in a language arts main lesson block.
How to Plan Main Lessons That Promote Literacy
Here are some highlights from our conversation:
Subjects can rest but skills need regular practice

3 different types of stories

How to use a template and example block plan 
Janet is one of the founders of the super helpful website, Waldorf Inspirations, which is where you can buy The Roadmap to Literacy book! 
Many of the forms referred to in the book are found on the Waldorf Inspirations website. Including the three we are talking about in this interview. 
Visit the Waldorf Inspirations website and click on Grades > 2nd Grade > 2nd Grade Planning. Then you will see where you can download the 2nd Grade Block Rotation. This is the first form we look at in this interview – it shows a list of suggested Main Lesson Blocks and Practice Blocks for the entire year.
Next, we look at a week inside of one block. To find those forms, go to the Waldorf Inspirations website and click on The Roadmap to Literacy tab at the top and scroll down. You will find Teacher Planning Forms Grades 1-3 at the bottom of the page. The two you want for this conversation are Blank Block Plans and Example Block Plans.
The two forms we specifically refer to are titled:
Blank Block Plans Form: Main Lesson Blocks for Second and Third Grade

Example Block Plan: Main Lesson Block for Second Grade
These are super helpful because they show you a basic outline of a one week plan in the template or blank form. And then the same form filled out for a second grade block. 
Be sure to have a look around on the Waldorf Inspirations website. There are so many other ideas by grade for movement, subjects, games and more. From early childhood through 8th grade!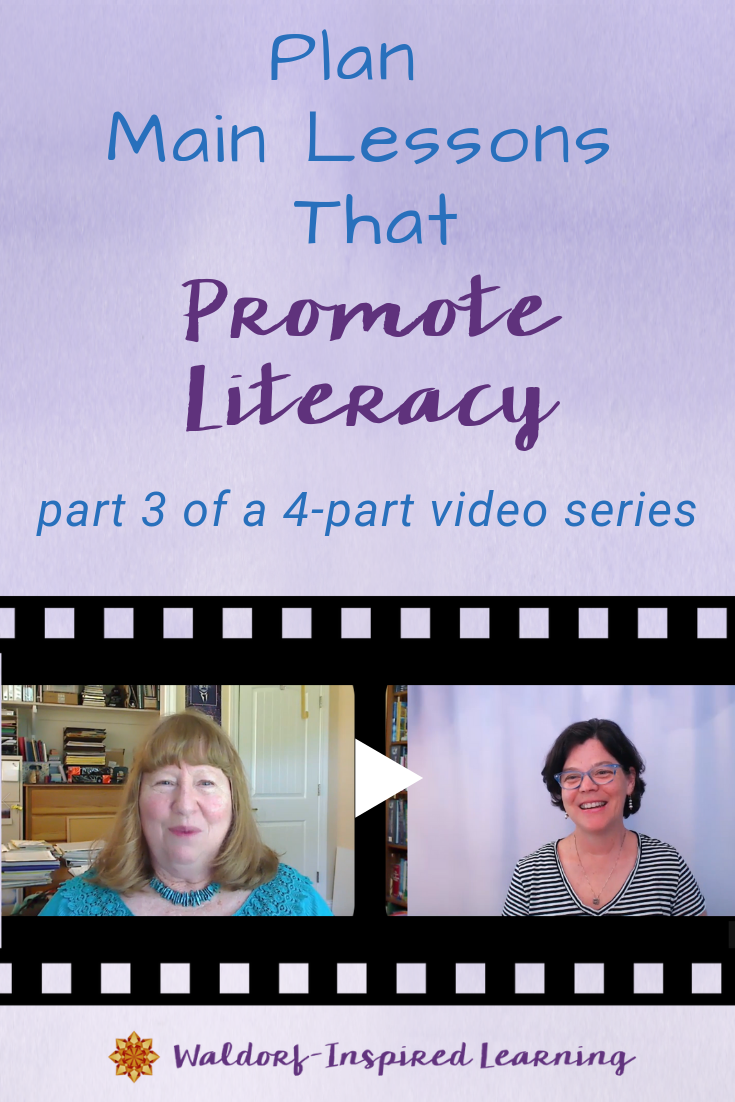 This interview is the third in a series of four interviews with Janet to help you understand how literacy develops and how the Waldorf approach can support each child's development. 
You can get a copy of the book at Janet's website, Waldorf Inspirations. Please note that if you are outside the United States, you can now get your copy as a print-on-demand book to save you the huge expense of shipping.
The Four Developing Literacy Interviews:
Developing Literacy in the Early Elementary Grades
Developing Literacy with The Roadmap to Literacy Book 
How to Plan Main Lesson Blocks That Promote Literacy (that's this one!)
How to Plan Literacy Skills Practice Sessions