I had the opportunity to talk with Janet Langley, one of the authors of The Roadmap to Literacy: A Guide to Teaching Language Arts in Waldorf Grades 1-3. So many great ideas for developing literacy in the early elementary grades.
Janet is a former Waldorf class teacher and she wrote the book with Jennifer Militzer-Kopperl, a private remedial educator who works with Waldorf students. They are both accredited Waldorf teachers.
You can get a copy of the book at Janet's website, Waldorf Inspirations. Be sure to visit the site for many wonderful (free) ideas and resources for early childhood and each grade, 1-8.
This conversation gives an overview of the first three elementary grades and what to focus on to help develop literacy – including writing, reading, spelling, and communicating.
Developing Literacy in the Early Elementary Grades
Here are some highlights of our conversation:
Why is English so hard to teach? (Hint: English is not German)

The 5 Stages of Literacy (Emergent, Phonemic Awareness, Pattern, Syllable, Latin/Greek). Children move through these phases generally over grades one through three. Knowing these phases helps you to teach your child at his or her own pace.

Children don't learn by grade, they learn by phase! We can do this much more easily as homeschoolers. 
The Roadmap to Literacy is a textbook, how-to manual, and great reference book all in one. It can help you become a specialist in teaching Language Arts.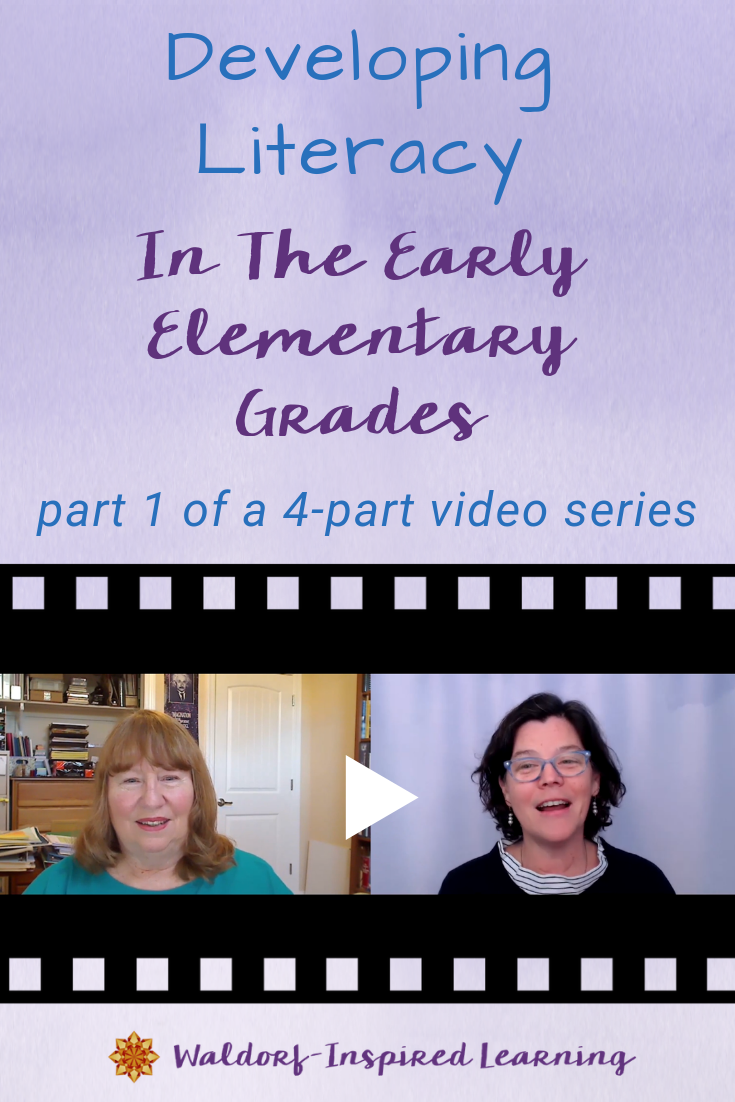 This interview is the first in a series of four interviews with Janet to help you understand how literacy develops and how the Waldorf approach can support each child's development.
You can get a copy of the book at Janet's website, Waldorf Inspirations. Please note that if you are outside the United States, you can now get your copy as a print-on-demand book to save you the huge expense of shipping.
The Four Developing Literacy Interviews:
Developing Literacy in the Early Elementary Years (that's this one!)
Developing Literacy with The Roadmap to Literacy Book
How to Plan Main Lesson Blocks That Promote Literacy
How to Plan Literacy Skills Practice Sessions