This is a guest post by Jodie Mesler, music teacher and author of The Magic Flute, a music curriculum from Living Music designed to help homeschooling parents teach their children recorder or penny whistle.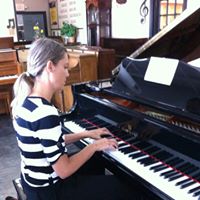 Jodie's passion is sharing her music compositions and teachings of the natural and artistic approach to music education. As a mother of three, she gave her children a strong Waldorf-Inspired homeschooling foundation. Jodie is a music teacher and performer who loves sharing music with others. This wonderful post has a bonus VIDEO TUTORIAL in which Jodie teaches us how to play a fall song, Winds of October, on the soprano recorder.

Jodie also leads the music workshops at the summer Taproot Teacher Training for Waldorf homeschoolers. 
7 EASY STEPS TO RELEASING ANXIETY ABOUT MUSIC EDUCATION
Synchronizing your breath between your inner being and an earthly wind instrument is like catching a gust of wind and riding it as if it were an ocean wave reaching the shore, freeing your spirit inside. We are human beings wanting to allow the spirit within us to live in unison and in harmony. Music is one route as it lives in us all. It lies patiently in some waiting to be released.
Do you love music, but feel you have suppressed it for too long? Were you taught music in a dead, academic and pressured way? What if there was a way to bring music to children in a more peaceful, pleasant way? You can release your anxiety by these 7 easy steps.
STEP 1
Realize that you can do it and it is easy.
STEP 2
Let go of the myth that you have to learn how to read music, and learn to play the instrument first.
STEP  3
Begin learning to play by ear, like a baby learns language. Ever notice that your baby understands what you say, but cannot speak or write down those words?
STEP  4
Release the overwhelming feeling of learning 88 keys on the piano and simply learn only 7 notes on a recorder instrument, such as a pennywhistle, pentatonic flute, or soprano recorder. Seven is much easier than 88!
STEP  5
Release the pain of comparing yourself to other singers. We are all born unique and with our own singing voice.
STEP 6
Learn to love and embrace the voice you were born with and start singing today.
STEP 7
Turn off the media, and start remembering those songs from childhood and sing to your children. If the song lives within you and you sing it, you share your soul. We are just human, and that is what we want our children to embrace, being human and finding joy through song to connect us to heaven.
OUR BEST TEACHERS
Remember how babies learn by ear first? Our next best teachers are 1 to 3-year-olds! See how easy it is for them to break into song at any moment and move to the beat!? We were that age once. Would you like to be that free again?
I want to encourage us all to start our music education by learning the easiest instrument, the recorder.
NOTE FROM JEAN: This post contains affiliate links for your convenience. You can read Jean's full disclosure policy here. 
Wondering what recorder Jodie recommends? It's this Yamaha Recorder with Baroque Fingering. 
10 BENEFITS FOR LEARNING HOW TO PLAY AN INSTRUMENT
 You were naturally born to create and make music.

 Creating music is fun.

 Creating music puts you in the moment and creates spontaneity.

 We are all creators.

 Creating music is pleasurable.

 Creating music brings others joy and helps them understand their emotions.

 It benefits your health by building your lungs and creating better circulation.

 It makes you smarter and grows your mind.

 It opens doors to more creative thinking.

 It inspires others.
WHERE DO YOU START? The Magic Flute Volume 1 (by me, Jodie Mesler). It is an online teaching program that gives you everything you need to teach your children at home. You will learn how to play a pennywhistle or recorder by watching the online video tutorials. There are 20 videos and lesson plans broken into 4 blocks. To teach you how to play and how to teach. Plus 5 bonus songbooks with sheet music and recordings of seasonal and festival songs. The child learns from you, the parent, in a step by step laid out approach following the lessons.
Not only do you learn how to play a recorder instrument, but you learn how to sing with confidence, how to make it creative and playful, and how to play games and work on rhythm using hand claps. There are so many ways you can learn music without having to read music. Let's put easy and fun back into the way we learn music and bring it to our children. 
I want to tell you a story about myself. Music is one of my favorite things in life. I also love being creative and artistic, but the way I was presented music education was not artistic, it was academic. I was taught to look at music, not to hear it. How weird is that!?! 
Music is something you hear, not merely written musical notes. Also, I was taught to memorize scales, not songs. So when someone asked me to play them something without music, all I could play them was a scale, a very fast scale.
I wished I had received music education that was more living, more nourishing for my soul, and not so boring. I made it through school with this method of music, but once becoming a music teacher myself and a mother of three, I wondered how am I was going to teach these sweet precious children? I answered, surely not the way I was taught, but the way I wish I had been taught. 
I began to search for that creative and fun method that I knew had to exist, but couldn't find anything at all. So I decided to create my own, called Living Music From the Heart. It worked out that there are other people longing for this kind of creative, nourishing approach, as well. Many people have been able to give their children my new way of learning music. 
Today, I am still growing, and I am constantly inspired to learn all I can about music. I enjoy playing many different instruments like the flute, recorder, pennywhistle, Indian flute, pentatonic flute, guitar, bass guitar, ukulele, and piano. 
My favorite instrument today is the piano.  However, did you know, I did not begin to play the piano until I was 30 years old? Can you believe I now perform for my church as the keyboardist every Sunday? If you would have told me at age 25 that at age 41, I would be a keyboardist for a church, I would not have believed you.  I am still pinching myself, as if I could have ever reached this goal. 
I actually taught myself how to play. I mainly play by ear although I am able to read music. I honestly feel so limited when I read someone else's music as opposed to the music living inside me that comes out via my soul in tune with heaven. 
It is the most amazing feeling, as if I am channeling with angels in heaven. I am in awe of what  this earth and heaven have to offer us mere humans. Isn't that the goal for all of us, to take our talent and to channel the Divine through us, being great examples for our children?
BONUS VIDEO
FREE Autumn Video Song Tutorial for all readers. Learn how to play The Winds of October on the recorder or the pennywhistle. For the sheet music and an audio recording of the song, click here: The Winds of October Song.