Wisdom from Goethe. Think about homeschooling as you read this quote to help you embrace how to be a more decisive parent.
I have come to the frightening conclusion that I am the decisive element. It is my personal approach that creates the climate. It is my daily mood that makes the weather. I possess tremendous power to make life miserable or joyous. I can be a tool of torture or an instrument of inspiration; I can humiliate or humor, hurt or heal. In all situations, it is my response that decides whether a crisis is escalated or de-escalated, and a person is humanized or dehumanized. 

                                                  ~ Johann Wolfgang von Goethe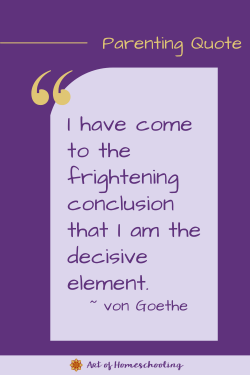 This quote was shared in my training to become a Simplicity Parenting Family Coach. This training comes out of one of my all-time favorite parenting books.
I am including an affiliate link for your convenience. You can read my full disclosure policy here.
Simplicity Parenting by Kim John Payne is so reassuring and full of comforting stories and practical strategies to help us in raising our children. So that we can become a more decisive parent. I highly recommend it. 
For more wisdom from Goethe, check out The Moment One Commits.