Are you dragging your feet with your homeschooling lessons?
Do you have that little voice that just keeps saying things like…
"It's time to get back to it!"
"What are you waiting for?"
"What's taking you so long?"
"You're already behind!"
That feeling of dread just following you around.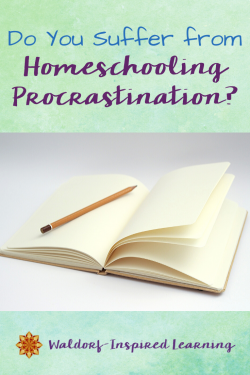 I know I sure had these crazy thoughts every January after the holidays.
Sometimes I think this is a harder time of year than when we start up in the fall. Because at least in the fall were full of new ideas and lots of potential and hope.
So here's something I want you to consider:
Procrastination is a misunderstood form of protection.
Whoa, really?
That's right. When we put things off, we're really just trying to protect ourselves from making mistakes and feeling bad. From lackluster lessons. From our own imperfections.
So how do we get beyond that?
First of all, I suggest you make friends with your procrastination!
The conversation might go something like this, "Oh, hello procrastination. Nice to see you again. I know why you're here – you just want to protect me from feeling like I'm not good enough. You want to keep me from moving forward so that I never feel like a failure again. Or so I don't feel annoyed at my kids and wonder what the heck is wrong with them, with me, with this whole decision to homeschool. Thank you, I know you're only trying to help."
Sit with that for a bit. It's really OK to feel all of those feelings.
And then, very gently, thank your procrastination…then get up off the couch and make a plan for getting on with it.
If you want support and guidance to move forward, here's how I can help you:
Plan It Out is an online video course that gives you a 6-step system for planning your blocks, rhythm, and lessons so you can confidently customize Waldorf homeschooling to work for you and your family. Work through the course at your own pace, and get the Homeschool Simplicity Bundle ebook as a bonus! One-time purchase for lifetime access.
Homeschool with Waldorf is a mentorship community that helps you learn about and implement the Waldorf approach while you homeschool so you can bring Waldorf to life in your home. This monthly membership dives deep into one aspect of Waldorf homeschooling each month with a Masterclass of video lessons, Coaching Calls, a Plan Along. and a loving community of homeschoolers all on this journey together. Monthly membership that you can join or cancel anytime.
You can do it. I know you can. And you're not alone.