Here we are in a whole new reality right now with this global pandemic. In this mini-training, Homeschooling from Home + the Unexpected Homeschooler, I offer you three simple and doable ideas for a way forward.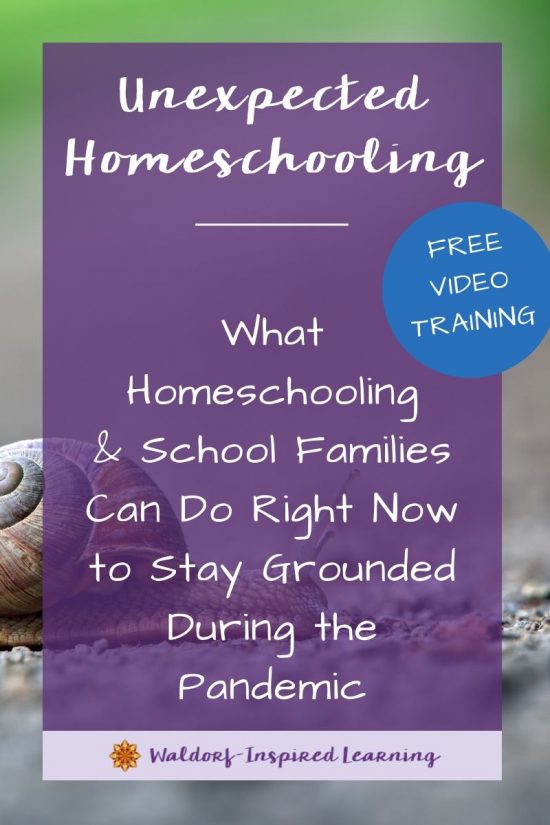 Whether you're a longtime homeschooler, or your children are suddenly home from school all day, this video will help ease your worries and know what to focus on next.
Below the video, you'll find lots of other helpful links and resources.
If you want more guidance, I've created a masterclass series, Homeschooling Through Tough Times – 3 masterclasses + 2 bonus videos. Get all the details here.
Be sure to also check out the many articles and resources here on my website. You can start right here: Waldorf Homeschooling Support.
To the Unexpected Homeschooler + All Homeschoolers
If you haven't signed up for my free rhythm guide yet, you can do that here: Homeschool Rhythm Starter Kit.
Guidance for Parents from a Norway Waldorf Kindergarten
Make a plan for the day (schedule the time for eating together, bed times and maybe «work time for mom or dad» and «school time» for older siblings.

Be clear about the fact that you are in charge, you have the responsibility and therefore have to make the decisions.

Do chores like making food, cleaning, and laundry together with your kid(s). 

Go outside a lot. Go for walks and enjoy the winter and/or the first signs of spring.

Play together, but let your children play alone as well, when you are there, but busy with something else.

Read books together.

Allow your children to be bored!

Limit screen time! Check age recommendations for games and movies.
Other Helpful Resources
STORIES
The Great Pause – A Tale for Young Children
The Little Gnome  Who Had to Stay Home by Susan Perrow
ACTIVITIES
7  Parent-Tested Tips to Unplug and Play 
Our Best Play Ideas for When Kids Are Stuck at Home
Calendar of Virtual Field Trips for Families March-May 2020
SUPPORTING CHILDREN
Talking to Children About Coronovirus from the Waldorf School of Philadelphia
Troubling Times: Anxiety Rising, Schools Closing, and Way More Time at Home With The Kids, an audio series from Kim John Payne of Simplicity Parenting
You will find your way forward. We all will. ?