Holistic Homeschoolers Start Here
Welcome! Whether you're new to homeschooling or have been on this journey for some time, you'll find scores of articles and resources here at Art of Homeschooling to help you customize your homeschool plan and curriculum.
Want weekly encouragement and reminders that you're on the right track? Here's the place to start! Subscribe to get my weekly newsletter full of homeschooling encouragement & tips. Plus, you'll get my free rhythm guide, Homeschool Rhythm Starter Kit!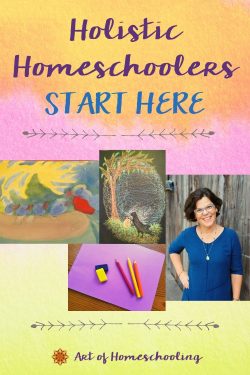 Resources for Hands-On Homeschooling
These free articles & resources will help you better understand the Waldorf approach and how to bring it to life in your homeschool.
Just Getting Started with Waldorf Homeschooling?
50+ Resources for Hands-On Homeschooling
Unique Aspects of Waldorf Education
Waldorf Block Rotation, Grades 1-8
And be sure to check out the latest episode of the Art of Homeschooling Podcast.
Looking for Gift Ideas for the Homeschooling Journey?
As Waldorf homeschoolers, we're intentional about what we bring into our homes. I've created Gift Guides & Book Lists for Simple Natural Families just for you. So that you have ideas for your own children. Plus have a place to send grandparents or other family members looking for gifts for your kids.
Want to Learn with Me?
I love supporting homeschoolers to make this journey work for you and your children. That's my mission. If you want help on your journey, I have multiple ways that you can learn with me and benefit from my almost 25 years of homeschooling my three children.
If you want to dig deeper into understanding the Waldorf method, plus get help creating your plan and choosing resources, check out my planning guidebook: Homeschool Simplicity Bundle: A Toolkit for Grades 1-8
In my online course & group coaching program, Plan It Out, I walk you through the 6 steps to planning your next block or year. You can work through the video lessons at your own pace, plus join with a coaching group where I walk you through the steps.
I support homeschoolers with one-on-one Mentor Sessions, if you find you need more in-depth, personalized help.
Want community + support? I have a mentorship community that you can join monthly or annually, Inspired at Home. With monthly Masterclasses and weekly Coaching Calls, you'll get the support you need to bring your children a beautiful homeschooling experience and keep it sustainable month after month. This community is a warm and welcoming place!
I also host a live weekend experience every summer, the Taproot Teacher Training for Waldorf homeschoolers, here in northeastern Ohio. With a wonderful group of amazing presenters. The Taproot gathering is like a training, personal retreat, and summer camp all rolled into one wonderful weekend.
I would be honored to support you on your homeschooling journey.
It's not about perfection but all about connection.