As the homeschooling mother of three (they're all grown now!) and mentor here at Art of Homeschooling, I know how hard taking care of ourselves can be. But I just love the idea of radical self-compassion on the homeschooling path. To help us strengthen our inner resources for homeschooling our children.
I put together this list of 10 self-care and inner work resources for homeschool parents to support you as you walk this path.
Because this way of life takes everything you've got, and it can truly be enjoyable and sustainable so long as YOU are well-cared for.
And I for one know that's possible!
So take some time out of your busy life – I promise that self-compassion will give BACK to you tenfold – grab a cup of hot tea, and map out some beautiful creative steps to sustain YOU for the weeks, months, and years to come.
You've got this – and I've got your back! ?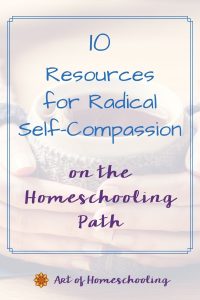 This article gives you a doable 3-step action plan for setting up your self-care.
Here are 3 healthy mindful practices you can add to daily life to create that inner quiet you need to respond to life consciously.
Bring to life your dreams in an artistic way to access a deeper level of truth and discovery!
4) How to Develop an Inner Work Practice
This is a guest post by Sheila Petruccelli, homeschooling mother of two and blogger at Sure as the World. She explores ways to slow down and get quiet so you can show up more present as a home educator and for your life!
5) Inner Quiet
This article takes a look at morning habits, meditation, and getting centered so you can nourish your soul every single day.
6) It's More Important to Be Present than to Be Perfect
Perfectionism is often driven by fear and can really drain the homeschooling parent. Discover healthy ways to handle your fear and what you can do instead of trying to be perfect!
7) Make Your New Mantra: "I Am Enough."
Here's why you get to be radically self-loving on the homeschooling path. The article includes some practical tips for keeping perspective and managing your change process.
8) Love for All the Homeschooling Mamas
This is literally a love letter to YOU from a fellow homeschooler, my friend Eshanne Anderson. Seriously – go read this right now. You are loved!
9) 11 Solutions for Healthy Sleep
How's your sleep? A part of self-care is getting your basic needs met in a way that works. Discover 11 ways to improve your sleep so you feel rested and vibrant for the days and years ahead.
Every March, I lead a group of homeschooling moms on a 12-week inner work journey. This is an opportunity to dig deep and get some much needed support, insights, connection, and inspiration to carry you through. Walk away with a sense of acceptance and possibility about your life. Find out more here: Inner Work Journey.
~ ~ ~ ~ ~
So there you have it. 10 resources to bolster, boost, and blossom your spirit for a thriving sustainable homeschooling journey. Many well-wishes to you, dear parent!