Watching Our Children Grow Up
Last week, we had two of our three grown kids and their partners in town all week. So I wanted to reflect for a moment with you, dear listener, on watching our children grow up.
Tap the play button above to hear the episode. Below you'll find the highlights, quotes, and ideas for more inspiration.
Reflections About Watching Our Children Grow Up
Sometimes I have to pinch myself to remind me that my kids are all young adults now! And they each have lovely partners so I feel like I went from a mom of three to a mom of six! It's so sweet.
Here are just a few of my reflections from this past week. In case you're a little lost in the weeds today or maybe wondering what life could be like a little further along on the homeschool journey.
Oh, did I have many moments of this sentiment about growing up. But at the same time, I feel so very grateful to know these amazing humans. To get to hang out with them and watch them interact in the world. It is bittersweet, but I'd say mostly sweet.
I remember when our oldest started school in 8th grade and went off to school all day. He'd been homeschooling up until that point…and It was a hard transition for me!
I remember thinking "How come no one ever tells us that this parenting journey is really all one big "letting go"!?!"
Honestly, it seems a little crazy that we pour our heart and soul into raising them, schooling them, feeding them, worrying about them…for years and years. And then, they leave! What!?!
But I will tell you that it's then such a joy when they return.
Each Child's Path is Unique
I was describing the joys of having our boys home for a visit with their partners to my friend Sarah, homeschooling mama of 4 whose oldest is recently grown and flown. She responded with her reflections:
"Something I've been thinking over is the idea of growing up without school. Whatever homeschooling looks like for each child, whatever combination of classes, co-ops, public, private, or homeschool, they all grow up to be who they're going to be. We don't need to carry regrets for them. Because each child's path is unique."
Such wise words! We don't need to carry regrets for our children. Because each child's path is unique. And we're here to support them on their journey, whatever that may be. The thing is, we can't always see very far ahead on the path, but we're here to support them no matter what.
It's All About the Moments Along the Way
One of the perks of homeschooling in my mind is that at least we won't regret not spending time with our children. That's one of my true joys in life, that I got to be there with my kids while they were growing up. Through it all. And believe me, it wasn't always pretty. Sometimes, I feel like I didn't have enough time with them, even though I dedicated about 26 years of my life to parenting and homeschooling!
I'll wrap up this episode about watching our children grow up with one more quote: 
No matter where you are on the homeschooling journey, take time to savor those perfect moments along the way. Drink it in and fill yourself up!💜
More For You!
I have an older podcast episode to suggest to you if you want to hear more of my reflections. Go have a listen to Episode #24, Looking Back on Homeschooling 
In this episode, I share what I miss the most, what I don't miss, and what I wish I'd known. Honestly, what I wish most of all is that I could have been able to simplify, relax, and trust a bit more that all will be well in the end. Because as the saying goes, the days really are long but the years are short.
If you enjoyed this short reflective episode, I want to invite you to check out the Inspired at Home membership where I record a Mindful Moment like this short episode every week for members. Inside the membership, we have masterclass trainings, group coaching calls, and a wonderfully warm community. Come join us!
Rate & Review the Podcast
If the Art of Homeschooling Podcast has inspired you, I'd LOVE it if you could rate and review the podcast on your favorite podcast player! Reviews can be left on Apple Podcasts (iTunes), Podcast Addict, or Stitcher.
Or simply pop on over to lovethepodcast.com/artofhomeschooling and choose where you want to leave your review.
And if you want to show your appreciation for the Art of Homeschooling Podcast, you can buy me a coffee!
Never Miss an Episode!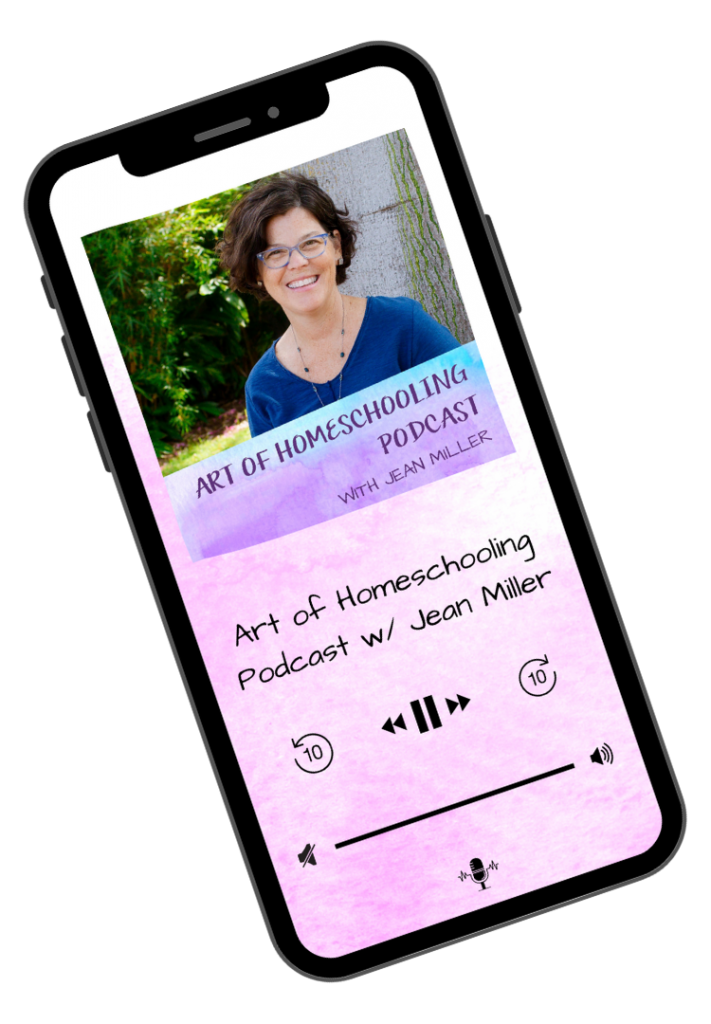 And save or share this encouragement on Pinterest with the image below.