"Fear is the cheapest room in the house. I would like to see you living in better conditions."   ~Hafiz
Need some strategies for how to face homeschooling fears? Read on!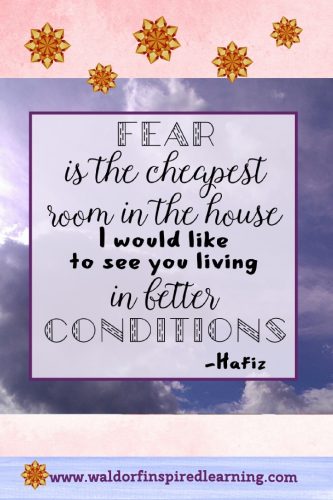 Here in the northern hemisphere, it's early January. Time to get back to lessons after the winter holiday break. Do you feel ready? Prepared and enthused?
I have been getting lots of emails this week from homeschooling Moms saying they aren't quite there yet. Some feel unsure, some feel a lack of enthusiasm, and some even feel panicked.
Perhaps you can relate.
One year, I remember spending the entire month of January berating myself for all that I was not doing.
I wasn't doing the block I had planned to do back in the summer because I didn't feel prepared. So I just wasn't doing anything.
By February, I felt like a total failure as a homeschooler and was sure that my two boys would be ruined for life. And it was all my fault. They'd be better off in school.
So I scheduled an appointment to go visit our neighborhood elementary school.
When I arrived, I sat in on a combined class that was watching an educational film about the harvest and food production in other countries.
I don't remember much about the film (and I doubt the kids did either) because one of the teachers kept yelling at one of the boys for being disruptive (making the disruption even more prominent. Hmmm…)
Then I took a tour of the building and peeked in on an art class in which the children were given coloring sheets and crayons to color within the lines. I learned that they had this art class once a week for 30 minutes.
As I was leaving, the children were heading out for a short recess of 10 minutes. Yes, they got 10 minutes of recess in the morning and 20 minutes after lunch.
As I walked home I remember thinking, ok, so if we watch one film (without interruption), color more than one coloring sheet a week, and go outside for 30 minutes or more a day, I'll be doing better than the local public school. I think I can do that!
Come home. Regroup. Figure out how to face those homeschooling fears.
I know we all want more than just doing a little better than the public schools.
We want this beautiful, idyllic, artistic Waldorf method to come alive in our homes. We also want to be the ideal teacher/parent and have everything unfold with calm and ease. And when it doesn't, we feel scared and burdened by a heavy sense of letting everyone down.
And then fear sets in…
What if I'm not cut out for this?

Was choosing to homeschool a big mistake?

Maybe I'll never be able to get my children to make a main lesson book. Or do circle time. Or participate willingly in anything I plan!
How to Face Homeschooling Fears
Just stop, I say! Stop going down that fear tunnel. And entertain this thought instead:
It doesn't have to be all or nothing!
If you don't feel quite ready with lesson plans, or your energy level is low, plan a mini-block instead. Find a way to move forward rather than staying frozen in your fear.
Create a puppet show from a story you read.

Collect a few stories on similar topics to read and make paintings of each.

Plan ahead as to how you'll celebrate the Spring Equinox and build in some time each week to prepare.

Build a lesson around a field trip to a museum.
There are so many possibilities. And the trick is to pick one that sounds fun to YOU! So that you can get your happy energy going again for homeschooling. As long as we can figure out how to face our homeschooling fears, we will keep the learning alive.
Believe me, you are not the only one dragging at this time of year. You are not alone. And your feelings are perfectly normal!
If you make peace with your fear, you take away its power!
One of my mantras: Feel the fear and do it anyway!
Or in the words of the late Carrie Fisher, "Stay afraid, but do it anyway."
Want to know the psychology behind negative feelings? Check out this article in Psychology Today magazine: "Why We Can't Just Get Rid of Anxiety & Distress."
I leave you with one of my favorite poems. One that I have printed out at the beginning of my planner so that I can read it often. Like Every. Single. Day. To help you face homeschooling fears.
Fear is the cheapest room in the house.
I would like to see you living
In better conditions,
For your mother and my mother
Were friends.
I know the Innkeeper
In this part of the universe.
Get some rest tonight,
Come to my verse again tomorrow.
We'll go speak to the Friend together.
I should not make any promises right now,
But I know if you
Pray
Somewhere in this world–
Something good will happen…
-Hafiz
How's it going at your house?
If you want any help getting back to lively lessons and learning how to face homeschooling fears, consider scheduling a Mentor Session with me. I can help you get unstuck and move on.