Homeschooling On a Budget
Homeschooling can mean living on a single income for many families. And we all want to be mindful of how we spend our money on homeschooling supplies and resources. By focusing on simplicity and creativity, homeschooling on a budget is totally doable!
Many of us are drawn to the Waldorf approach to homeschooling because of its beauty and natural materials. But the simplicity of teaching with stories and basic art supplies rather than textbooks, electronics, or expensive manipulates is naturally resourceful. And can make homeschooling a less expensive endeavor for families living on a budget.
If you're homeschooling on a budget, you'll love the tips I offer in this episode of the Art of Homeschooling podcast. Below, you'll find my notes and links from the episode, as well as resources to explore more.
So let's dive into my tips for homeschooling on a budget!
During the early years, handmade toys inspire creative play and exploration.
Making handmade dolls out of cloth or yarn, simple playscapes out of rocks and sticks and colorful cloths or play silks, and little animals out of stitched felt all help children develop their imaginations!
You can find patterns and inspiration in books such as Making the Children's Year by Marije Rowling or Toymaking with Children by Freya Jafke. Although these Waldorf-inspired books are harder to find, they will take you through years of homeschooling, holidays, festivals, and gift making.
An investment in high quality art materials will last years!
I recommend investing in high quality beeswax crayons and sturdy colored pencils that will last for ages. These can also be replaced one or two at a time, rather than buying a whole new set each year. Many Waldorf-inspired suppliers sell individual crayons and colored pencils, such as Paper Scissors Stone, Meadowsweet Naturals, or A Child's Dream Come True.
Also important is to create a system of caring for materials like these. This models appreciation for the supplies and resourcefulness. You can use crayon or pencil holders, special baskets, or fabric rolls to protect all your crayons and colored pencils. And you can also clean beeswax crayons when needed with a little olive oil and a scrap of fabric!
Teach Pennywhistle or Yamaha Recorder
You don't need to buy an expensive pentatonic flute to teach a wind instrument in your Waldorf-inspired homeschool!
Jodie Mesler of Living Music offers a great resource for learning the pennywhistle. These are sturdy, inexpensive, and make a beautiful sound.
And in our house, we taught music using plastic Yamaha recorders. They make a really nice sound, too, and they're more stable over time as compared to wooden flutes. These are recommended by Eric Fairman, author of the Path of Discovery series.
Learning games don't have to be expensive!
You know how I love games for learning! Instead of expensive board games, I suggest you seek out learning games that can be played with simple, inexpensive materials such as playing cards, dice, or even pencil and paper. Games that can be played many different ways for different ages.
It is fun to have one or a few high quality, expensive family games, though, and we often requested these for holiday gifts from the grandparents.
Here are a few resources for learning games to check out:
NRICH Maths, a project out of the University of Cambridge, offers math games, puzzles, and activities by age and topic. It's easy to find a game to complement any lesson you're teacher and most use only paper and pencil.
Math Geek Mama also offers simple, engaging math games for many skill levels.
The Math You Play books offer games that will keep you going for many years, from early number sense, all four processes, fractions, geometry, and even algebra. Again, most can be played with easy to find supplies like playing cards.
Many learning games books can be found at your local library, too!
Use Your Local Public Library
The library is an amazing resource for Waldorf-inspired homeschoolers! Instead of textbooks, we teach through story and enrich our lessons with poetry, nature study, and book baskets. Here are my tips for using the public library for homeschooling on a budget:
Libraries are a perfect place to find story collections, picture books, poetry books, and books for the content material of literature or history-based main lesson blocks.
Take advantage of your local library's website and online catalog to search for and request books. Often, you can access books from anywhere in your state through your local public library. Request books a couple of weeks ahead of time and the books will be waiting for you to pick up on your library's hold shelf.
Request an educator's library card which may allow you to check out books for longer.
When choosing library books, consider whether you want to share a book with pictures, read aloud from a story collection without pictures to allow your child to conjure up their own mental imagery for the story, or whether you'll learn the story to tell by heart.
It's often a good idea to preview a few story collections or anthologies to find language that you like. For example, there are many retellings of the Grimm's fairy tales, Aesop's fables, or Norse myths. Find a version where the language really elicits emotion and feels connecting to you.
When using library resources, you don't have to read the story word for word. Add descriptive words or dialogue as you read to make the stories come to life. You are the narrator and storyteller!
Find Free Resources for Skills Practice
If you find that your child needs extra skills practice for handwriting, grammar, or spelling, look for free worksheet generators on the internet before purchasing workbooks or curriculum.
Whether you're using a complete curriculum or teaching from a resource such as Making Math Meaningful by Jamie York, you may find that you need resources for extra practice or review. You don't have to buy more books!
If you can pinpoint the skill that needs reinforcing, you can go to a reputable site such as WorksheetWorks.com or DadsWorksheets.com, search for your skill, and create a sheet of practice problems.
You don't even have to print the sheet if you don't want to. You can copy the problems onto your chalkboard or into a three-ring binder for notebook practice.
This is a great strategy for skills like long division, multiple-digit subtraction with or without borrowing, simple equations, and so many more math skills.
Homeschooling on a Budget is Definitely Doable!
Homeschooling doesn't have to be expensive. But really, if you take one thing away from this episode, it's that simplicity is best.
Keeping it simple helps us reduce the overwhelm, find joy, and keep homeschooling engaging so we can focus on building connection with our children. And they can learn in the most holistic and hands-on ways.
You may also enjoy…
The seven gentle reminders on my post all about Getting Started Started with Waldorf Homeschooling, whether you're just starting your homeschooling journey, or need some inspiration to get back on track. Loads of supplies and resources listed here for you, too!
Eric Fairman's Path of Discovery series of concise grade by grade guides. These are affordable, really great alternatives to expensive curriculum packages, and also wonderful resources for your homeschool library. I highly recommend these gems!
The Online Waldorf Library. You'll find so many wonderful articles and pdfs of some books there. Their goal is to reference all the resources and books available for Waldorf teachers and parents and where to access or purchase them.
Teaching & Learning with Games, a masterclass offered inside my membership community, Inspired at Home. For a low monthly membership fee, you can access this course which is chockful of ideas for incorporating games into your homeschooling lessons. Plus access to 25+ masterclasses for the homeschooling parent, monthly group coaching via Zoom, and a private community to connect, ask questions, and get support. Join anytime and cancel anytime!
Rate & Review the Podcast
If the Art of Homeschooling Podcast has inspired you, I'd LOVE it if you could rate and review the podcast on your favorite podcast player! Reviews can be left on Apple Podcasts (iTunes), Podcast Addict, or Stitcher.
Or simply pop on over to lovethepodcast.com/artofhomeschooling and choose where you want to leave your review.
And if you want to show your appreciation for the Art of Homeschooling Podcast, you can buy me a coffee!
Never Miss an Episode!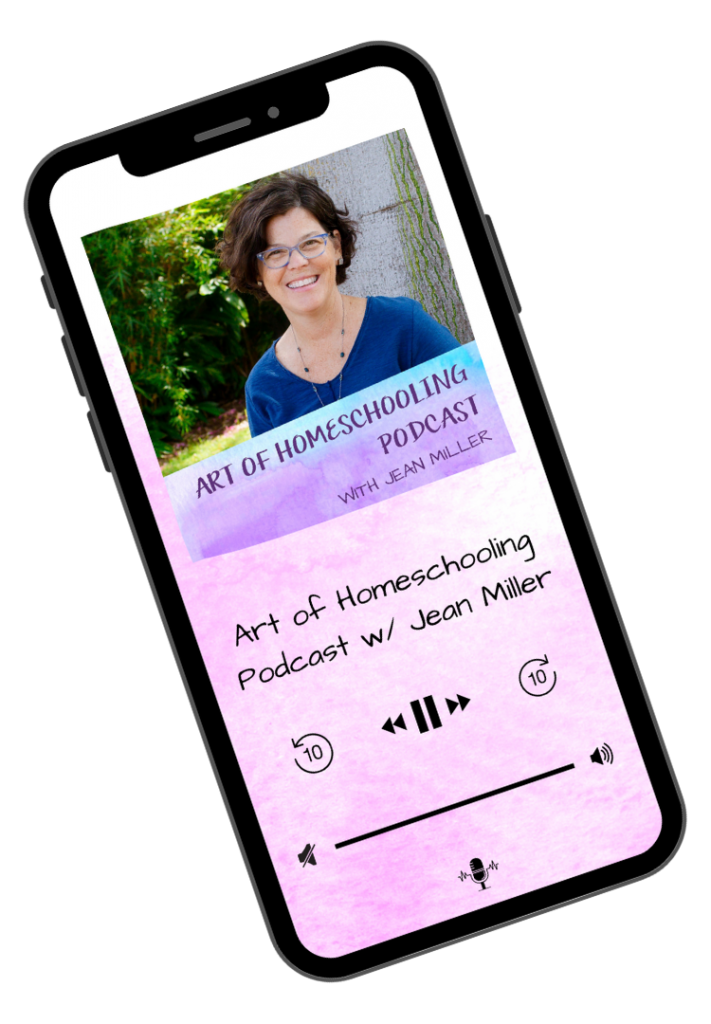 And save or share this encouragement on Pinterest with the image below.