Dear Overwhelmed Homeschool Parent
Dear Overwhelmed Homeschool Parent,
Please know that you are not alone! Overwhelm can strike at any time. And all homeschoolers experience this.
In this episode, I want to offer you a bit of encouragement, some helpful tips, and a few resources to lift your up. So that you can step outside of the overwhelm and breathe a little easier today.
I have six specific ideas to help you feel reassured rather than intimidated by homeschooling and parenting.
Tap the play button and follow along with the highlights below. And you'll find additional support under the Resources heading too.
Homeschooling Overwhelm
From my years as a homeschooling mom and my time as a homeschooling mentor, I know you need to keep things simple, inspiring, and doable to keep homeschooling rolling along.
Homeschooling can get overwhelming if…
You're starting lessons after a holiday or summer break
The seasons are changing
You're trying to do too much
You feel like you don't measure up
And if you're facing any other challenges, big & small
Here are my top tips for you…
Dear Overwhelmed Homeschool Parent
#1 ~ Don't Feel Guilty About Doing Less
Simplify and scale back until it works. Then layer one thing at a time back into your plans or rhythm. Because less can truly be more in homeschooling!
Focus on sustainability. You don't have to it all, all the time.
#2 ~ Stop Trying to Recreate a Classroom at Home
Homeschooling is not school at home. But it's so easy to make this mistake!
Home is home and some days may seem unproductive. But learning and growth are really happening all the time.
Embrace where you are right now.
#3 ~ Stop Overthinking Curriculum
Resist the tendency to search for and compare curriculum. Make what you have work for you and your kiddos.
If you teach in main lesson blocks, choose one volume of stories or one piece of literature and build out from there, choosing only activities or lessons that meet your child and are simple, doable, and inspiring.
Sprinkle in the lively arts (painting, drawing, modeling, poetry, movement, music and drama) and you're ready to go. The lively arts make learning rich, joyful, and memorable. And you'll find so much to explore together along the way!
A NOTE: Did you know you can create your own curriculum? Instead of purchasing curriculum packages, you can build your lessons yourself. That's what parents do every day inside the Inspired at Home membership. With masterclasses, group coaching, and a warm and welcoming community, you can learn how as you go. Check out the membership here.
#4 ~ Don't Forget About Yourself
Self-care is not an extra add-on for when you have time. (Because you won't!)
Self-care isn't selfish. It's necessary preparation for parenting and teaching because it helps you show up and be fully present with your children everyday.
Be gentle and kind to yourself. This is perhaps the hardest work you'll ever do. And it's important to recognize that you're on a journey, too. So be sure to take time to fill up your cup.
#5 ~ Let Go of Being Perfect
I love this great quote often taught in 12-step programs, "Acceptance is the answer to all of our problems today."
Acceptance may take a lifetime of work, but there really is beauty in imperfection. That's what makes life so interesting.
And remember, it's not about perfection, but all about connection.
#6 ~ Keep These Basic Principles of Waldorf-inspired Education in Mind
The Waldorf approach is built upon these three principles:
These principles can support you as you build a strong foundation for your family and homeschooling.
A strong foundation which includes rhythm in your home, a simple plan for teaching and learning, and self-care for you, dear overwhelmed homeschool parent!
So there you have six ideas for when you're feeling overwhelmed. And don't forget the additional resources to explore below.
More Resources for You
If the idea of daily rhythm is new to you or you need some inspiration to freshen up your daily rhythm, make sure you get free guide, Homeschool Rhythm Starter Kit. This is a helpful, printable resource that you can keep in your planning binder, take notes on, and mark up as work towards bringing more ease and peace into your homeschool days.
Here's an additional resource to dive deeper into the Lively Arts: Podcast Episode 23, "Weaving the Lively Arts into Our Lessons."
I connect with and coach homeschooling parents through one-on-one mentorship, the Inspired at Home community, and the Taproot Teacher Training every summer. Please know that you are not alone on this homeschooling journey and I would love to hear from you if you're ready to reach out!
One last gem for you about finding ease in your homeschooling and believing in yourself. You'll love Episode 19, "Starting Where You Are, Each Time." And included in the show notes is a set of free printable inspiration cards for you, dear homeschool parent!💜
Rate & Review the Podcast
If the Art of Homeschooling Podcast has inspired you, I'd LOVE it if you could rate and review the podcast on your favorite podcast player! Reviews can be left on Apple Podcasts (iTunes), Podcast Addict, or Stitcher.
Or simply pop on over to lovethepodcast.com/artofhomeschooling and choose where you want to leave your review.
And if you want to show your appreciation for the Art of Homeschooling Podcast, you can buy me a coffee!
Never Miss an Episode!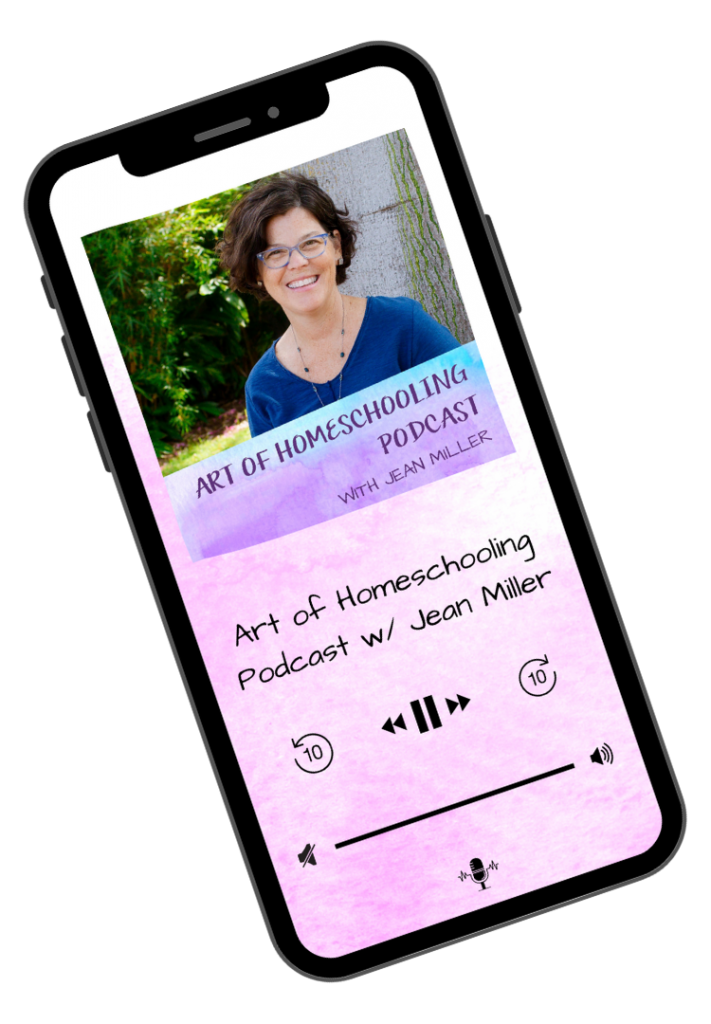 Save or share this encouragement on Pinterest with the image below.