Looking Inward with My Friend, Eshanne
You are going to love this episode of the Art of Homeschooling Podcast! Today's conversation is about looking inward, with my friend Eshanne as my special guest.
Eshanne offers the most beautiful, poignant insights about inner work ~ that illusive practice of taking time for ourselves, to find practices that fill us back up, and to shine a light on our inner landscape.
Living through the global pandemic and turmoil of the past few years has been a widely universal, yet deeply personal experience for us all, as Eshanne says in our conversation. We talk about moving forward.
Along with finding inspiration in poetry, lighting ALL the candles, self-care, re-parenting, self-compassion, homeschooling, community, pets, the 9-year change, and so much more!
Here in the show notes, you'll find highlights from the episode with time stamps so you can follow along with our conversation. Listen along and fill yourself back up with the language of inner work.
My Guest, Eshanne Anderson
Eshanne is a homeschooling mother of two primary school children. Many years ago before falling in love with Waldorf education, she taught as a second grade teacher in a small private school and also taught acting at night for fun at the local college.
Her academic background in religious studies has helped pave the way for her love of exploring inner work. Her true love and passion is deeply investing in tremendous humans and helping them along their own inner growth path.
She equally enjoys traveling to the mountains or big cities and is always ready to lead the way into frivolity or general anarchy. When not dreaming of long adventures or doodling with words and pictures…she is adoring her hilarious husband and beautiful children and making a home that welcomes her friends and family to stay and laugh and sing awhile.
Eshanne is a homeschooling mother, poet, photographer and all around creative. She's a presenter at the summer Taproot Teacher Training and is offering Inner Work Conversations through my Inner Work Journey program. You can follow her over on Instagram @eshanne.
Our Conversation
1:25 Jean introduces her guest and friend, Eshanne Anderson
4:00 Jean starts off with a radical check-in and her daily practices during these crazy, unsettled times
4:37 Eshanne shares her check-in and what her connection with herself has been during the global pandemic
5:46 Eshanne compares the universal, but very personal difficulty of the past two years with childbirth, it's just hard!
8:27 Moving forward is all about acceptance and making peace with whatever is.
9:13 Eshanne's family's three points for when things get bumpy
10:30 Finding the glowing moments to celebrate
13:41 It all comes back to inner work. Jean & Eshanne describe what inner work means to them.
18:09 The importance of reconnecting & Eshanne describes connecting with her kiddos after the 9 year change
20:30 Jean's practice of picking a word of the year
21:54 Eshanne and Jean agree that the mud and the mess are part of the journey
24:25 Jean asks Eshanne how inner work has changed for her over the years
28:33 Inner work starts with self-compassion
31:17 How Eshanne's inner work practice changes and evolves
35:15 Jean asks Eshanne how inner work has changed her
38:09 Inner work, parenting, and re-parenting ourselves
40:02 A few more ideas for inner work practice
42:19 Jean reads a poem that surfaced for her today, "Hold Out Your Hand" by Julia Fehrenbacher
44:03 An invitation to join Eshanne and Jean on an Inner Work Journey this spring
Inner Work Journey, Every Spring
Each spring, I offer Inner Work Journey as an opportunity for homeschooling parents to seek guidance and inspiration, to grow personally, and to reclaim happiness. All through developing a practice of inner work. Find out more here!
Rate & Review the Podcast
If the Art of Homeschooling Podcast has inspired you, I'd LOVE it if you could rate and review the podcast on your favorite podcast player! Reviews can be left on Apple Podcasts (iTunes), Podcast Addict, or Stitcher.
Or simply pop on over to lovethepodcast.com/artofhomeschooling and choose where you want to leave your review.
And if you want to show your appreciation for the Art of Homeschooling Podcast, you can buy me a coffee!
Never Miss an Episode!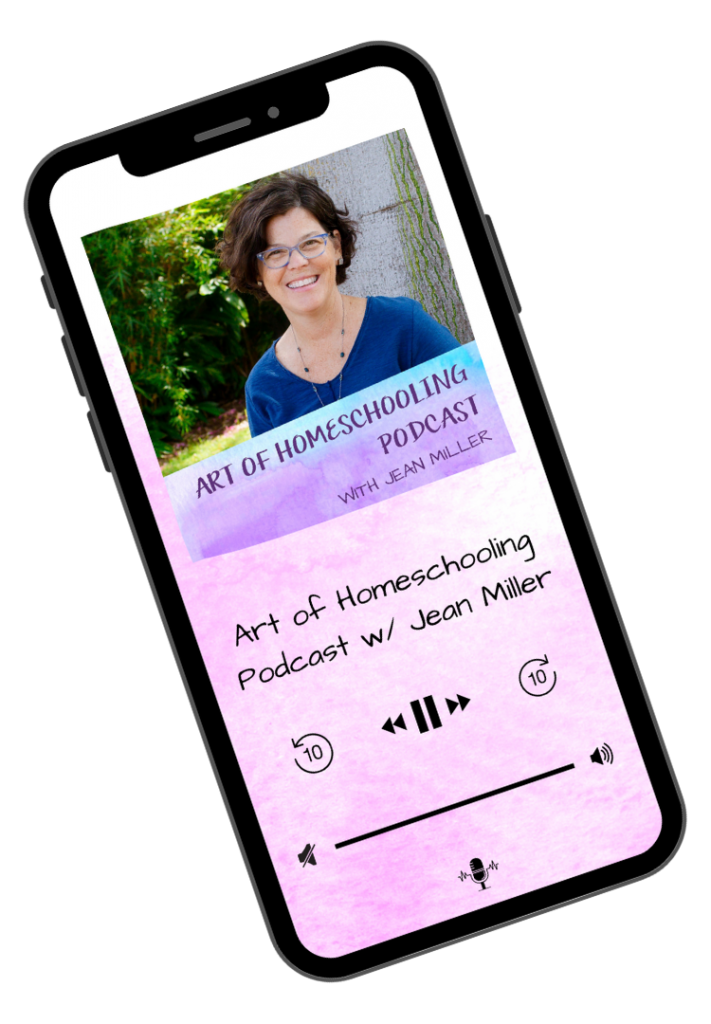 Save or share this encouragement on Pinterest with the image below.