Starting Where You Are, Each Time
Dear Homeschooling Parent,
You don't have to do ALL.THE.THINGS! Because you will reach your goals by starting where you are, each homeschooling day.
Today's episode of the podcast is all about letting go of this urgency and pressure to do it all, all at once. So let's replace that with a true belief that by starting where we are each homeschooling day, we will be doing enough.
"You alone are enough. You have nothing to prove to anybody." ~Maya Angelou
Sometimes as parents and homeschoolers, we get a picture in our minds of how we want our day to go or how we want our lessons to flow. And when we set out to achieve that image, we fall short. Perhaps we might end up feeling disappointed, discouraged, and even not good enough.
But how do we begin to truly believe in ourselves? To believe that we are enough, that we have enough, and that we do enough as homeschooling parents?
When I was just in the early days of my homeschooling journey, a sweet friend gave me this advice, "You CAN have it all; just not ALL AT ONCE."
You can have it all; just not all at once.
Yikes, did that resonate with me!
What I discovered, over time, was that the place to start was within me. It's a place of quiet confidence, inner peace, and openheartedness.
Finding that inner quiet for the homeschooling parent is both a journey and a destination. In the tradition of Rudolf Steiner and the Waldorf education movement, this journey is a practice called "inner work."
Peace. It does not mean to be in a place where there is no noise, trouble, or hard work. It means to be in the midst of those things and still be calm in your heart.
And you have to start where you are. Because you cannot improve from a place of not good enough.
Sign up below to get your free printable cards from Episode #19 with quotes and inspiration about starting where you are each homeschooling day.
Starting Where You Are Each Homeschooling Day
Let go of trying to do too much all at once.

Let go of comparison; it's the root of discontentment.

Let go of the pressure and sense of urgency.
I know it's not as easy as it sounds. So keep it simple with small, sustainable shifts to your mindset, your habits, and your homeschool planning. The first step is to start where you are, each day.
How to Get There
Believe in yourself and make your new mantra: I am enough. Because you cannot improve from a place of not good enough.
Think in threes, pick one. Start with one new thing at a time. Because you cannot do it all, all at once.
Find practices that help you experience inner peace and make the practice of inner work part of your day. Because you can find peace in your heart no matter what's going on around you.
"Take the first step in faith. You don't have to see the whole staircase, just take the first step." ~Dr. Martin Luther King Jr.
More Resources for Your Homeschooling Journey
Inner Work Journey: Every year, I lead a small group of homeschooling moms through this 12-week online experience. And as I'm writing and recording this episode, we are just about to begin. If you're ready to explore your inner landscape of thoughts and feelings so that you can live from a place of acceptance and possibility and truly believe that you are exactly what your children need, then I hope you'll join me. We'll shine the light inward so you can create practices for self-compassion and inner work. When you feel empowered to strengthen your inner forces and your own well being, your whole life transforms. Are you ready to take the first step? Find the details for Inner Work Journey here.
10 Resources for Radical Self-Compassion on the Homeschooling Path: Here's a collection of resources to inspire you to take some time for yourself, to nourish your self-compassion. Included are mindfulness practices, vision boards, mantras, inner work, and more. Lots of simple, sustainable ideas to support you on the homeschooling path.
For more reading about the inner life of parenting, you might want to check out this article, Seven Important Aspects of Mindful Parenting from Gateways, a newsletter from the Waldorf Early Childhood Association of North America.
About the Art of Homeschooling Podcast
The Art of Homeschooling Podcast is for parents who are ready to thrive in homeschooling. In each episode, we share stories and strategies so you can drop the overwhelm and get in touch with inspiration. You CAN create a homeschool life you love.
I'm your host, Jean Miller, homeschooling mother of three now-grown children. And here at the Art of Homeschooling, we keep it sweet and simple so you can focus on cultivating creativity and connection at home.
Rate & Review the Art of Homeschooling Podcast
If this episode inspired you, I'd LOVE it if you could rate and review the Art of Homeschooling Podcast on your favorite podcast player! Reviews can be left on Apple Podcasts (iTunes), Podcast Addict, or Stitcher.
Or simply pop on over to lovethepodcast.com/artofhomeschooling and choose where you want to leave your review.
And if you want to show your appreciation for the Art of Homeschooling Podcast, you can buy me a coffee!
Never Miss an Episode!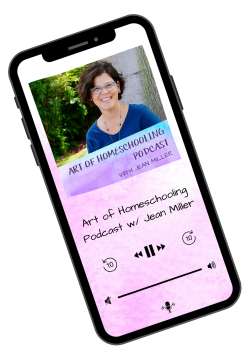 Subscribe & Listen
Save or share this episode on Pinterest with the image below.