Conversations with Moms Who Love Inner Work
Listen in as I talk with three different moms who each share a slice of their homeschooling journey – how taking care of themselves and practicing inner work for homeschooling moms helps them enjoy the journey.
So without any further ado, I want to introduce you to three homeschooling moms – Justine, Maxime, and Carly.
All three of these mamas are homeschoolers who took part of my Inner Work Journey experience last spring. And in these chats during this episode, we talk about how inner work has enriched their homeschooling lives and helped them feel more grounded, accepting, and confident.
If you're interested in the Inner Work Journey 2021 ~ a 12-week online experience for homeschooling moms ~ you can find all the details here to join a new group that begins the first week in March (that's next week!).
At First, Homeschooling is All About the Children
Often, when we first come to this work of homeschooling, we think it's all about our children. That's our main motivation.
But pretty soon we realize that homeschooling is a journey for us as well.
"As my kids got older and I realized how depleted I was becoming, I realized...Oh, inner work! Right. So I need to sustain myself for this homeschooling work I'm doing. It's not just all give, give, give. We have to be rejuvenated and feel like we're getting something from the experience, too." ~Carly
We often discover that we have some personal work to do to overcome our inner thought patterns, to become more conscious of our thoughts and feelings and actions. And to find ways to strive for the good no matter what. To find peace no matter what. So that we can feed the forces for good that are within us and in turn share that with our children and families.
"One of the biggest things that changed in my life after Inner Work Journey was being patient with myself and giving myself more grace. When things don't go according to plan, in homeschooling or just in parenting in general, I'm just so much less harsh on myself and more gentle with myself. It's just a much nicer place to live!" ~Justine
Our Children Benefit from Seeing Us Striving
Many many years ago, when I was feeling overwhelmed on my own homeschooling journey, my mentor Barbara Dewey shared with me that much of what our children gain from a home learning environment is watching us strive to become better people.
This modeling goes beyond the lessons. Beyond words even. And allows children to experience what it's like to strive to be the best humans we can be.
"As I reflect back over the past year, this experience really solidified the importance of taking time to care for myself. I make time every day now to do something creative and that's part of my inner work. I know that I'm worth it and that I'm actually born with that right to give myself that time. The Inner Work Journey was really what brought it all together for me." ~Maxime
Inner Work for Homeschooling Moms Starting Soon
If you're interested in the Inner Work Journey, a 12-week online experience for homeschooling moms, you can find all the details here.
A new group begins March 2, 2021.
May you find some wonderful ideas in this episode to apply to your own life, and leave feeling inspired on your own inner work path.
About the Art of Homeschooling Podcast
The Art of Homeschooling Podcast is for parents who are ready to thrive in homeschooling. In each episode, we share stories and strategies so you can drop the overwhelm and get in touch with inspiration. You CAN create a homeschool life you love. 
I'm your host, Jean Miller, homeschooling mother of three now-grown children. And here at the Art of Homeschooling, we keep it sweet and simple so you can focus on cultivating creativity and connection at home.
Rate & Review the Art of Homeschooling Podcast
If this episode inspired you, I'd LOVE it if you could rate and review the Art of Homeschooling Podcast on your favorite podcast player! Reviews can be left on Apple Podcasts (iTunes), Podcast Addict, or Stitcher.
Or simply pop on over to lovethepodcast.com/artofhomeschooling and choose where you want to leave your review.
And if you want to show your appreciation for the Art of Homeschooling Podcast, you can buy me a coffee!
Never Miss an Episode!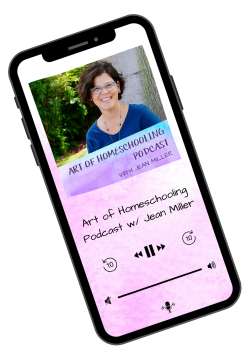 Subscribe & Listen
Save or share this episode on Pinterest with the image below.