Stories Make Great Teachers: A Conversation Between Two Homeschooling Moms
I'm so excited to share with you a conversation with my dear friend and homeschooling colleague, Alison Manzer, about how stories make great teachers.
This episode is all about how to craft a main lesson for multiple ages using a read aloud book as the container for your learning. Click the button above to start listening and also check out the highlights, links, and printable Book Hearth Notes below!

Two Homeschooling Moms
Alison and I met many moons ago as homeschooling moms when we attended a workshop at Barbara Dewey's farm in Ohio.
Barbara Dewey of Waldorf Without Walls is a homeschooling mentor to us both and founder of the Taproot Teacher Training. (Check out my interview with Barbara in Episode #2 of the podcast.)
Taproot has been a big part of our friendship for many years. Also, Alison and I love collaborating on projects together!
Alison has three grown children and lives in Austin, Texas. She currently teaches yoga at Fusion Academy, an alternative high school in Austin. Prior to this year, she also taught English and History.
Hearts for Teachers is Alison's non-profit initiative and the way she uses her big heart, wisdom, and inspiration to give to those who most need it in this world. The initiative supports struggling teachers in rural India by helping them earn a living wage.
Find Alison at the Little Angels Hearts for Teachers website or over on Instagram as @heartsforteachers.
Stories Make Great Teachers
I loved talking with Alison for this episode about one of our favorite things: BOOKS! And how stories make great teachers.
One of the ways Alison and I love to collaborate is to create main lesson studies for multiple ages using a story as the center of a wheel of learning.
In this episode, you'll hear all about:
How to use the story I Am Coyote, by Geri Vistein, for a hands-on, holistic homeschooling book study

How to reach multiple ages and build family connections through sharing a story

Resources to extend the learning
The Book Hearth with Alison & Jean
Alison & I have collaborated on many, many book study projects. Books really do make the best teachers! So we are dreaming up a new project that brings workshops similar to those held at the Taproot Teacher Training right to you.
Our idea, the Book Hearth creates a place for parents, grandparents, as well as teens and tweens, to "tap" into that "unique spark of light" ~ that lively appreciation for all the wonder and hope present in the world ~ residing deeply in each one of us ~ through books. This spark can feed the intellect, guide our hands, and heal our hearts.
And building a main lesson block around one book that has that spark can create a beautiful ripple effect in your homeschool.
The Book Hearth experience will provide you with a plentiful woodpile of ideas and reflections in order to help you bring the story, and others like it, to life as you gather around your own book hearth in your home.
Check out all of our Book Hearth Guides here!
Highlights with Time Stamps for Episode #16
4:17 Jean & Alison discuss their mentor, Barbara Dewey, and her approach to Waldorf homeschooling.
8:43 Here's where we share more about our idea that stories make great teachers and how to use a book as a main lesson "container" or anchor.
11:12 We introduce our focus book, I Am Coyote, by Geri Vistein.
16:57 Overarching Themes from I Am Coyote.
22:09 Jean shares a simple way to structure a four week main lesson block around one book.
23:11 Here's a list of touchpoints within the Waldorf curriculum for this book study.
26:13 Jean shares her ideas for using the book for Grade 2.
31:07 Alison and Jean touch on the Fourth Grade Man and Animal Block.
33:01 Alison shares many ideas for teaching I Am Coyote in the upper grades.
36:23 Here's how to expand the circle and find outside resources.
40:43 Spirit Animals
43:13 Ideas for author study and independent projects for older students.
46:17 Geography Connections
49:01 We both share ideas for building a book basket around I Am Coyote.
52:57 Lastly, we recap the idea of a story as the center of the wheel of learning and conclude with our thoughts about books and how they inspire us.
Books & Resources Mentioned
My Family and Other Animals, Gerald Durrell
Zooburbia: Meditations on the Wild Animals Among Us, Tai Moses
The Illustrated Bestiary: Guidance and Rituals from 36 Inspiring Animals, Maia Toll
Children's Spirit Animal Cards by Seven Farmer
Sing a Song of Seasons: A Nature Poem for Each Day of the Year (The poetry book mentioned in the episode is hard to find and so this is an excellent alternative!)
Non-fiction books such as those by Seymour Simon.
Resources & Links to Explore
The author's website: Coyote Lives in Maine: Science and Citizenry
Wildlife Center at Penitentiary Glen in Lake County Metro Parks
Radioactive Wolves (PBS Nature documentary)
For More Wonder, Rewild the World, Tedtalk by George Monbiot
"When a man moves away from nature, his heart becomes hard." ~Lakota proverb
Thank you so much for listening! Alison and I really enjoy sharing our love of books with you and I hope you're inspired as a result to craft your own main lessons around great books and stories.
More Information for the Insatiably Curious
Taproot Teacher Training for holistic, hands-on, Waldorf-inspired homeschoolers is held every summer in Ohio. It's a long weekend retreat with intensive workshops and community building. Find out more about the next Taproot Teacher Training here.
If teaching in main lesson blocks is intriguing to you and you'd like to know more, I have a series of articles, What is a Main Lesson Block? to inspire you.
About the Art of Homeschooling Podcast
The Art of Homeschooling Podcast is for parents who are ready to thrive in homeschooling. In each episode, we share stories and strategies so you can drop the overwhelm and get in touch with inspiration. You CAN create a homeschool life you love.
I'm your host, Jean Miller, homeschooling mother of three now-grown children. And here at the Art of Homeschooling, we keep it sweet and simple so you can focus on cultivating creativity and connection at home.
Rate & Review the Art of Homeschooling Podcast
If this episode inspired you, I'd LOVE it if you could rate and review the Art of Homeschooling Podcast on your favorite podcast player! Reviews can be left on Apple Podcasts (iTunes), Podcast Addict, or Stitcher.
Or simply pop on over to lovethepodcast.com/artofhomeschooling and choose where you want to leave your review.
And if you want to show your appreciation for the Art of Homeschooling Podcast, you can buy me a coffee!
Never Miss an Episode!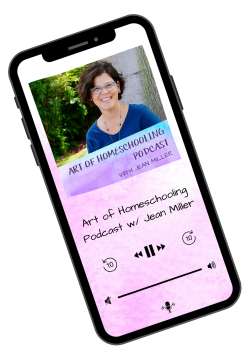 Subscribe & Listen
Save or share this episode on Pinterest with the image below.